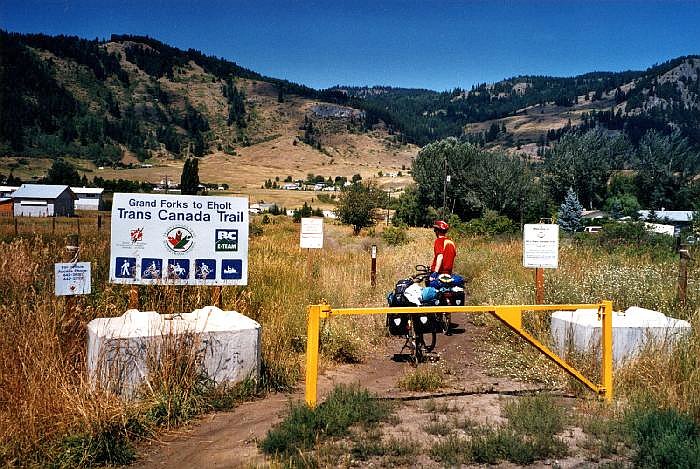 The Trans Canada Trail is 73 percent of the way to stretching 14,000 miles from the Atlantic to the Pacific to the Arctic Oceans, through every Canadian province and territory, making it the world's longest network of trails.
The idea for a trail that spans all of Canada was hatched in 1992 to celebrate Canada's 125th year since Confederation.
The project consists of 400 individual trails, with a goal of connecting them into one continuous route by 2017, Canada's 150th anniversary. That means over 4,000 miles have yet to be built—much of it in unpopulated areas with difficult terrain.
But it's a challenge Trans Canada Trail president and CEO Deborah Apps says can be met, given the gusto with which the project has been embraced so far.
"This is the largest volunteer initiative in Canada's history," says Apps.
"We're challenged with some pretty tough terrain right now and that will be our challenge for the next five years, but we have great volunteers and we are really seeing a lot of very positive community support."
Apps says she envisions the trail being used to connect families and communities.
One is organizing a "cousvention," where cousins from different areas of Canada plan to meet along the trail, says Apps.
"Eighty percent of Canadians live within 30 minutes of the trail, so if you think about it that way … it's absolutely very positive for communities."
The trail's Greenways Vision promotes nonmotorized uses of the network, mainly designed for hikers, cyclists, horseback riders, and canoeists and kayakers in the summer; and cross-country skiers, snowshoers, and snowmobilers (on select portions) in winter.
The Trans Canada Trail website has maps and guides to tell users what they can expect on any given stretch of trail. "Will I be able to pull my children behind in a chariot?" the site will provide the answer, says Apps.
The ambitious project, funded by corporations, all levels of government, and public donations, will take approximately $100 million more to finish.
Over the past 20 years, more than 125,000 Canadians have made personal donations, starting at as little as $5. Apps says the organization is trying to decide how to recognize their supporters.
"There are hundreds of thousands of Canadians, maybe millions [involved], and so we have to come up with a plan where we will recognize how people have given and what they've given."
The Epoch Times publishes in 35 countries and in 19 languages. Subscribe to our e-newsletter.