Britain doesn't favour sporting boycotts, Prime Minister Boris Johnson said on Feb. 24 when asked if he thought the UK should boycott the 2022 Beijing Winter Olympics over the abuse of Uyghurs.
At the Prime Minister's Questions in the House of Commons, Ed Davey, leader of the Liberal Democrats, said: "Today, millions of Uyghur people in China live in fear under a cruel regime.
"The BBC, international media, and human rights NGOs are all reporting on forced labour camps, women being raped and sterilized, and families being separated. This is a genocide happening in front of our eyes."
He asked if Johnson agrees that "unless China ends this genocide, Britain and Team GB should boycott the Winter Olympics in Beijing next year."
Johnson responded by saying that Davey was "absolutely right to highlight the appalling campaign against the Uyghurs in Xinjiang."
"We are leading international action in the U.N. to hold China to account, and we'll continue to work with the U.S., friends and partners around the world to do just that."
But he said the UK is "not normally in favour of sporting boycotts," and "that's been the longstanding position" of his government.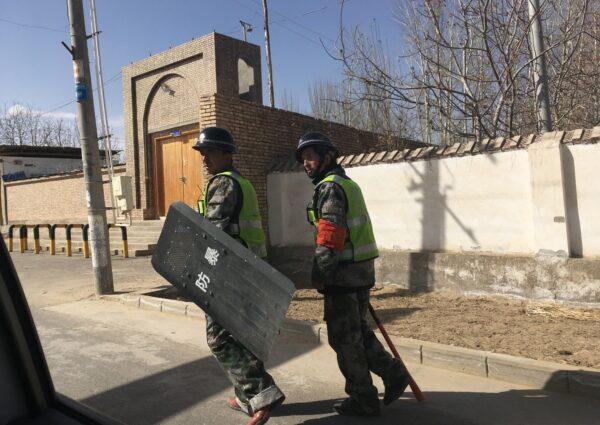 Britain has taken steps to address the human rights situation in Xinjiang, where the United Nations estimates that up to a million Uyghur and other Turkic Muslims are incarcerated in re-education camps.
Last month, Foreign Secretary Dominic Raab announced a series of
measures
 to prevent British organisations from being complicit in rights violations against Uyghurs.
Addressing the U.N. Human Rights Council on Feb. 22, Raab condemned the Chinese regime's "deteriorating human rights situation" and urged Beijing to give the United Nations "
urgent and unfettered
" access to Xinjiang.
But Johnson has refused to follow the United States in
declaring
Beijing's abuse of Uyghurs "genocide."
He told Parliament on Jan. 20 that the attribution of genocide is "
a judicial matter
," though he said he personally regards "what's happening to the Uyghurs as utterly abhorrent."
Last month, Johnson's government instructed lawmakers from the ruling Conservative Party to
vote down an amendment
to the Trade Bill that would have given UK courts power to revoke trade deals with countries responsible for genocides.
British lawmakers from both the ruling and opposition parties have said that targeted Magnitsky sanctions should have been imposed on Chinese officials responsible for the abuse in Xinjiang.
In July 2020, the UK government introduced
new sanctions
to target individuals involved in human rights abuses or organised crime. But so far it has not used the new policy tool to target Chinese officials.
Lily Zhou and Cathy He contributed to this report.