KADUNA, Nigeria—One month after massacres that claimed the lives of 38 people in Central Nigeria's State of Kaduna, Fulani terrorists have struck the Christian farmers in a neighboring county and claimed four more victims, according to the state commissioner of security. Yet authorities have yet to arrest suspects in either massacre.
"The military and police authorities have reported to the Kaduna State Government that four people have been killed and three others injured during a clash between locals and some herders in Jankasa, Zangon Kataf Local Government Area, [a unit similar to a county]" according to a press release of Kaduna state Commissioner of Internal Security and Home Affairs, Samuel Aruwan on Tuesday, Oct. 26.
"According to the reports, the clash occurred along some cattle routes in the area, and then escalated into a fire fight between the two groups, before security forces arrived to bring the situation under control," Aruwan wrote.
The latest attack followed a bloody massacre of 38 unarmed men and women on Sunday evening Sept. 26 in the village of Madamai, in Kaura County, Kaduna State. Eyewitnesses told The Epoch Times that approximately 300 men who were wearing masks and dark clothing attacked Madamai.
The Fulani, a predominantly Muslim tribe, have been involved in a series of attacks on Christian communities in Nigeria stretching over several years.
The spokesman of the Nigerian Police, Kaduna State Command, (ASP) Mohammed Jalige confirmed to The Epoch Times on Wednesday that no arrests have been made related to the Madamai massacre.
"I have not been briefed about any arrest so far on the sad violence in Madamai last month. If there was any arrest, it would be well celebrated by us and we would parade the suspects for the public to see so they can know that we cannot tolerate such acts of wickedness in Kaduna state," Jalige said.
"Please be assured that when I hear anything relating to that, I will let you know immediately," he added.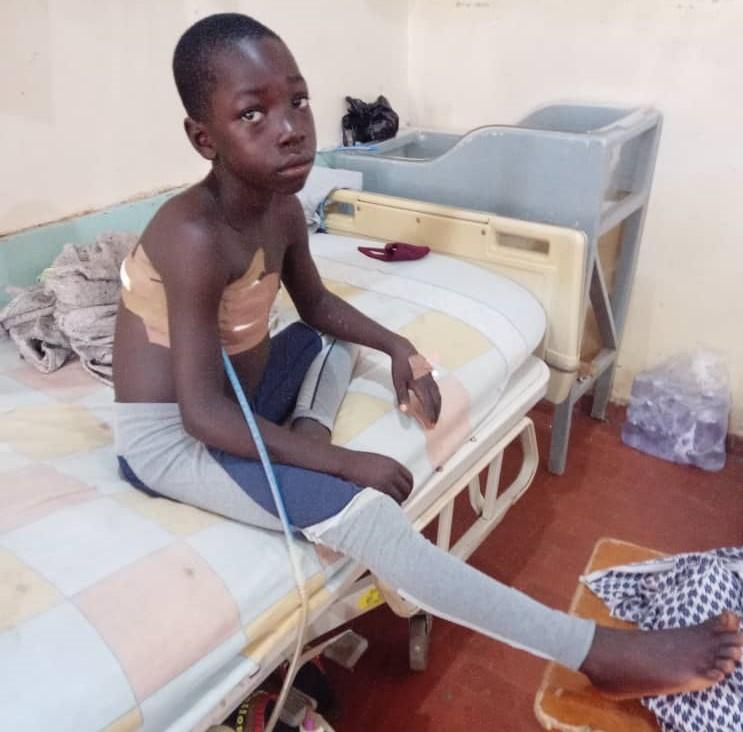 Local lawmakers who spoke exclusively to The Epoch Times say they are outraged by the government's refusal to enforce the law and even more because the authorities distort the nature of the most recent attack by describing it as a "clash," rather than a brutal murder by a militia armed with assault rifles.
"The government of Kaduna state is using Samuel Aruwan, a Christian, to cause confusion to cover up the genocide going on in Christian Southern Kaduna by describing the massacre as a 'clash,'" said Senator Danjuma Laah, who represents Southern Kaduna Senatorial Zone in the Nigerian Senate.
"It is unfortunate that one month after both Kaduna state government and the Federal government have not been able to bring a single culprit to book after the Madamai massacre in September, 2021, it is using the word 'clash' to disguise another round of killings, close to Madamai," he said to The Epoch Times.
"If it is a clash, why were no herdsmen among those killed and injured?" Sen. Laah asked.
"Unidentified gunmen attacked Madamai village in Kaura ... 34 residents have been confirmed dead following the attack. Seven others sustained injuries," Aruwan said, according to France24 newswire.
The Nigerian government never identifies the ethnicity of bandit gangs marauding through Nigeria's Middle Belt, yet the mission of these gangs is similar to that of the Islamic State insurgency known as Boko Haram, namely, to remove or destroy Christian residents, according to war correspondent Lara Logan in a documentary streaming on Fox Nation (excerpts available on
YouTube
).
The official narrative of the Nigerian government was faithfully followed in the France24 story: "Criminal gangs known locally as bandits have terrorized northwest and central
Nigeria
for years, but they have become more brazen in recent months and the military has renewed operations in the region." After the attacks in Kaduna, there were no reports of theft of vehicles or livestock by the so-called bandits.
The government's official statement drew the ire of both community and political leadership of Southern Kaduna.
"The use of the word 'clash' is very offensive to the sensibilities of the families of the victims and the people of Southern Kaduna," said the Hon. Jonathan Asake, a former Federal parliamentarian, and now President of the Southern Kaduna Peoples Union (SOKAPU), to The Epoch Times.
"People cannot be peacefully sleeping in their communities, some assailants invade and kill, and the next thing you hear from Kaduna state government is that a clash has taken place," Asake said.
"Don't be surprised if tomorrow you hear that some community leaders of Jankassa and some of their youths are arrested over the 'clash' even when they are the ones grieving the loss of their kinsmen killed by invading herdsmen," he said.
"It is shocking that since Madamai was attacked on Sept. 27 this year and 38 unarmed victims were massacred, no one has been arrested. And now this one has occurred, instead of going after the killers, Kaduna state government seems to have dismissed this one as a 'clash' in which all the victims are Christian farmers," Asake said.
Although two persons were being questioned over the Madamai killings, no arrests or prosecutions are underway, according to the
report
on France24.com.
Kaduna State Governor Nasir el-Rufai for years has fielded accusations of ignoring the armed Fulani who stand accused of killing hundreds of native Christian farmers and taking over their villages in Southern Kaduna since he was elected governor in 2015. Like Nigerian President Muhammadu Buhari, el-Rufai hails from the Fulani tribe which numbers approximately 6 million among the total population of 212 million Nigerians.
During his tenure, the government has not arrested a single Fulani leader. On the other hand, it has arrested, jailed, and prosecuted several traditional leaders and
Christian clergymen
from Southern Kaduna, among them, journalists critical of his government.
Nine top tribal leaders of the Adara tribe alleged in 2019 that the governor has incited violence that resulted in the deaths of more than 800 Adara Christian natives at the hands of armed Fulani herdsmen. Not a single Fulani leader has been called for questioning by police or military authorities.