Louis DeBiasio was one of the young men from the Greatest Generation who fought honorably during World War II and lived to see the future that their victory ensured.
Out of the 16 million Americans who served during World War II, he's one of only about 389,000 who are alive today, according to statistics from the U.S. Department of Veterans Affairs.
He turns 105 years old on Aug. 10.
DeBiasio served in the Navy on the USS Piedmont, a repair ship in the Pacific theater. He worked on a boring mill and helped repair destroyers and other ships that had been damaged in combat. He also served as part of a 20-millimeter anti-aircraft gun crew.
In one harrowing incident, he was nearly killed by a Japanese kamikaze plane; the pilot lost his nerve, ejecting from his aircraft, which crashed into the Pacific Ocean. He was serving in the Sea of Japan when Imperial Japan surrendered on Aug. 15, 1945, and he was part of the occupying forces on the Japanese mainland after the war ended.
When he returned from the war in September 1946, a crowd turned out in San Diego to welcome him and the other sailors home. He then took a long bus ride across the country to his home state of New Jersey.
The Greatest Generation
The son of Italian immigrants, DeBiasio was born in Creekside, Pennsylvania. His father came to the United States through Ellis Island and worked in a coal mine in Pittsburgh.
DeBiasio lived through the Great Depression; he was 14 when he quit high school to go work on a farm and then found an opportunity to work at the machine shop at National Rubber in Clifton, New Jersey. According to his son Michael DeBiasio, he worked arduously for minimum wage for most of his life before and after the war, and never complained about his circumstances. In 1943, at the age of 27, he was drafted into the Navy.
"That's what made him and his generation so great. They loved and accepted what life gave them and tried to make it better through hard work and doing the right thing in life," Michael DeBiasio wrote in an email.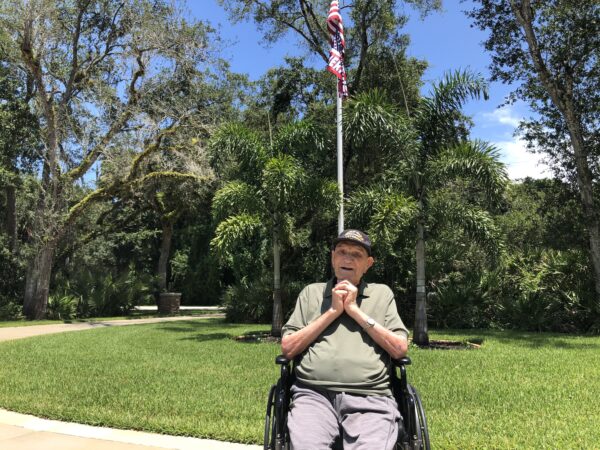 After returning from the war, DeBiasio married his wife, Helen, in 1948 and built a house in Lincoln Park, New Jersey, in 1955. He went back to work at National Rubber and performed taxidermy work in the evening to make additional money to support his family. He continued to work at National Rubber until he retired in 1980 at age 65. When he could no longer afford to live in Lincoln Park, he sold the house and moved the family to Milford, Pennsylvania.
Michael recounted how his father enjoyed working on his garden and repairing his car on his own. He always kept himself busy and only watched television in the evening. He's lived a simple life and has always maintained a positive and happy attitude, his son says. The most important people in his life are Helen and his family. He also has another son, Gary, and two grandchildren, Meghan, 35, and Nicholas, 33.
Michael recalls the family being incredibly close. Every Friday night, the family would have dinner at his grandmother's home in Clifton, along with his father's three sisters and two brothers. DeBiasio enjoyed hunting with his brothers, and Michael would go hunting with him every weekend during the winter.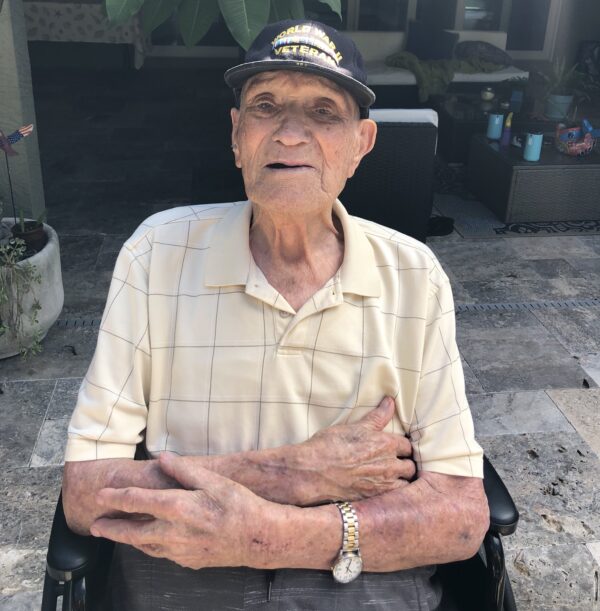 Summers were spent fishing in places such as Lake Ontario for trout and Quincy Bay, Massachusetts, for flounder. Later in life, DeBiasio would make bows out of tree saplings for archery when he went camping with his grandchildren.
"That was the love of his life: fishing and hunting. That's one of the reasons he moved to Pennsylvania," Michael said.
Birthday Celebration
A month before his 100th birthday, he broke his hip and has been in a wheelchair since. These days, he keeps himself busy, with a daily routine that involves coloring books, playing solitaire, and sometimes building model airplanes. Michael sometimes takes him to a hangar where World War II-era aircraft are brought for repair near New Smyrna Beach, Florida, where they've lived since September 2018.
Birthday plans include a birthday celebration hosted by Michael and his wife, Doreen; a parade organized by a group of close neighbors; and honors from the organization Veterans of Foreign Wars.
"He enjoys everything and anything," Michael said. "He just a happy-go-lucky guy."