A World War II veteran and long-time devoted husband broke down in tears after his caregiver made sure he had a way to sleep with his late wife's face beside his own every night; the thoughtful surprise pillow caused the veteran to break down in tears.
Ken Benbow, a veteran who was present at Normandy on D-Day during the Second World War in 1944, was married to his wife, Ada, for 71 years before she passed away in August of 2019.
The WWII vet now lives at the Thistleton Lodge care home in Preston, United Kingdom, where a particularly observant caretaker had the idea to give him a sweet reminder of the late Ada in the form of the specially designed pillow with his wife's photograph screen-printed on the front.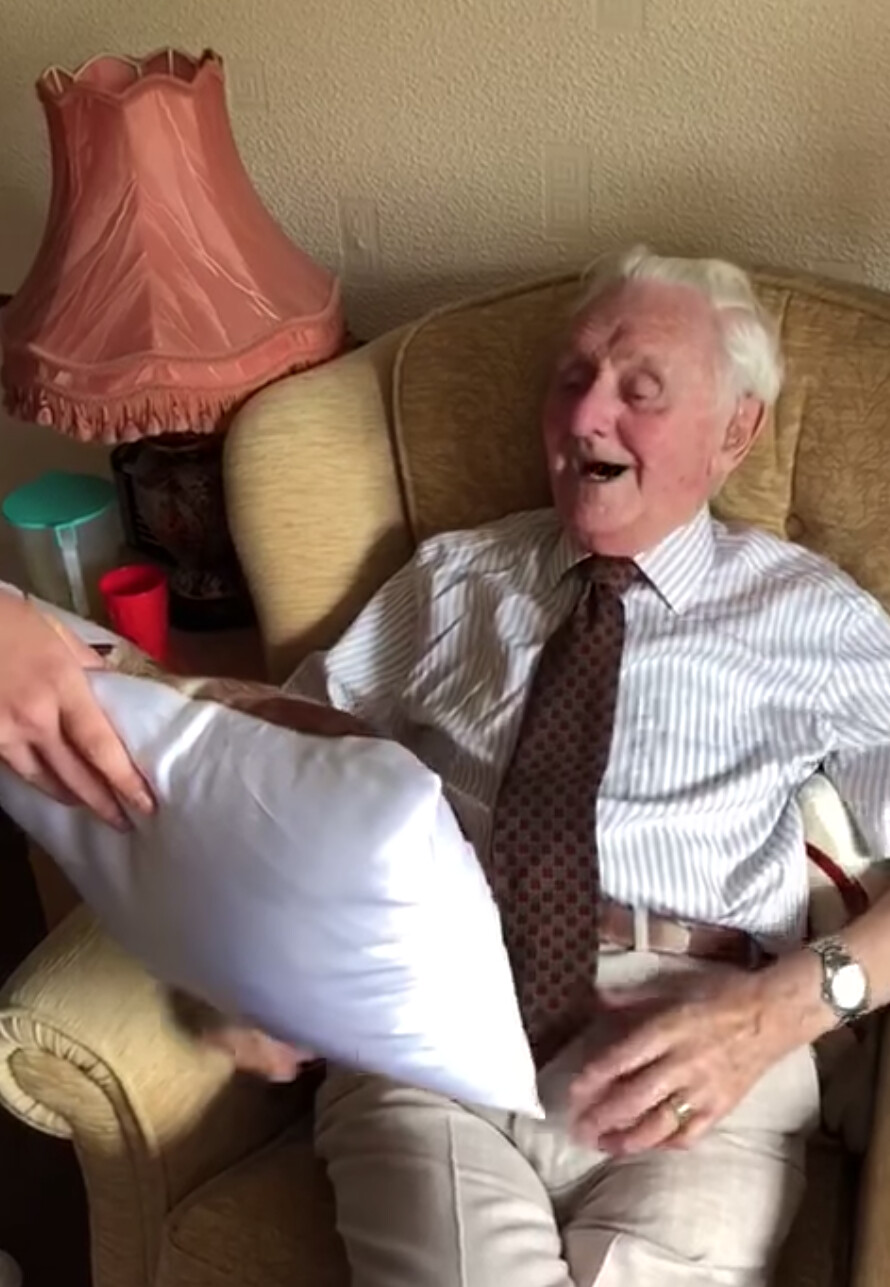 Caregiver Kia Mariah Tobin noticed that Benbow had taken to sleeping with a photograph of Ada on his pillow every night, reported Insider. So she came up with the idea to get the pillow made, giving Benbow a little bit more comfort while helping him to continue sleeping with the love of his life by his side.
"We know our residents are missing their loved ones at this time but let's not forget those who sadly aren't here with us anymore," read the care home's Facebook post.
"Safe to say we all shed a tear with Ken today."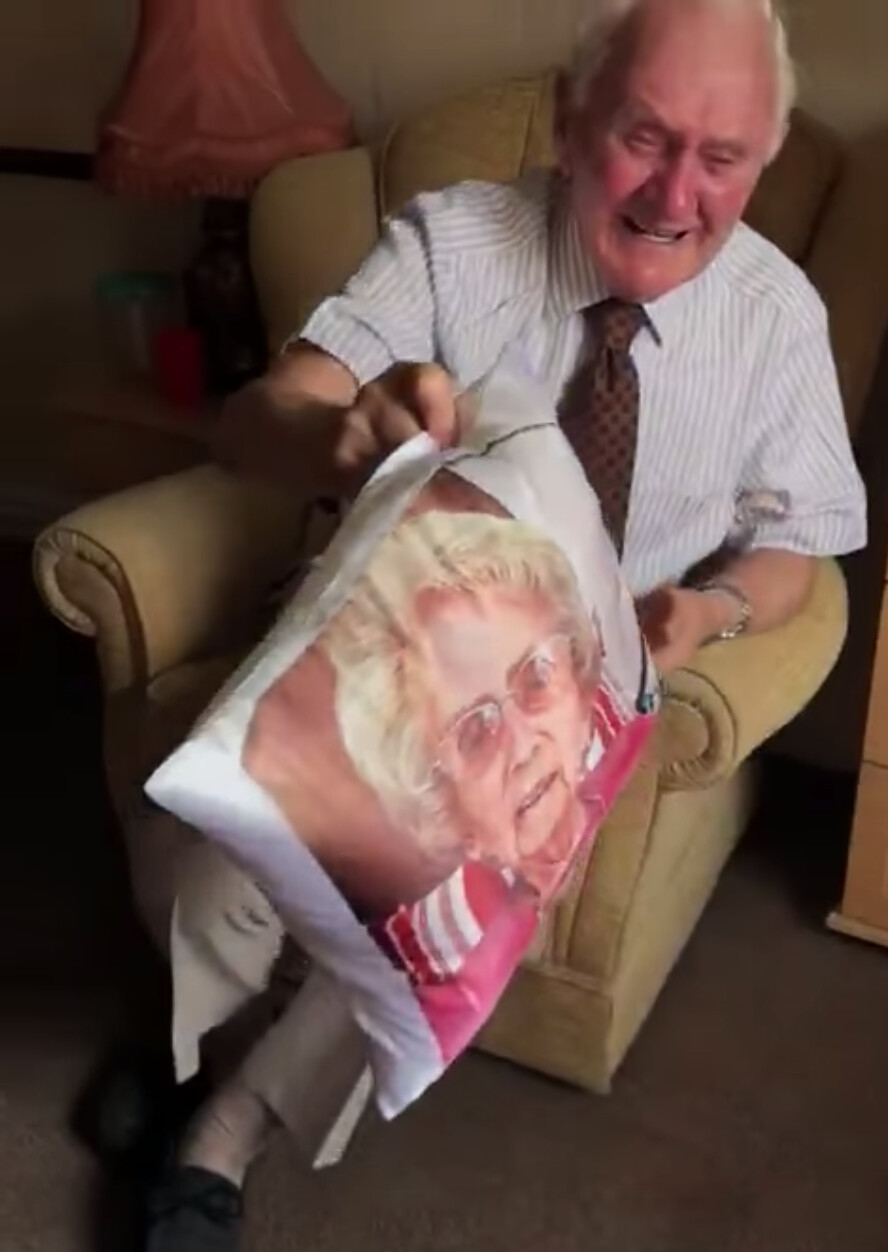 Tobin had the moment filmed as she revealed the pillow to Benbow. The veteran's face immediately lit up upon receiving the pillow from Tobin, while tears welled up in his eyes.
"I've got you a present," Tobin is heard saying in the video as she walks into the room. One look at the pillow was enough to make the nonagenarian overcome with emotion.
"I thought that might be a bit better than your photograph," Tobin told Benbow, before the grateful veteran called her over to give her a big hug.

"It's so soft and such a big picture of her," Benbow said. "It's nearly as big as the real thing. And I'll never let her go."
Ada, who was 93 years old when she passed, had lived in the same care home as her husband before her demise. Ada met her husband of seven decades after the Second World War when Benbow had returned to England in the aftermath of the fighting.
"I went to a dance and I met my darling Ada," Benbow told Insider while sharing about their love story. "She was beautiful, she was caring, she was loving. She was wonderful."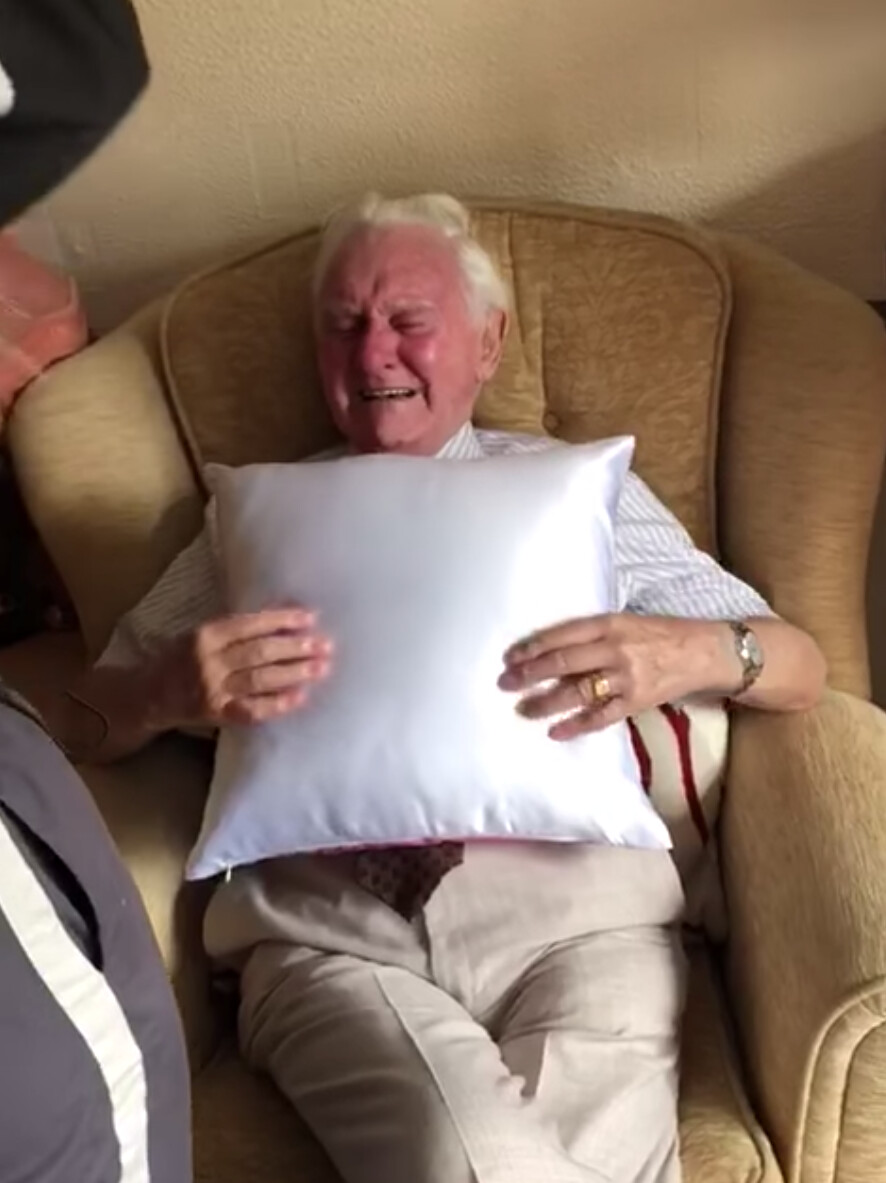 Following the war, Benbow came home to work as a bus driver—and his only major regret is that he spent so many nights delaying his return home after working that he doesn't believe he spent enough time with his wife in the early years of their marriage.
"I left my darling at home with our two children," he said. "I should have always been with her and I regret that."
In time, though, the two forged a bond that spanned over half a century. And now, although Ada is gone, Benbow still has the opportunity to lie beside her at night just as he did for so many years of his life.
Watch how Tobin surprised Benbow in the video below: