Professional basketball player Enes Kanter Freedom says it's time for the world to "wake up" and take action against a belligerent Chinese communist regime that's persecuting its own people and exporting its abuses to other parts of the world.
"We need to wake up, the world needs to wake up," he told NTD, which is part of the Epoch Media Group. "And I feel like condemning is not good enough—we need to take some solid actions."
Freedom made the remarks after a roundtable hosted by Sen. Rick Scott (R-Fla.) in Washington on March 29, when Simon Zhang, an adherent of the spiritual practice Falun Gong, spoke about the recent death of his mother at the hands of the regime because of her faith.
Zhang's mother, Ji Yunzhi from Inner Mongolia, had been detained previously in 2001 and again in 2008—the year Beijing hosted the Summer Olympic Games—narrowly escaping death in forced labor camps.
However, during her third detention, the 65-year-old died on March 21 after being subjected to torture; her death occurred less than 50 days after she was locked up solely because of her belief in Falun Gong, also known as Falun Dafa.
The spiritual discipline, which is based on the core tenets of truthfulness, compassion, and tolerance, as well as a set of meditative exercises, was hugely popular in China during the 1990s. Deeming that popularity a threat, the Chinese Communist Party (CCP) initiated a nationwide elimination campaign in 1999. Since then, adherents have been heavily persecuted, with millions being thrown into various detention facilities.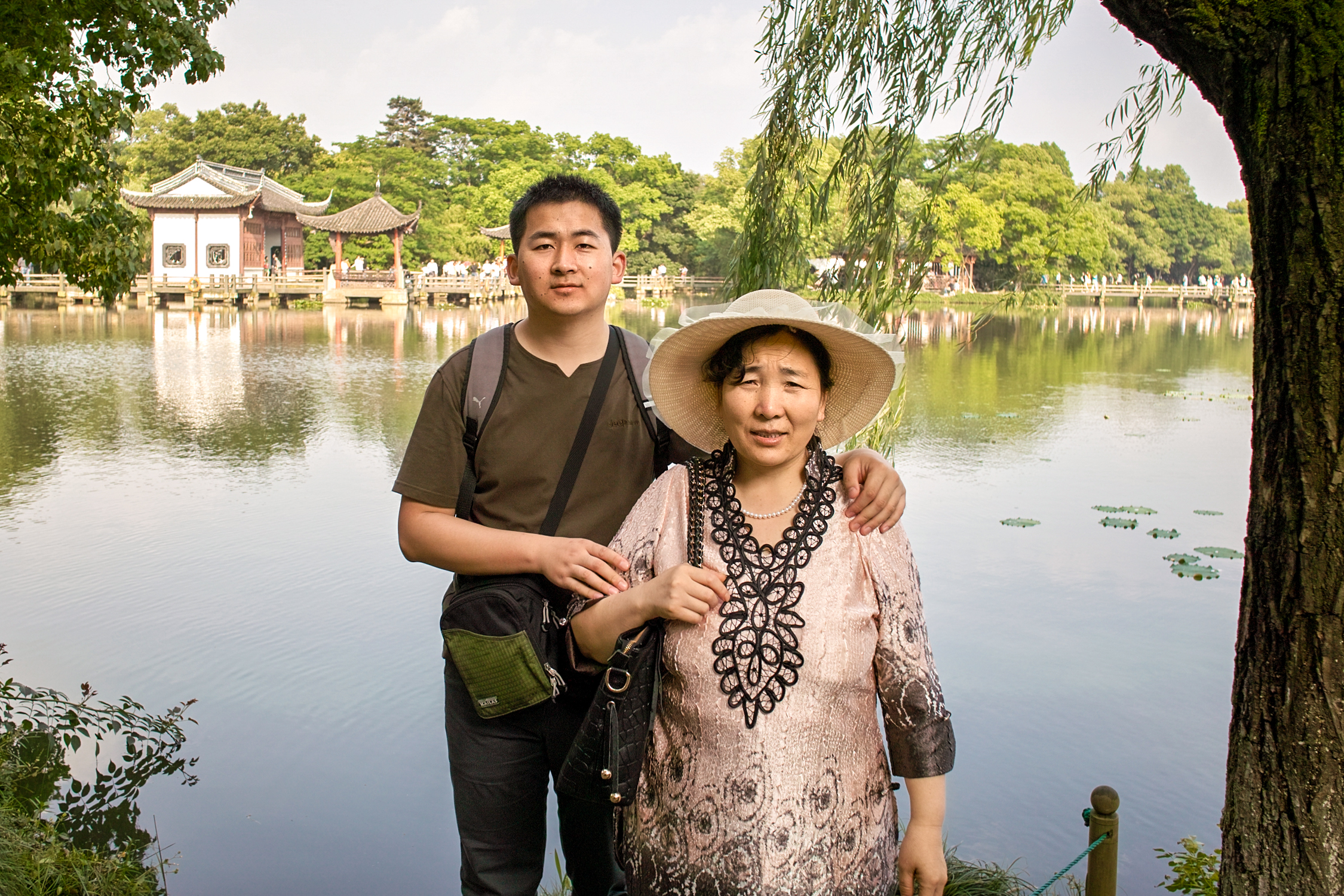 Family members were denied access to Ji's body after her death, but they were able to briefly observe that her throat was cut open and that there were bloodstains on her face and shoulders, according to Minghui, a U.S.-based clearinghouse for firsthand accounts of the persecution.
Her relatives believe that authorities deliberately prevented access to Ji's body to cover up their abuses. Such treatment is a common occurrence for relatives of persecuted Falun Gong practitioners, according to Minghui accounts.
"If I end up dead, I must have died from persecution," Ji was quoted in a Minghui report as telling her cellmates.
Zhang, a New York architect, struggled to put his feelings into words after learning of the death of his mother, whom he hadn't seen in 19 years.
"I had hoped we would reunite here in America," Zhang told The Epoch Times.
Ji had twice attempted to apply for a passport, but both applications were denied because of her detention records, Zhang said.
"I never knew that we'd never have another chance to see each other," he said.
Speaking Up
Freedom was recently left without a team in the NBA after being traded by the Boston Celtics and then released by the Houston Rockets, which he has attributed to his outspokenness against the CCP.
He has been fiercely critical of the regime since last summer, when one of the parents of a young Muslim participant at a basketball camp called his attention to Beijing's rights violations. The parents told him, "How can you call yourself a human rights activist when your Muslim brothers and sisters are getting tortured and raped every day in concentration camps in China?"
Freedom, who had principally focused on rights issues in his home country of Turkey in the past decade, said that question stunned him and compelled him to do research.
"I was very frustrated with myself, and I was like, 'Whatever it takes, I'm just going to go out there and try to bring awareness,'" he said at the roundtable event.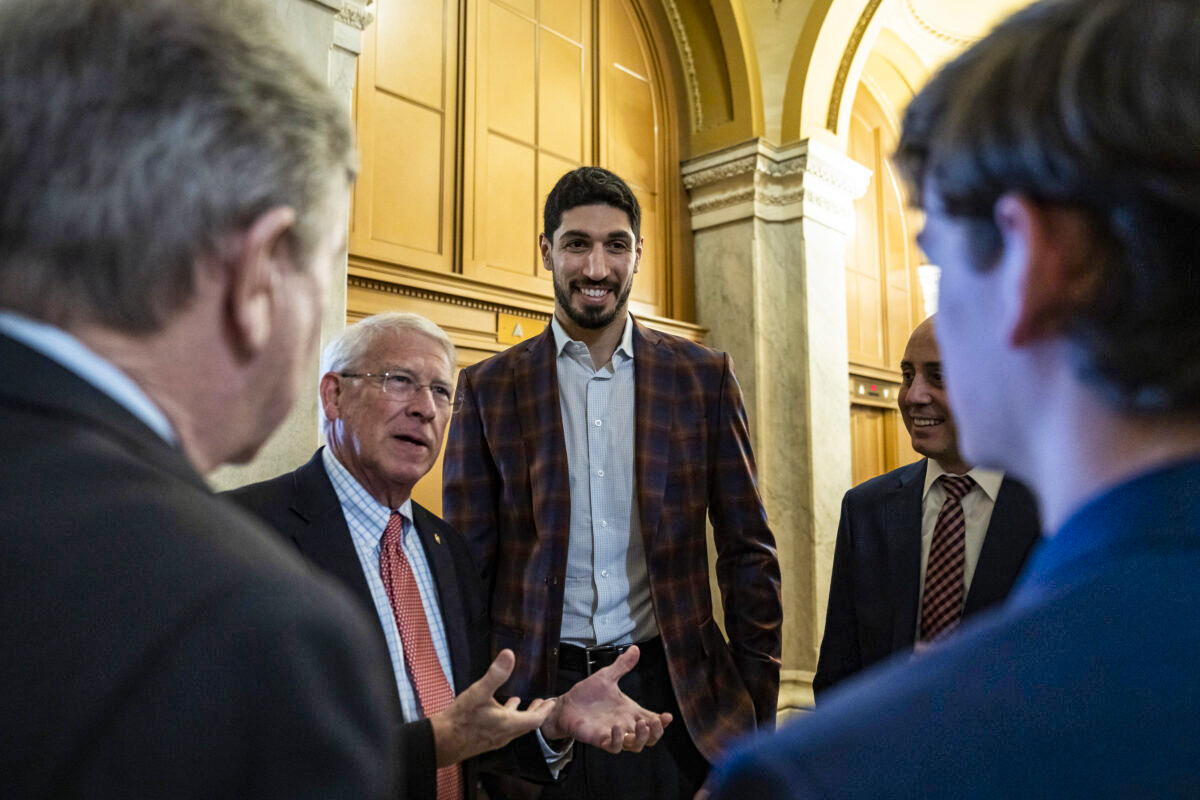 The athlete has since called out the regime for a range of abuses, including those committed in Tibet and Xinjiang, as well as its practice of live organ harvesting, an atrocity that has killed an untold number of detained Falun Gong practitioners.
"What [Chinese leader] Xi Jinping is doing, and what the CCP is doing, is one of the biggest human rights abuses in the world, and they need to be punished," he told NTD.
But to his great frustration, his advocacy set off alarms within the NBA organization, which has ties with the regime.
"Once there's lots of money and business involved, obviously, people are going to get really uncomfortable," he said.
"When I talked about the problems that happened in Turkey in the last 10 years, I did not get one phone call, but when I started to talk about the problems that happened in China, my phone was ringing once every hour.
"They were calling me from the NBA and the player's association, and saying: 'Listen, you know this is going to bring a lot of impact, but just be careful.'"
The warning from his agent was even more direct, he said.
"He was telling me: 'Listen, I think if you stop say[ing] a word and don't talk about this ever again, people are going to forget about this. But if you keep talking about these issues, then you're not going to get another contract.'"
He also previously said that the NBA had made him unavailable for media interviews for two weeks in late 2019, when the then-general manager of the Houston Rockets organization provoked Beijing's wrath over a pro-Hong Kong tweet.
In a previous statement to The Epoch Times, the NBA denied pressuring Freedom over his activism. The league pointed to a media statement from its spokesman, Mike Bass, who said they "continue to support Enes Kanter Freedom expressing his views on matters that are important to him as we do for all members of the NBA family."
Freedom said he believes that he has a duty to speak out.
"This platform is given to me by God, and I feel like I need to use it to do God's work," he said.
"We need some fearless heroes to just come out there and not think about their next contract or not to think about their shoe deals or who they can sign with.
"This is bigger than everything because, in the end, people's life depends on this."