GOLD COAST, Australia—Shen Yun Performing Arts should be embraced in every country of the world including Mainland China, an independent candidate for Australia's 2019 general election has said after watching the second performance at the Gold Coast's Home of the Arts (HOTA), on March 12, 2019.
Michael Kaff, who is standing for election in the federal seat for McPherson, was thrilled to see New York-based Shen Yun and loved the world-class entertainment it offered.
"I loved it, I thought it was beautiful, I thought it was elegant, it was funny. … I love the Western music, the Chinese instruments, how they come together beautifully, seamlessly, in fact—a wonderful, wonderful production," said Kaff who was previously a stage performer in various Australian productions and appreciates how much time and effort goes into the choreography, music, and dancing at each show. "It's just amazing."
He commended Shen Yun's high caliber classical Chinese dance, live orchestra music, and 3-D animation that combine to showcase 5,000 years of Chinese civilization.
"It brings out the Chinese culture wonderfully," Kaff said. "The music, the characters, the history was fascinating."
Kaff felt sad to learn from the bilingual emcees that Shen Yun cannot be shown in China today.
"Its very, very sad," he said. "I can't understand why the Chinese government isn't proud of this show, isn't proud of the people [and] instead trying to stop the show being performed around the world."
While it may seem difficult at the moment for Shen Yun to be organized despite attempts to stop it by the Chinese regime, Kaff believes the results are well worth the effort.
"I think the effort is very much worthwhile," he said. "More people should see and hear and laugh with these sorts of productions that tell you all the best parts of the Chinese culture … they will learn a lot more about it, they will have a better understanding and embrace it like I do."
He described the traditional values promoted through the show as absolutely fantastic.
"They are genuine, they are honest," he said. "They are values that we should all process everyday and its wonderful how it depicts these values."
Kaff also found the performance had a profound message about the divine origins of Chinese culture.
"The divine is everywhere, the divine is part of who we are, which created us and guides us," he said. "This production helps you to understand how we are all one and we are all connected, people should not feel like they are alone or that they are not being guided, or not being helped or supported in anyway by the divine, because they are, at all times."
He revealed his ongoing support for the local Falun Dafa group was a factor in his decision to come to see Shen Yun, and encouraged others to come and experience the performance for themselves too.
"Take your children, take your parents, take your friends and go and see it, I totally recommend it," Kaff said.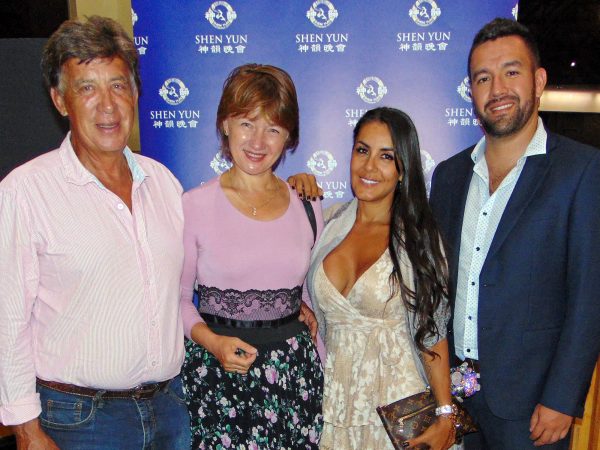 Other members of the audience felt compelled to travel more than eight hours to see the show.
Oksana Palacio who lives in Inverell, New South Wales traveled 442km (275 miles) to HOTA to see Shen Yun. The Ukrainian doctor in arts felt completely satisfied that the show was worth the long journey.
"It's just amazing, amazing, you can forget about everything and think about the story," Palacio said.
She became very emotional when she heard the soprano singer.
"I was ready to cry, I don't know why," Palacio said. "People who believe in something, something good always have to win … evil cannot be the winner."
She also liked how the dancers interacted with the 3-D animated backgrounds.
"Just a miracle," she said. "People just have to come and see it, it's beautiful."
With reporting by NTD Television, Nina Yan, and Richard Szabo.
The Epoch Times considers Shen Yun Performing Arts the significant cultural event of our time and has covered audience reactions since the company's inception in 2006.