World Cup 2014 Team News: Uruguay Striker Luis Suarez Has Surgery, Should Recover for Opening Match
May 22, 2014 8:50 am Last Updated: May 22, 2014 8:50 am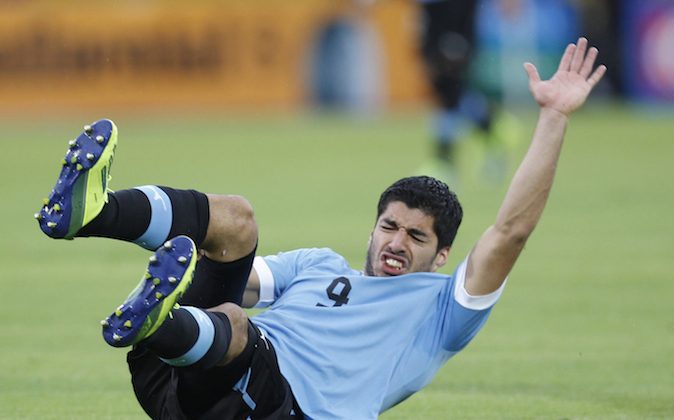 Uruguay striker Luis Suarez has undergone keyhole surgery on his knee and is expected to recover in time for the World Cup.
Sandra Diaz, mother of the 27-year-old Liverpool striker, says he had surgery Thursday to repair damage to his meniscus, and that the surgery was successful and that he should recover in 2-3 weeks.
"The surgery is over and thank God everything went well. What Luis had wasn't as serious as we thought," Suarez's mother, Sandra Diaz, told the Associated Press.
According to Suarez's sister, the striker is expected to be out for 2-3 weeks.
Uruguay will face Costa Rica for its first match of the World Cup on June 14.
The team will then face England on June 19 and Italy on June 24.
"The problem is that these days he won't be able to play, and will only be able to do physiotherapy," Giovanna Suarez said.
Suarez began feeling an uncomfortable pain during his last Premier League game and it returned during his first day of training with the Uruguayan national team on Wednesday, his sister said.
"He underwent a magnetic resonance and it came out that he had to undergo surgery. It was that quick," she said.
The surgery was carried out at the Medica Uruguaya hospital in Montevideo. Local media reported that it was an arthroscopy.
The player's mother only said it was surgery that used "a laser technique."
Suarez trained with his teammates on Wednesday morning but he was absent from the field in the afternoon. The Uruguayan soccer association said at the time that he had been working out at the gym.
Roberto Pastoriza, national teams secretary with the Uruguay FA (AUF), spoke to Ovacion Digital, confirming Suarez's knee surgery.
"According to the information I have received a short while ago, they are optimistic that he can make the World Cup," said Pastoriza.
"[Suarez felt] a problem in his knee, so he went for some tests. It all happened very quickly, a few hours ago [Wednesday night]. The matter is being looked after by the national team's medics. I cannot say anything else. It will be announced officially by the AUF on Thursday morning."
The news was first reported by prominent Uruguayan journalist Martin Charquero, who was also the first to reveal that Suarez would sign a new contract with Liverpool in January.
"Luis Suarez felt discomfort in today's training session," Charquero tweeted. "Later a scan was carried out, where a meniscus problem was detected."
Luis Suárez sintió una molestia en el entrenamiento de hoy. Luego se le práctico una resonancia,donde se le detectó un problema de meniscos.

— Martin Charquero (@MartinCharquero) May 22, 2014
Suarez, who scored a league-leading 31 goals for Liverpool, was voted player of the year in England by the player's association (PFA), and is also the Football Writers' Player of the Year.
Associated Press contributed to this report.