The Women's Tennis Association is suspending all tournaments in mainland China and Hong Kong due to concerns over Beijing's treatment of tennis star Peng Shuai.
"In good conscience, I don't see how I can ask our athletes to compete there when Peng Shuai is not allowed to communicate freely and has seemingly been pressured to contradict her allegation of sexual assault," WTA Chairman and CEO Steve Simon said in a Dec. 1 statement.
The well-being of Peng, a three-time Olympian and former world No. 1 doubles player, has become a matter of international concern since she made sexual allegations against former Chinese Vice Premier Zhang Gaoli early last month and then disappeared from public view for nearly three weeks.
Her post was erased within half an hour from her personal account on Chinese social media Weibo, which has been frozen. Discussion about Peng and her allegations has also been heavily censored online in the country.
Since Peng's disappearance, the WTA has been at the forefront in a growing pressure campaign on Beijing to provide verifiable proof of the tennis player's safety. Over the past weeks, tennis players, governments, and advocacy groups have sounded the alarm over the issue, handing Beijing a PR quagmire less than two months ahead of the Beijing Winter Olympics—an event already under scrutiny over communist China's rampant human rights abuses.
On Nov. 21, Peng appeared in a 30-minute video call with the International Olympic Committee (IOC), telling the officials she was "safe and well" and "would like to have her privacy respected." Days earlier, Chinese state media also released pictures of Peng and a screenshot of an email purportedly sent from the player in which she walked back the allegations. But such claims have only raised further doubts about her security. Others were also dissatisfied with the IOC's video call with Peng, saying the committee didn't do enough to confirm her welfare.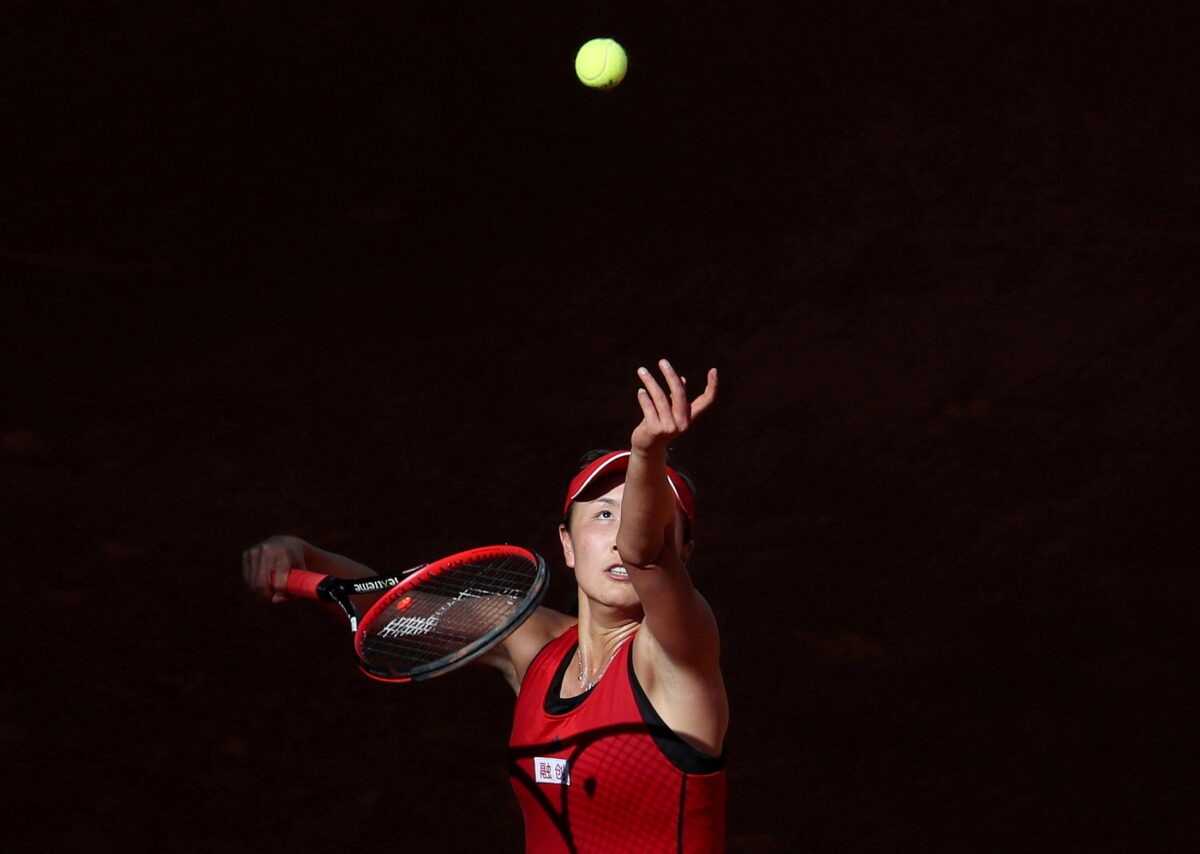 "While we now know where Peng is, I have serious doubts that she is free, safe, and not subject to censorship, coercion, and intimidation," Simon said.
Simon, who received full backing from the association's board of directors on the decision, expressed regret for having to take the step. But "China's leaders have left the WTA with no choice," he said.
"Unless China takes the steps we have asked for, we cannot put our players and staff at risk by holding events in China," he said, adding that he remained hopeful the association's "pleas will be heard" and Chinese officials would mount a "full and transparent investigation."
A number of U.S. lawmakers have weighed in on WTA's announcement, with Sen. Marsha Blackburn (R-Tenn.) thanking the organization for "having the courage to stand up to the Chinese Communist Party."
"From disappearing tennis star Peng Shuai, to forcing Muslim Uyghurs into slave labor, Communist China has no respect for humanity," she wrote on Twitter.
A number of prominent tennis figures also applauded the WTA's stance.
Billie Jean King, founder of WTA, said the organization "has chosen to be on the right side of history."
"This is yet another reason why women's tennis is the leader in women's sports," she wrote on Twitter.
Martina Navratilova, a retired player who won 18 Grand Slams, in a Twitter post called it "a brave stance by Steve Simon and the WTA where we put principle above $ and stand up for women everywhere and particularly for Peng Shuai." Prominent coach and former player Darren Cahill, in a tweet, praised the WTA for showing "an incredible amount of care, concern and leadership."
Former world No. 1 Andy Roddick said the move made him "proud to be in the tennis orbit."
"There are a lot of organizations who can afford to do something like this a lot more than the WTA can," he wrote in a tweet. "Doing the right thing is a lot easier when there aren't associated costs."