When her little sister went limp and appeared to suffer seizure-like shaking, Alicia Phillips thought she was dying in her arms.
She had been helping curl the 10-year-old's hair ready for Sunday church when she had grown increasingly pale and woozy.
The family rushed her to a nearby hospital, where doctors carried out an EKG and brain scans.
It wasn't a seizure, said the doctors. But to Phillips's surprise, it was caused by the hair curling: a rare condition found in children known as hair-grooming syncope.
Phillips, from Clinton, Tennessee took to Facebook to tell her story, and to offer a warning to others. Her post quickly went viral, clocking up over 200,000 shares in a week, together with over 40,000 comments.
"I experienced one of the scariest moments of my life this morning with my little sister," she wrote on July 7, describing how she had been curling her sister Grace's hair at her home when she began to look "kind of pale."
Grace indicated she felt she might throw up, so Phillips ushered her own kids out the bathroom and held her hair as she leaned over the toilet.
"Thirty seconds later… she looks at me. She is extremely pale with blue lips and starts to pass out. Her pupils got really big and I caught her.
"I start screaming for Dale to come help. Gracie has a blank stare and look on her face and is completely unresponsive and limp for about a minute. Her hands were also shaking. Very seizure-like."
Grace then began to recover. "She says she remembers hearing us talk but couldn't see us."
Her parents rushed over to her house and took Grace to a hospital where doctors diagnosed hair-grooming syncope.
"They said they see about 1-5 cases a year," she wrote. "We were told if she ever starts to feel nauseous or light-headed while getting her hair brushed to sit down and take a break."
"Syncope is simply the medical term for fainting. Hair grooming is known to be a precipitant of that," pediatrician Dr. Kurt Brandt told WBIR.
"It may be the pulling of the hair, possibly pain, possibly stimulation of the scalp," he said, explaining that it can be caused by cuts, blow drys, and curling. "Your blood pressure goes down and you pass out."
"It is all so fascinating," Dr. Alison Tothy, an associate professor of pediatrics at the University of Chicago Medicine, told Today. "We think it is either from pain, pulling on the scalp or scalp stimulation, or fear and the body feels like it is going to pass out and they do."
It typically affects children between the ages of 5 and 13, with most naturally growing out of it in their mid-teens.
It can, however, spark a vicious cycle: children faint once during hair grooming, and so become fearful in future, generating a physiological response that increases the likelihood of fainting.
The condition occurs more often in girls, according to a 2009 study that examined 111 cases. The study found that boys were more likely to suffer an episode during haircutting, and girls more likely to faint during combing and brushing.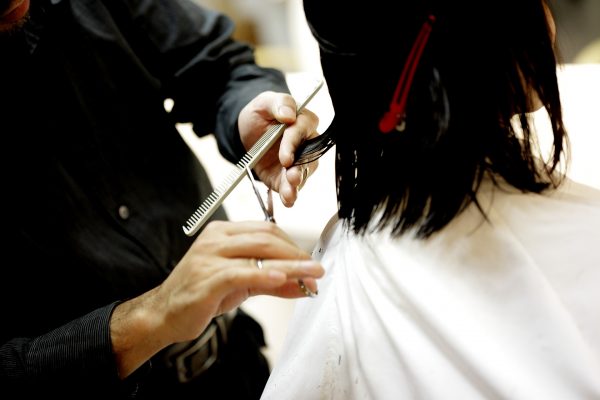 Other than the dangers of fainting itself, the condition is benign.
But for those who don't know what is going on, it's very scary, Phillips told WBIR.
"If I had been by myself I would've called 911 immediately," she said. "I thought she was dying in my arms."