Diagnosed with breast cancer two years ago, Dr. Shamanie Thompson, 40, of Minneapolis, had become fearful that her cancer would return—after all, her doctor told her that she had a 67% chance of recurrence in the next few years.
"Looking back, I was so affected by what he said. It affected my ability to plan … to really live. I started to ask myself, if I don't have much time left here, how do I want to live differently? How do I want to love?"
"Since cancer, I lost the ability to plan. I couldn't see a future," Thompson said.
However, it wasn't death Thompson was fearful of, she told Epoch Times. It was "the fear of dying young, leaving my children behind."
Thompson began to contemplate how she could live differently. Shortly afterward, she stumbled upon an inspirational story about Brice Royer, another cancer survivor. She wrote to him and was surprised he responded back to her, she said. He then convinced her to replace the fear she was experiencing with unconditional love.
Brice chose a very unique activity for Thompson, which in the end, changed her whole perspective on life. He wanted her to go out and spread love. 
Thompson and her kids made a sign that read: "I am giving Unconditional Love for $0 to heal my fear of cancer."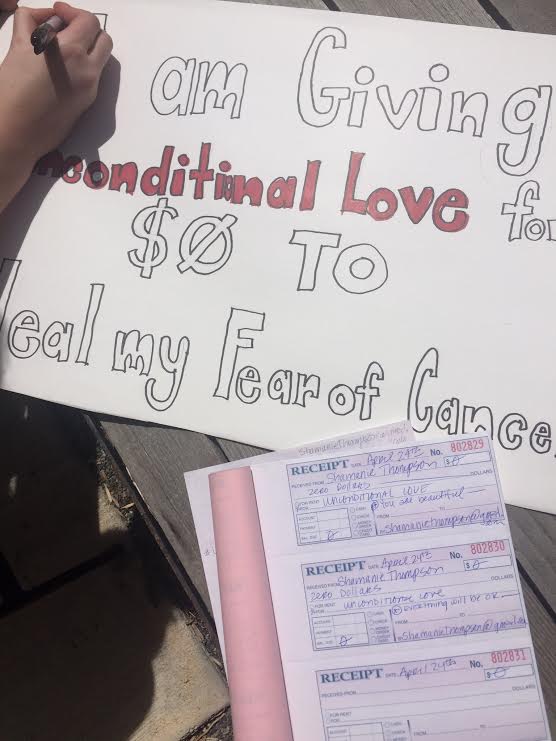 They set the sign up in City park in Denver, and Thompson handed out words of encouragement to people or receipts, she calls them, along with hugs, to 40 strangers in about 30 minutes. Each receipt had a different, positive message such as "Sunny days will come again"; "You are stronger than you think," and "You are perfect just the way you are."
She said it was not as easy as she thought it would be, "Holding up the sign made me feel so vulnerable," she said. 
But, it was well worth it, for it was the reason she began to live again.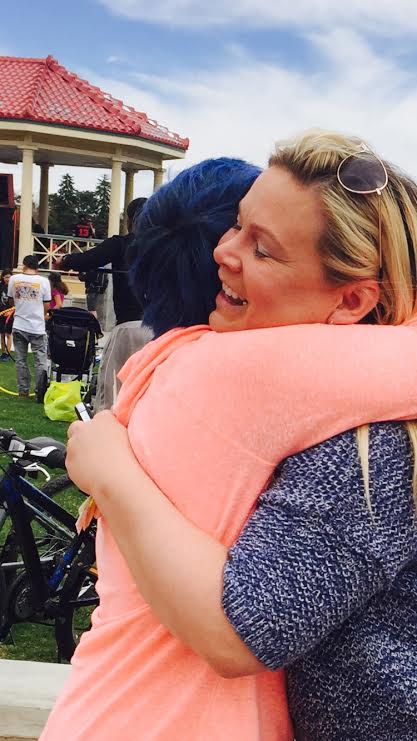 "I needed to admit my weakness and admit that I needed love from others.  I didn't need to get stronger, I needed to get vulnerable," she said.
Furthermore, the whole experience in the park made Thompson very happy. She could feel her heart growing "three times" its size, she said. Also, since these strangers reciprocated, it emboldened Thompson to make peace with her ex-husband, Nick, after years of hostile and bitter feelings towards one another.
"I told him that I love him, and I'm sorry for the pain and the conflict that we had for the last couple of years." She also told her ex-husband she wanted "peace" between them, adding, "If I die young, I need you to know I love you and I love our children."

She then reached out her hand to her ex-husband, to her surprise, he reached back and said, "I love you too, thank you. You are going to be OK."
All three of her kids witnessed the interaction between her and Nick, which made that moment feel even more special, she said.
"On any other day," she says in a YouTube video, "this never would have happened, because we've had such conflict in our lives. This is the miracle—I ended the war inside me." The exchange between her and her ex-husband made her feel a lot more calm, settled and at peace, she told Epoch.
However, that moment lasted for only a day, afterwards, things went back to how they once were, at least with Nick.
"My ex-husband still has conflict with me, and I hope someday in the future that will go away too," Thompson said.
She went on to quote Mark Twain, saying "There isn't time, so brief is life, for bickerings, apologies, heart burnings, callings to account. There is only time for loving, and but an instant, so to speak, for that."
"The good life is built with good relationships," Thompson added.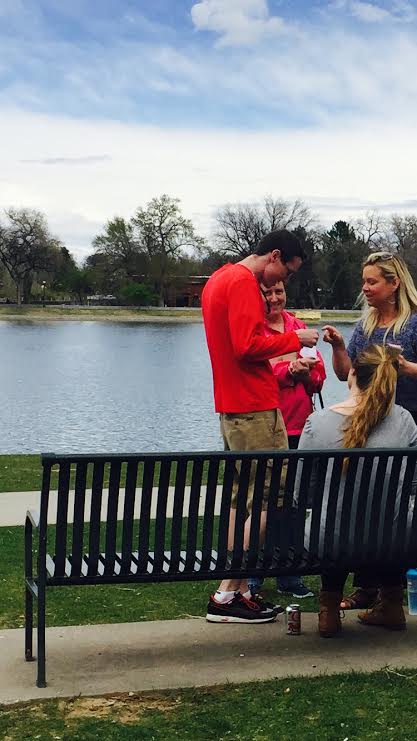 Thompson, who will be sharing her story with more than 700 people at Brave Girls Symposium in Idaho in July said, "Cancer has humbled me in humongous ways. I am committed now to make the best [of the] time I have left … maybe that's up to 107 years old."
She then added that she is "awakened to the knowledge" that we are all going to die. However, she said, "If we are awakened that it is true, you have a chance to love, to do your purpose, to take in the beauty of life. If you are more awake, you can fully experience what is in front of you. You miss out if you act like you have all the time in the world.  
"That idea forced me to live differently. I didn't want to carry around anxiety, anger, bitterness anymore.  I wanted to wake up," she said.