Andi Davis, a woman from Phoenix, found a dog while hiking that appeared to be in distress.
Davis was trekking on a mountainside near the city when she discovered a 2-year-old pit bull in a bad way on the side of the trail. The dog wasn't moving when she stumbled upon it.
According to a statement from the Arizona Humane Society, she gave the animal some water and then she knew it needed her help.
"Mom had him in her arms, and then he looked at me, and I was like, 'Is this dog going to bite?'" Jessi, her daughter, told AZ Central.
"And I looked in his eyes—I could tell, I could just tell that he was a nice dog."
The mother carried the 40-pound dog—now named Elijah—in her arms down the mountain around a half-mile.
"He has completely changed my mind about what a pit bull is and isn't," she told the site.
Davis took the pit bull to the Arizona Humane Society.
Woman finds pit bull on hike, near-death with bullet wounds, carries him home and adopts him http://t.co/bHuHPbNQlp pic.twitter.com/MnG1jtJ4Ik

— The Daily Saint (@thedailyst) June 4, 2014
"I thought I would never see him again," Jessi told CNN. "I knew he was in good hands, but I still felt very sad."
Doctors found an open wound in the dog's abdomen, and they also found bullet fragments near the animal's spinal cord. A bullet was found in the middle of his neck.
Elijah was returned to the family, who wanted to keep him.
"Mom has a dog, dad has a dog, I have a dog," Jessi added. "Elijah is the family dog. Because he's special."
The dog was officially adopted by the Davis family
The Arizona Humane Society called pit bulls a "misunderstood breed."
So happy for Elijah and his new family!http://t.co/2dKsnNgmO7

— Edward Gately (@EdwardGately) October 24, 2013
"Andi, who was once uncertain about the pit bull breed, has seen just how resilient and forgiving the misunderstood breed can be," their statement said. "Elijah's story truly goes to show the good in both people and pit bulls and reminds us of the plight of pit bulls in our country."
Other details about the case are not clear.
Dog Bite Stats
DogsBite.org says that "each day, about 1,000 U.S. citizens require emergency care treatment for serious dog bite injuries. Annually, about 9,500 citizens are hospitalized due to dog bite injuries."
In a 13-year analysis, the website says that of 433 fatal dog attacks in the United States, pit bulls contributed to 66 percent, or 284 deaths.
Rottweilers, the second on the list, inflicted 10 percent of attacks that resulted in human death, the report says.
German shepherds accounted for 4.6 percent of fatal attacks.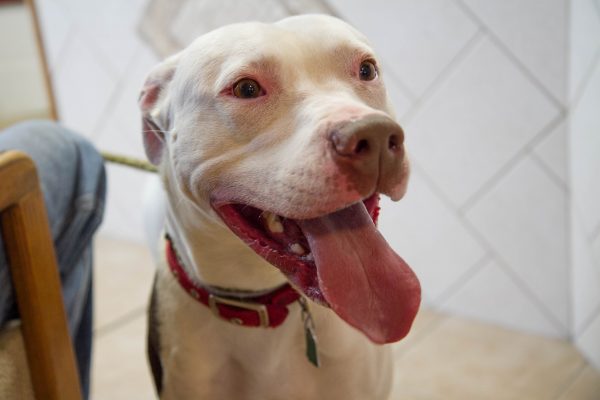 Mixed-breed dogs accounted for 3.9 percent and the American bulldog was next at 3.5 percent, the report said.
The Mastiff and Bullmastiff accounted for 3.2 percent of deaths.
Last on the list were huskies, which accounted for 3 percent of fatal attacks.
The report compiled fatal dog attacks between 2005 and 2017, showing that 48 percent of the victims were children aged 9 or younger.