A 136-page interim report released by special counsel Michael Gableman states that he has uncovered numerous instances of lawbreaking in Wisconsin during the 2020 election.
The former justice of the Wisconsin Supreme Court was hired last summer by the speaker of the Wisconsin State Assembly Robin Vos, a Republican, to investigate suspected election fraud during the 2020 presidential election.
In the March 1 report, Gableman wrote that his investigation had uncovered instances of numerous votes cast by mentally incompetent nursing home residents, noncitizens, and ineligible felons.
He cited the use of unstaffed absentee ballot drop boxes by municipal and county clerks, in violation of state law.
Laws were also allegedly violated when the Wisconsin Elections Commission (WEC) exceeded its authority by ordering local election officials to disregard state statutes that regulate absentee voting, according to the report.
Gableman also raised concerns that private money influenced municipal officials in the state's five largest cities to "disfavor" many of their own citizens—as well as the vast majority of state residents—by spending millions of dollars of grant money on voter registration drives, absentee voter efforts, and Get Out the Vote campaigns designed to serve certain favored and specifically targeted racial groups in violation of the equal protection clauses of the state and federal constitution.
Gableman offered a list of suggested reforms designed to restore public confidence in Wisconsin elections.
Among Gableman's recommendations was a call to abolish the WEC, prohibit outside money and personnel from participating in election administration, and improve training to better acquaint local election officials with their powers, duties, and rights.
He also laid out the legal rationale for decertifying the state's 10 electors who voted for President Joe Biden.
Biden, a Democrat, was declared the winner of Wisconsin's popular vote by 0.6 percent, or 20,000 votes.
Relying on the common law principle that fraud or illegality invalidates results under an illegal or fraudulent process, Gableman asserted that the state legislature had the constitutional plenary power to decertify the results of the 2020 presidential election in Wisconsin because state laws were broken.
Wisconsin Gov. Tony Evers, a Democrat, released a statement on the day the Special Counsel's Report came out.
"This circus has long surpassed being a mere embarrassment to our state. … Every day this effort continues, it is an increasingly dangerous and ongoing threat to our democracy," Evers said.
Wisconsin Attorney General Josh Kaul, who has sued to block or curtail subpoenas issued by the Office of the Special Counsel (OSC), said in a March 1 statement that Gableman's report was a "full-throated attack on democracy" and an attempt to "overturn the will of the voters."
Kaul said Republican state legislators "have an obligation to our democracy to condemn, and end, this preposterous fake investigation."
The OSC report detailed instances of what it called "obstruction" on the part of some state officials and private interest groups, which have filed nine lawsuits against the OSC and snowed it under with what it calls "dilatory," "frivolous," and "voluminous" public information requests.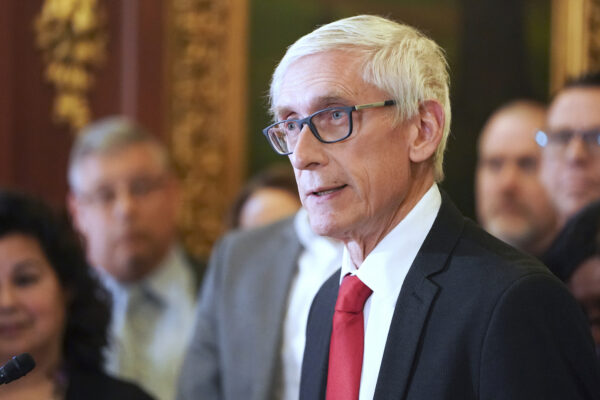 Gableman alleged in the report that Democrat political operatives, paid for by grants from the Zuckerberg-funded nonprofit Center for Tech and Civic Life (CTCL), all but took over administration of the 2020 election in five of Wisconsin's largest cities.
According to the report, as the COVID-19 pandemic raged in the spring and summer of 2020, CTCL donated nearly $8.8 million to county clerks and municipal election administrators throughout Wisconsin. The stated purpose of the grant funding was to help ensure that communities had enough money to be able to conduct elections in accordance with public health safety guidelines.
Five of Wisconsin's largest cities—Milwaukee, Madison, Green Bay, Racine, and Kenosha—received a total of $6.3 million in grant funding, ostensibly to purchase PPE and other health-related equipment, such as plexiglass barriers and hand-sanitizer. The grants were conditioned on the five cities agreeing to the guidelines of the Wisconsin Safe Voting Plan (WSVP).
Gableman alleged that WSVP was little more than a partisan campaign program designed to maximize voter registration and turnout in heavily minority-populated precincts. The report states that the WEC supported the WSVP Get Out the Vote program, an action Gableman said isn't part of the agency's mission.
How Did the 5 Cities Spend the Grant Money?
The cities used grant funds to pay for curbside voting tents, which are mobile polling places operated out of trucks, as well as for a drive-thru voting window at one city hall.
The cities spent grant money on voter education, a multimedia advertising and phone blitz, and geo-fencing (a computer technique used to pinpoint particular areas of geographic and demographic interest). They also paid for personnel known as "voter navigators" (also known as ballot harvesters), whose job was to shepherd a prospective voter through the process of voting.
The municipalities purchased and installed unstaffed absentee ballot drop boxes in strategic locations, in violation of Wisconsin law.
The OSC report presented data showing that Green Bay spent 0.8 percent of its $1 million in grant funding on PPE and health equipment. The city spent $50,000 for ballot drop boxes and purchased a couple of new Ford trucks. It paid a public relations firm $150,000 for a voter outreach campaign.
The public relations campaigns in each city zeroed in on preferred racial groups, which coincidentally matched the demographic profile of Biden voters, according to the OSC report.
The report states that the cities' actions were discriminatory and that they "disfavored" city and state residents who didn't fit the targeted profile, raising issues of unequal treatment under the law.
CTCL and other private workers, known as "grant mentors," along with many volunteers, worked for weeks assisting city election officials and county clerks in conducting the 2020 presidential election.
What kind of assistance did the CTCL-supplied workers provide?
According to the OSC report, representatives of private organizations participated in much of the planning and administration of the election.
The tasks that they performed included curing defective mail-in ballots, challenging voter ballots, verifying photo ID, setting up voting equipment and vote counting centers, training volunteers, and writing instructions controlling the activities of count observers.
Workers provided by private organizations assigned inspectors for polling places and vote counting centers, transported ballots to city hall and counting centers, issued a purchase order, made decisions about whether to accept ballots after 8 p.m. on Election Day, participated in the counting of ballots, and set up wireless digital networks in polling places, clerks' offices, and other buildings, according to the report.
The OSC report stated that local election officials, made beholden to private organizations by grant funding, could be susceptible to leverage pressuring them to do things in violation of their oath of office.
Other Alleged Offenses and Abuses by State and Local Election Officials
The special counsel alleged that rampant fraud and abuse occurred statewide in many Wisconsin nursing homes, housing 92,000 residents, during the 2020 election.
When visited by OSC investigators, many nursing home residents who are on record as having voted absentee in the election, were unaware of their surroundings, what year it was, or to whom they were speaking.
Some nursing home residents who purportedly voted had been adjudicated by a court to be mentally incompetent and their voting rights had been taken away.
Wisconsin election laws require that a nursing home resident desiring to vote absentee must be visited by a Special Voting Deputy (SVD) designated by the local clerks or election boards to assist the resident and supervise the application and voting process.
Under the statute, only the resident's immediate family or an SVD can have any contact with the ballots. They're never to be mailed.
In June 2020, for reasons of public health, the WEC directed all clerks to handle nursing home voting according to the rules governing ordinary mail-in voting, thereby disrupting the strictly limited chain of custody of residents' ballots—a direct violation of Wisconsin law. The result was thousands of application forms, ballot envelopes, and ballots that were illegally handled by nursing home employees, according to the report.
The report alleges that nursing home administrators and staff members illegally assisted residents in marking their ballots. Some family members have reported suspected cases of staff members forging the voter's signature. According to the OSC, the result was an "improbably high" voting rate, with many nursing homes reporting that 100 percent of their residents had voted in the 2020 election.
WEC Administrator Meagan Wolfe said in a statement: "The integrity of the November 2020 election, and of the WEC, has been shown time, and time again, through court cases and previous investigations."
Correction: A previous version of this article incorrectly stated the number of nursing homes in Wisconsin. The Epoch Times regrets the error.