Commentary
Brazil's President Jair Bolsonaro has always been critical of the electronic voting machines used during elections in his country. He suspects that these machines may be not entirely reliable and insists on using printable and auditable paper ballots as a better guarantee of transparency. The president would like to see a physical register for each electronic ballot, a sheet of paper that could be printed so that citizens could confirm whether their votes were cast properly.
These suggestions have been rejected by the Brazilian Supreme Court. Some members of this Court have even threatened to investigate Bolsonaro for "abuse of office" and "improper use of official communication channels." His crime was simply raising concerns about the transparency of these voting machines.
"I refuse to be intimidated. I am going to continue exercising my right to freedom of expression, to criticize, to listen to, and above all answer to the will of the people," Bolsonaro said to his supporters outside the presidential palace. On Aug. 1, 2021, thousands of Brazilians took to the streets of major cities to support him and protest against the apparent lack of transparency in the electoral system.
The president of the federal tribunal in charge of organizing, conducting, and supervising Brazilian elections is Edson Fachin. He is also a vocal adversary of Bolsonaro.
"As president of the superior electoral tribunal, we will not tolerate the intolerant," Fachin said in an interview on Feb. 18, referring, of course, to the conservative opinions of the Brazilian president.
Landless Workers' Movement
One may agree that it is deeply problematic for the head of the top electoral tribunal to attack a presidential candidate in such a manner. However, J.R. Guzzo, a well-known journalist in Brazil, explains that, before becoming a top judge, Fachin had served as a lawyer for the Landless Workers' Movement (MST) and as a supporter of Lula da Silva and his Workers' Party.
Bernardo Kucinski, a former special adviser to Lula, explains that the MST supports his candidature and the Workers' Party in elections campaigns and is, in turn, supported by the party. Founded in 1984, the MST has a history of illegal invasions of property, sometimes leading to violent clashes with landowners, especially during the Lula administration, from 2003 to 2010.

According to the U.S. State Department, many people were killed in those years "in conflicts involving disputes over land ownership and usage. The land rights organization known as the 'Movement of the Landless' (MST) continued its campaign of invasion and occupation of private and public lands that it wanted the federal and state governments to expropriate for land reform. The MST also continued its occupation of public buildings. MST activists often used confrontational and violent tactics and destroyed private property during some occupations."
The MST's strongly communistic program proposes confiscating private property and changes in patterns of consumption as necessary for a redistribution of income.
Maria Jaime, the head of the MST's central propaganda apparatus, was a guerrilla Maoist during the 1970s who had received political and military training in Communist China in 1969.
The prominent leader of the MST, José Stédile, is an admirer of former Vietnamese dictator Ho Chi Min. He was elected a member of the Brazilian Congress and has served in this capacity since 2011 for the Workers' Party.
Corruption During the Lula Administration
As was widely reported, corruption was an endemic problem during the Lula administration. No other government in Brazil's history had many politicians, ministers, and functionaries under investigation for private gains through bribery, fraud, extortion, and embezzlement. All of Lula's closest and most influential advisers were eventually forced to resign for large-scale illegal transfers of funds into electoral campaigns, private enrichment, and financing of full-time functionaries.
In July 2017, Lula was sentenced to 12 years and a month in prison for corruption and money laundering. He spent only a year and a half in jail. In March 2021, Justice Edson Fachin, the top judicial officer in charge of organizing, conducting, and supervising the next presidential election, annulled all these convictions on technical grounds, taking the entire nation by surprise.
Fachin did not say a word about Lula's culpability—demonstrated in three court decisions, before nine judges, and in a series of criminal proceedings where there are numerous witnesses, plea bargains, and even the return of stolen money. Instead, he limited himself to saying that Lula should not have been prosecuted in the city of Curitiba but rather in Brasilia.
Fachin's monocratic decision was later confirmed by a full plenary vote following an appeal by state prosecutors, restoring Lula's political rights ahead of the presidential election this year.

Who Is Edson Fachin?
Some context about Justice Fachin's nomination may be necessary.
In March 2016, in an attempt to shield her political ally and supporter from criminal charges, then-President Dilma Rousseff tried to appoint Lula to her cabinet. Although Rousseff failed in her attempt because Congress concluded her process of impeachment in time, there was still time to appoint a "progressive" academic lawyer from Paraná State—Edson Fachin—to a judicial position in the Brazilian Supreme Court in April 2015.
On Aug. 31, 2016, the Brazilian Senate voted 61-20 to remove Rousseff from office on charges of manipulating the federal budget to conceal the nation's economic problems and a serious recession.
There was, however, a more serious accusation.
Between 2004 and 2014, the state-run oil company Petrobras—the country's largest corporation and one of the largest in the world—became the victim of one of the most astonishing corruption schemes ever made known to the public. We are talking about $5.3 billion deviated from the company by construction executives who secretly created a cartel to coordinate bids on Petrobras's contracts. As a result, these constructors overcharged the company, and some of the profits were sent to the company's bosses as bribes and politicians linked to the government.
Justice Fachin's radical views on property rights made him a notorious defender of the cause of "social groups" such as the MST.
"He follows a progressive line of constitutional law," said Gabriel Petrus, a political analyst who studied law under Fachin at the Parana Federal University. He also said Rousseff's decision to pick a progressive for the Supreme Court was to "balance" what was perceived as an "increasingly conservative Congress."
Before becoming a top electoral judge, Fachin was not only an academic lawyer but also a supporter of Lula and her ally Rousseff. During the 2016 presidential campaign, he spoke favourably about the then-ruling Workers' Party and asked for Rousseff's re-election in a passionate speech.
Is Electoral Transparency Possible?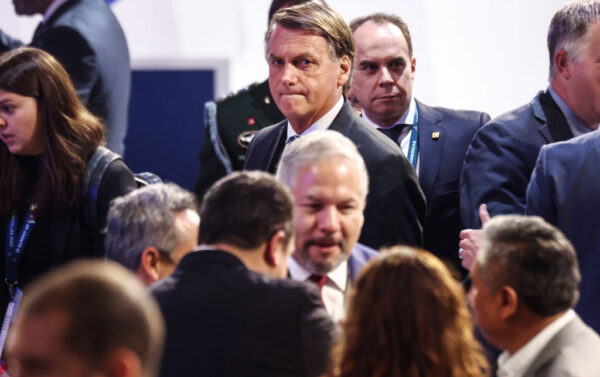 As can be seen, President Bolsonaro has some good reasons to be suspicious about the impartiality of the head of the Superior Electoral Tribunal. But unfortunately, Justice Fachin is not entirely apolitical.
And he is not the only one to take sides in this year's presidential election. Other Supreme Court justices, in particular Luis Roberto Barroso and Alexandre de Moraes, have overruled several government policies and claimed that the president was spreading "fake news" about the safety of vaccines.
In an interview on Jan. 10, Bolsonaro accused these top judges of wanting Lula to be president. Then he asked rhetorically: "They might not want to vote for me, but do they want to return to office the man who robbed the nation for eight years?"
His concerns are justifiable, particularly because Justice Moraes has been censoring the president's political supporters, even to the extent of opening an inquiry concerning alleged "fake news."
One of the materials censored by Moraes refers to a 2018 federal police inquiry that investigated how hackers might have attacked the computers of the Superior Electoral Tribunal. "This is not fake news. One, even, stole the password of a judge," Bolsonaro said.
Of course, any member of the judiciary who swore to uphold the Brazilian Constitution should not be so hasty in limiting free expressions of political opinion.
But, whether or not that information is "fake news," one thing is for sure: many top judges in Brazil, including those in charge of supervising the next Brazilian elections, still have a lot to learn about a democratic right to freedom of speech, including when it comes to debates about the transparency of voting machines.
"You either have or don't have freedom," said Bolsonaro.
With a presidential election looming, is there any hope for electoral transparency in Brazil?
Views expressed in this article are the opinions of the author and do not necessarily reflect the views of The Epoch Times.