President Joe Biden will decide whether to run for president in 2024 during the upcoming holiday break, confirmed White House chief of staff Ron Klain earlier this week.
"When will the president make the decision?" Klain told a crowd Monday during the Wall Street Journal's CEO Council Summit. "I expect it shortly after the holidays. But I expect the decision will be to do it."
For the past year and a half, Biden has publicly signaled that he would run again in 2024 amid concerns about his age and health, although he has not formally declared his candidacy. The president turned 80 years old late last month, becoming the first octogenarian to ever sit in the Oval Office.
Previously, Biden indicated that he would not declare his candidacy because it would possibly violate federal election laws and campaign financing rules. In a similar move, former President Donald Trump, who announced last month he's running for president, had stated that he was holding off on running due to election laws—which he often has described as antiquated.
During a news conference after the Nov. 8 midterm elections, Biden told reporters that his intention is to run but said he won't make an announcement until early 2023. There has been considerable speculation about Biden not running again, prompting questions about whether other prominent Democrats could take his place.
"Our intention is to run again, that's been our intention, regardless of what the outcome of this election was," Biden said last month. He did not provide more details.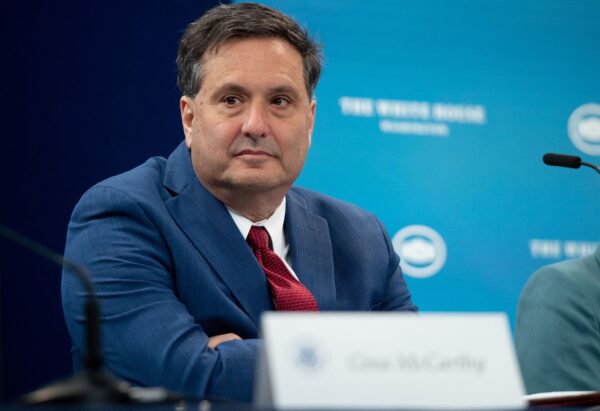 A final decision, he added, would be contingent on his health and discussions with his family. Biden confirmed he'll speak to his family over the holiday season.
"My guess is it'll be early next year that we make that judgment," he said after the midterms.
White House senior adviser Anita Dunn told reporters last month that the president's decision to run will be a family decision.
"The family is going to be deeply involved in whatever decision he reaches because that's who he is," Dunn said during an Axios event.
More Speculation
Meanwhile, California Gov. Gavin Newsom revealed in November that he won't attempt to run for president in 2024 if Biden decides to. The reason why, according to the Democrat governor, is because it would trigger infighting within the Democratic Party that will hurt the chances of the party candidate's winning in 2024.
"I've told everyone in the White House, from the chief of staff to the first lady," Newsom, who won reelection in November, told Politico.
With Newsom out of the picture, should Biden decide to run for reelection, it's highly unlikely there will be many Democrat challengers.
But some Democrats in Congress have publicly stated that Biden should retire. It comes as top House Democrats, including Speaker Nancy Pelosi (D-Calif.), announced they would not be seeking leadership positions during the upcoming Congress after Republicans won enough seats to re-capture the House majority.
Rep. Dean Phillips (D-Minn.), for example, said in November that Biden should step down because "it is just time for a new generation of leaders to participate."
With Republicans taking over the House, top GOP lawmakers have indicated they plan on carrying out numerous investigations targeting Biden and his family, notably his son, Hunter Biden.
One GOP Candidate so Far
On Nov. 15, Trump became the first—and still the only—GOP candidate to announce a 2024 White House bid. During his announcement at Mar-a-Lago in Florida, the former president did not make any references to would-be Republican challengers such as Florida Gov. Ron DeSantis, former Vice President Mike Pence, or former Secretary of State Mike Pompeo.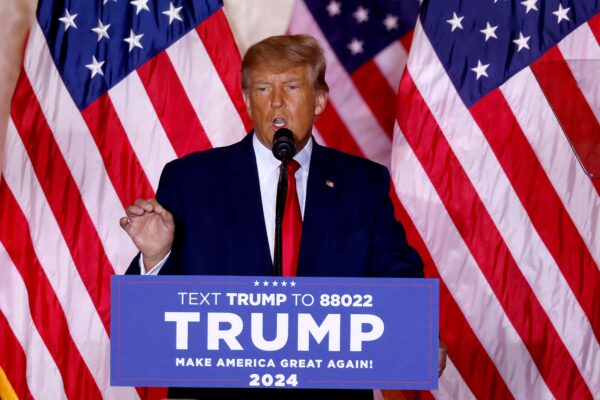 "We will heal our divisions and bring our people back together through incredible success," he stated. "We will shatter the forces of tyranny, and we will unleash the glories of liberty for ourselves and for our children, and for generations yet to come. America's golden age is just ahead."
Since his speech, Trump apparently has not issued any statements targeting would-be Republican challengers. However, during the midterms, Trump launched a brief salvo against DeSantis, who has not indicated whether he'd run for president in 2024.
Trump, who turned 76 over the summer, will be 78 years old by Election Day in 2024 and would be 82 years old at the end of a possible second term. Biden, meanwhile, would be nearly 82 years old by Election Day in 2024 and would be 86 in January 2029.