Virtual Reality to Revolutionize Fan Experience
May 17, 2018 Last Updated: May 17, 2018
Imagine sitting court side at a Golden State Warriors game. Ten seconds are left on the shot-clock and they're down by 2. The ball is inbounded to Klay Thompson, who dribbles toward the rim. Time slows down, every second is like a year. Sitting on the edge of your seat, your heartbeat increases. Bah-boom, bah-boom, the ball bounces closer to the rim.
Two defenders collapse the key to prevent Klay from getting to the hoop. At the last moment, he finds Stephen Curry open in the corner for a 3-pointer. Swoosh. The Warriors bench goes ballistic, the crowd is raucous and Stephen Curry starts doing a shimmy dance. It's a truly blissful moment.
i imagine you both dancing like this HAHAHAH pic.twitter.com/hM2Z8g2xIo

— mimi (@ethicalmendes) June 14, 2017
And, yet, you viewed all of this from the convenience of your own home. Thanks to new innovations in technology, virtual reality (VR) is revolutionizing sports and the fan experience. NextVR is a startup and the world's largest virtual reality platform. It broadcasted the opening night of the 2015-16 NBA season when the defending champion Golden State Warriors took on the New Orleans Pelicans, which gave fans the opportunity to view the ring ceremony as well as the game.
Not only has NextVR made breakthroughs in providing live sports coverage through virtual reality, but it also extends the VR experience for music concerts, dance competitions, and comedy shows. This could be a real boon to those people who live far away from their favorite sports team. Or if your favorite artist's concert may be too pricey for you at the moment.
Entertainment, whether sports or performance related, could also benefit financially from this arrangement. Whereas a stadium has a finite capacity (about 20,000 people in a basketball stadium), the VR experience could be extended to anyone who has a VR headset and an internet connection.
Critics will point to the lack of social interaction that is involved with VR headsets. However, on May 1 NextVR sent out a press release that it had teamed up with Oculus Venues in the hopes of combining live social engagement with NextVR's leading content. Venues is a new Oculus app that will be available for the new Oculus Go headset, a stand-alone headset that allows fans to take VR wherever they go.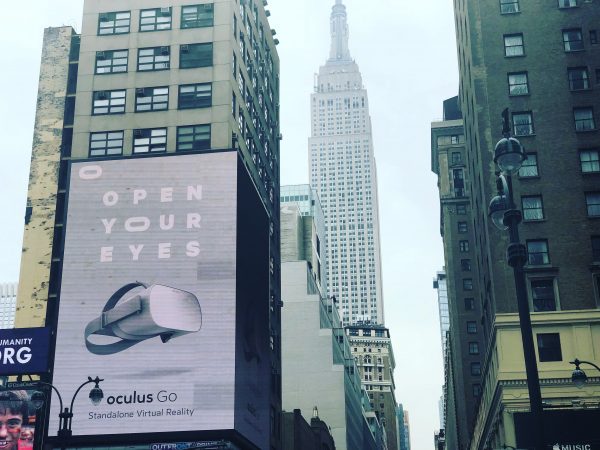 Certainly, VR will not replace live entertainment, but could enhance the fan experience, allowing for more people to be apart of the experience and more interaction as well.
Like any advance in technology, there will certainly be early adopters and those who come along later. In any case, if it would give me a chance to watch Stephen Curry from courtside, I'll take that shot any day.