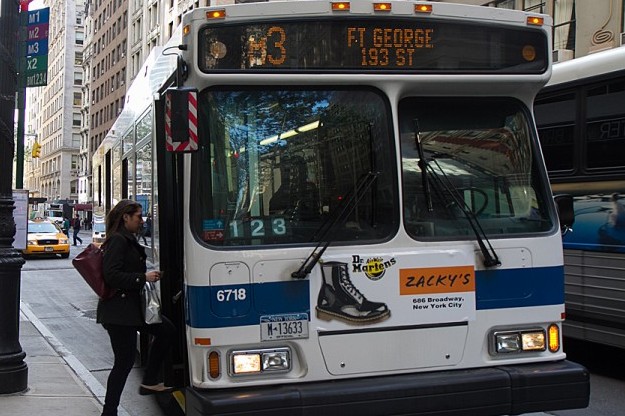 NEW YORK—As part of the Metropolitan Transportation Authority's effort to prevent criminal activity on buses, 1,576 buses will be equipped with Bus Camera Security Systems (BCSS). Approximately 300 running buses are already running with installed video cameras.
The security system includes multiple cameras installed on standard 40-foot buses and 60-foot articulated buses. The cameras remain active as long as the bus is in service, capturing footage and uploading it wirelessly to the bus depot server.
"Video surveillance is a vital element of the Metropolitan Transportation Authority's ongoing effort to maintain a transit network that is as safe and secure as possible," said NYC Transit president Thomas F. Prendergast in a press release issued by the MTA. "Bus cameras offer a visible crime deterrent, while also providing a state-of-the-art electronic tool that will aid in the investigation and prosecution of criminal activity aboard the vehicle."

Concern for Workers and Passengers
Originally, only 426 buses were to be installed with the cameras in a contract with UTC Fire & Security. However, the growing numbers of transit worker injuries may have contributed to the adding of 1,150 buses to the contract.
A city hall hearing held on Nov. 1, 2011 revealed that 69 transit workers had been physically assaulted in the first nine months of 2011, compared to 57 during the same period in 2010.
Passenger safety is also a constant concern.
"We don't want to go back to the 70s and 80s, when people were afraid to ride on buses and subways," said Councilman James Vacca during the November hearing.
The original contract included hardware and software installations in nine bus depots and the current option will allow for similar installations in 12 additional depots and three servers.
The installation process started in February last year, after the initial contract was signed in December 2010.
"We have been looking to install bus security cameras for the last several years," said an MTA official. "We have finally identified the technology that is suitable."
The security cameras are only for buses and there are currently no specific plans to install similar system in subways. However, an MTA official said that all new subway cars are pre-wired to accept cameras.