A rescued elephant calf, found as a days-old orphan in Kenya, has become a colorful character at her sanctuary home. One funny video of the calf's antics went viral, after she refused to go to sleep one night and was caught on camera trying to clamber out of her stable for extra playtime.
Sheldrick Wildlife Trust, based in Nairobi, told The Epoch Times that the elephant calf, named Kinyei, is a "very determined character and likes to live life her own way."
In November 2021, three years after Kinyei was rescued, the trust filmed a video of the calf after she had drunk her evening milk bottles and shared it on Facebook. "Kinyei is simply not ready to go to sleep!" they wrote.

"Her best friends are already tucked in next door and the nursery is quieting down … but this fun-loving girl saw her window of opportunity to protest bedtime, and she climbed right through it!"
The funny footage shows the elephant standing on her hind legs with her front legs hanging outside the half-open stable door. She swings her trunk and grumbles, showing no signs at all of settling down for the night. Netizens filled the comments section, hailing the youngster as "clever," "cheeky," and "cute."
Watch Kinyei's bedtime escapades:
(Courtesy of Sheldrick Wildlife Trust)
The trust claimed that Kinyei is also a stubborn elephant, and this trait has worked in her favor. "At infancy, this stubbornness manifested as an intense will to survive in the face of pneumonia," they explained.
But Kinyei reserves the right to change her mind; in March 2022, the now 5-year-old elephant was filmed in her stable again, but this time she couldn't wait to hit the hay.
"It used to be that Kinyei never wanted to go to sleep, too interested in what was going on around her stable door," wrote the trust. "Now, after a day spent frolicking in the forest and running and rolling around with Roho, she puts herself to bed with practiced ease before dusk has even fallen."
Kinyei's bedtime now: 
(Courtesy of Sheldrick Wildlife Trust)
A representative of the trust told The Epoch Times that Kinyei has a "playful and fun-loving relationship" with Rolo, a fellow orphaned calf. Elephants are social animals, and youngsters learn social skills through play.
The calves at the trust's Nairobi elephant nursery also have individual stables for warmth and safety from predators, with access to night-long care from a keeper, including feedings.
Orphaned Kinyei was found as a days-old calf by a safari group on July 4, 2018, in Maasai Mara's Ol Kinyei Conservancy. She was wandering alone, dangerously close to a pride of lions, the trust detailed on its website.


While Kinyei was darting in and out of bushes, the group knew she would make easy prey. They called Porini Cheetah Camp for help, who came to the site and found a lactating female elephant laying dead nearby. They observed Kinyei trailing a trio of adult male elephants, but knew she would not be getting the milk she needed to survive.
A collaborative effort by local wildlife groups, headed by Marc Goss of the Mara Elephant Project, arranged for Kinyei to be flown by helicopter to Sheldrick Wildlife Trust's Kaluku Field Headquarters in Tsavo to recover.
Kinyei battled poor health in her first months at the shelter. But in the warmer weather, with her fellow orphaned elephants for company, she overcame. She moved to the trust's Nairobi nursery in 2020 to join its long-running orphans' project, where she soon developed an appetite for the lush local vegetation.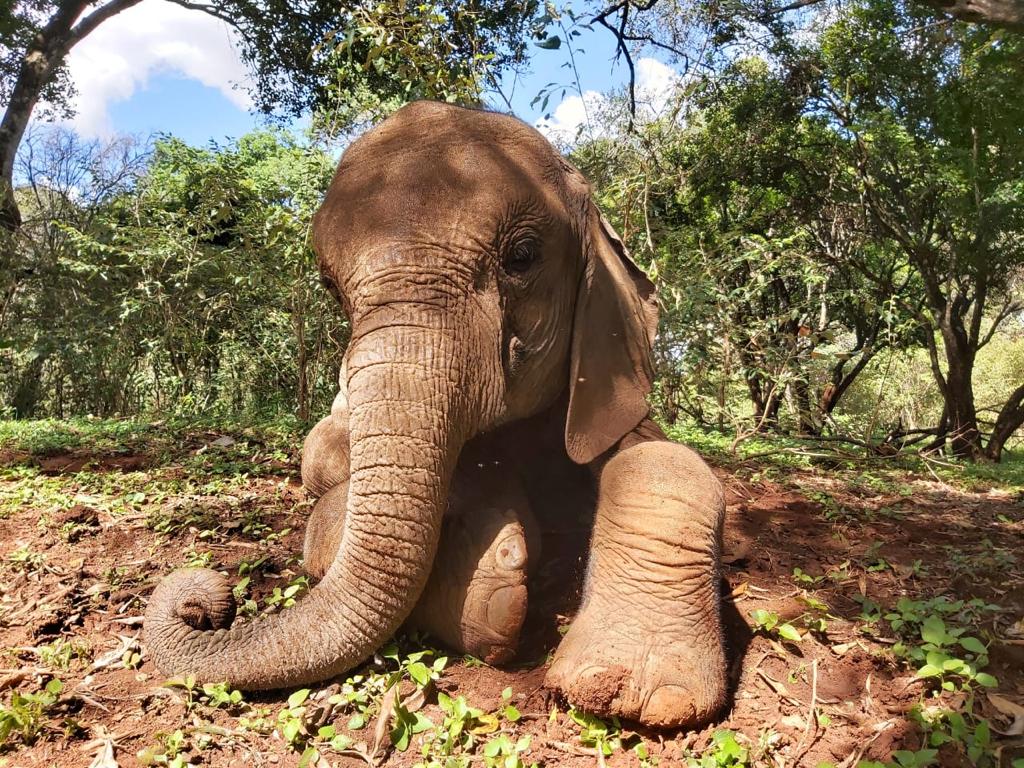 Besides her "plump belly and round cheeks," the trust staffers claim one of Kinyei's most distinguishing features is her folded-over ears. "These were caused by sun damage," they told The Epoch Times. "It's the only lasting sign of the tumultuous early infancy this orphaned elephant suffered before her rescue."
Now happy and healthy in the safe, spacious sanctuary environs, Kinyei is learning about the wild world and her animal kin. Sometimes, there are big surprises.
"When she stumbled across a giraffe in the forest, it gave her such a fright she hightailed it," the trust said. "It's a reminder that these big babies are only toddlers, and still have much to learn before they are ready, and old enough, to reintegrate back into the wild."
Share your stories with us at emg.inspired@epochtimes.com, and continue to get your daily dose of inspiration by signing up for the Inspired newsletter at TheEpochTimes.com/newsletter