Victoria C. White, the Minnesota woman who allegedly suffered a beating by District of Columbia police in the West Terrace tunnel at the U.S. Capitol on Jan. 6, 2021, has filed a federal lawsuit alleging assault, battery, and excessive use of force.
Filed in the U.S. District Court for the District of Columbia, the lawsuit has initially sought $1 million in damages. Joseph McBride, White's attorney, said the suit will be amended "with a dollar amount significantly higher than the preliminary ask of one million dollars."
"Nothing will ever right the wrong committed against Ms. White, but making sure that she is compensated for the egregious injuries that she suffered on January 6, 2021, is certainly a start," McBride said in a statement.

White's beating is shown in detail on a three-hour video unsealed by a federal judge in December in a case involving another defendant charged in the wake of the rally featuring then-President Donald Trump and the subsequent unrest at the U.S. Capitol.
The video shows White being struck by police nearly 40 times in a four-minute span, including blows to the head with a steel baton and punches to the face and head, delivered by an officer in a white shirt.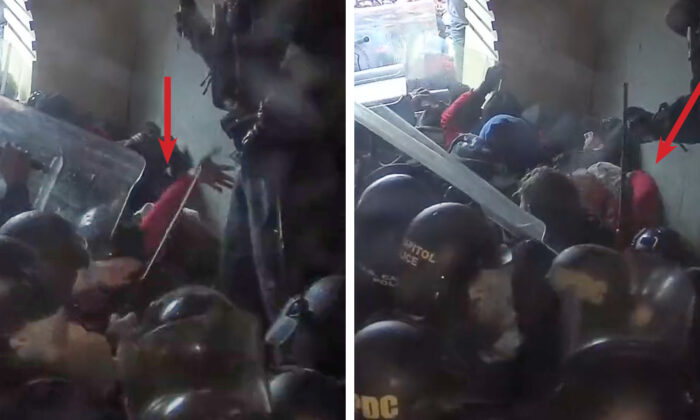 McBride said he believes the officer in white is a Metro D.C. police supervisor, who is listed in the lawsuit as Officer John Doe 1.
The suit seeks damages from the Metropolitan Police Department of the District of Columbia and seven of the dozens of police officers on duty in the West Terrace tunnel on Jan. 6. In December, McBride called for the appointment of a special prosecutor to investigate the beating.
The Metropolitan Police Department didn't respond to a request for comment by press time.
The suit was filed late on Jan. 5, since some of the claims could have a one-year statute of limitations, McBride said.
In a criminal complaint issued April 7, federal prosecutors charged White with knowingly entering or remaining in a restricted building or grounds without lawful authority, disorderly and disruptive conduct in a restricted building or grounds, violent entry and disorderly conduct on Capitol grounds, parading, demonstrating, or picketing in a Capitol building, impeding or attempting to impede law enforcement officers performing official duties, and obstruction of Congress. Hers is among some 625 cases listed on the U.S. Department of Justice's Jan. 6 webpage, although the FBI says 725 people have been arrested, from nearly all 50 states.

Videos released by McBride on video-sharing platform Rumble show White trying to prevent protesters from smashing a window adjacent to the West Terrace tunnel entrance. She shouts at one young man wearing a green helmet with a Trump sticker on the front. "We don't do that [expletive]," she says in the video. "Get him the [expletive] out of here," she says, pushing the man away from the window.
Video shows the man with the green helmet bashing the window at least 18 times with a small bat before he's pulled down by a man in a brown coat. White is seen trying to wrest the bat from his hands before shouting at him not to vandalize the Capitol.
McBride said the beating by police caused great trauma to White, who is a survivor of years of physical and verbal domestic abuse.
"Years of healing and progress were literally beaten out of her by the police on January 6th," he said in a statement. "The scars and trauma related to past abuse were torn open again. A multitude of preexisting repetitive trauma injuries [were] aggravated to the point where she can never fully recover."
White traveled to Washington a year ago under the belief that the 2020 presidential election was stolen from Trump, McBride said.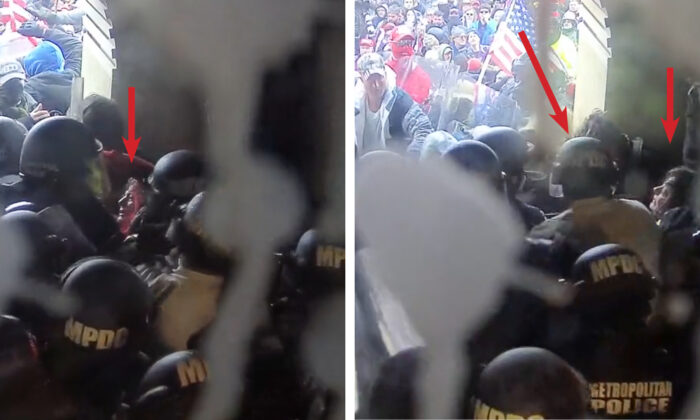 "She felt deep in her gut and in her heart that President Donald J. Trump had wrongfully lost the election," McBride said. "Therefore, she felt compelled to go when she heard that people were going to protest the election results on January 6th in Washington D.C. Her decision to go was less of a choice and more of a civic duty, as she truly felt the election was stolen."
McBride initially filed a discovery request on Oct. 1, 2021, for three hours of CCTV surveillance video from the West Terrace tunnel. He later asked a federal judge to unmask the video and make it public because "it had been subject to a protective order shielding it from public view," according to notes he posted on Rumble.
In his motion to obtain the video, McBride said the video shows "there were agent provocateurs agitating conflict in the crowd" on the West Terrace, and "there were undercover agents passing weapons through the crowd."
"Careful, patient analysis and cross-referencing of these eight videos will lead you to the truth," McBride wrote on Rumble. "Look for coordination and communication between members of the crowd who look out of place with uniformed police and begin to connect them to each other."
McBride's allegations follow investigative reporting done by alternative news site Revolver, which wrote in 2021 of the presence of numerous agents provocateur and other unindicted participants who enabled the breaching of the Capitol and directed Trump rally-goers to enter the U.S. Capitol.