Victoria C. White, the Minnesota woman shown on security video being repeatedly beaten by police in the Lower West Terrace Tunnel at the U.S. Capitol on Jan. 6, 2021, has decided to reject a plea offer from federal prosecutors after she met with several members of the Republican-controlled House of Representatives.
U.S. District Judge John D. Bates has a plea hearing scheduled for 11:30 a.m. EST on Feb. 10 in the federal courthouse in Washington.
"Well, things are changing," White, 41, told The Epoch Times in a text message on Feb. 7.
Asked if she was going to decline the plea offer, she replied: "Yes. I honestly never wanted to take it in the first place."
White was among a group of people who attended the Jan. 6, 2021, Capitol breach that met with congressional representatives at the Capitol on Feb. 6 and Feb. 7. White said the group "sat down with [Rep.] Lauren Boebert [R-Colo.] about investigating January 6th and the murders on J6, mistreatment, lack of actual fair trial, the political prisoners, the weaponization of the feds against us, etc. We also spoke with [Rep.] Byron Donalds [R-Fla.]."
The Jan. 6, 2021, group included Ashli Babbitt's mother, Micki Witthoeft; Nicole Reffitt, wife of Guy Reffitt, the first Jan. 6 defendant found guilty at trial; David Valentine, founder of Freedom Express Media, which broadcasts nightly vigils outside the District of Columbia jail; and several others with ties to Jan. 6, according to White.
On Feb. 7, she posted on Twitter, "I will NOT be taking a plea deal."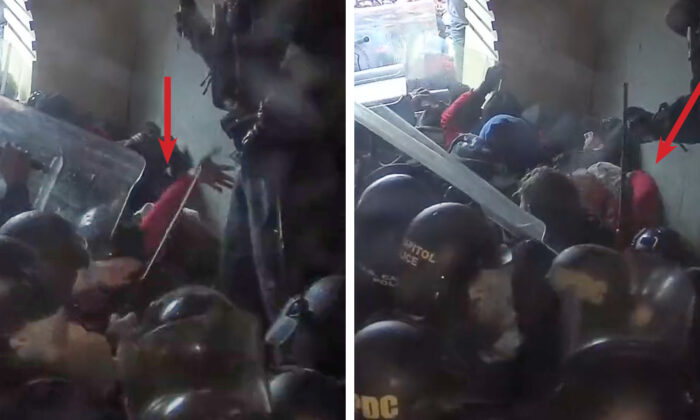 In a superseding indictment filed in January 2022, White was charged with civil disorder and aiding and abetting, entering and remaining in a restricted building or grounds, disorderly and disruptive conduct in a restricted building or grounds, and disorderly conduct in a Capitol building. She pleaded not guilty to all of the charges.
"I'm in DC this week. I have court on Friday," White posted to Twitter on Feb. 6.
Details of the proposed plea agreement weren't available on Feb. 7. Prosecutors haven't filed any plea documents with the court yet. White's trial is set to begin on May 8 in Washington.
High-Profile Jan. 6 Case
White's case is one of the most discussed among the more than 950 Department of Justice prosecutions launched since Jan. 6, 2021.
Shortly after White entered the Lower West Terrace Tunnel, a supervisor from the D.C. Metropolitan Police Department (MPD) began beating her in the head with a collapsible steel baton.
"The first blow came to me by a metal baton," White recounted in the 2022 Epoch Times documentary, "The Real Story of Jan. 6." "It was really bad. I remember just trying to keep myself up because I was scared I would be trampled.
"Originally, I thought I just got hit like three times on the head, but it wasn't until I saw the video that I realized how bad it was in the tunnel.''
Before it was over, she was struck nearly 40 times, most of the blows delivered by MPD Commander Jason Bagshaw. She was struck directly in the skull, repeatedly punched in the face and head, grabbed by the hair and spun around violently, and tossed back and forth between officers.
Bagshaw wasn't disciplined or charged for the beating. The Metropolitan Police Department deemed all of its use of force on Jan. 6, 2021, as "objectively reasonable."
New bodycam footage released in January as part of the Richard "Bigo" Barnett trial shows White being spun around in the tunnel and tossed like a rag doll between officers. Just before she was led out the back of the tunnel, her jeans were pulled part way down, the footage shows.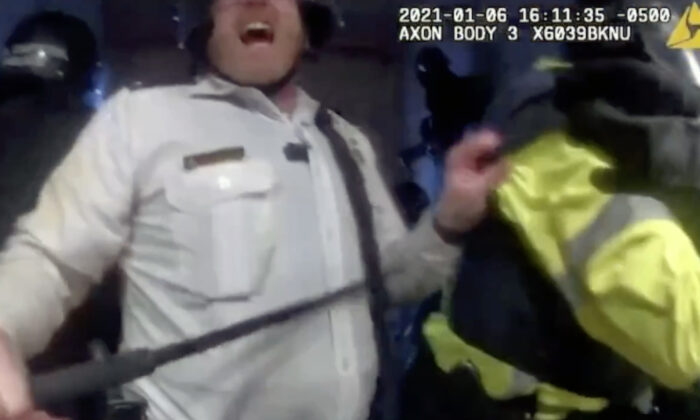 Use-of-force expert Stan Kephart, who also appeared in The Epoch Times documentary, said the attack on White was deadly force.
"The head is a sphere. What happens when you strike a spherical object with a blunted object at least resistance, [it] glances off the head," Kephart said. "That's a possibility. The second thing is you can hit them flush and kill them.
"If your intent was to kill them, you should have been using a firearm, not a baton. So it fails tactically to use a baton, to attempt to use it as a disabling-force option."
He said he believes White grabbing at police shields and reaching at officers was "clearly [from] a defense position, not an attack position."