The commander facing criticism for a slow police response during last week's mass shooting at a school in Texas wasn't carrying a radio when the massacre was taking place, said a state senator.
State Sen. Roland Gutierrez told The Associated Press that a Texas Department of Public Safety (DPS) official informed him that school Chief Pete Arredondo didn't have a radio during the attack that left two teachers and 19 children dead.
The revelation is sure to raise more questions about the police response during the May 24 incident. On Thursday, the senator told AP that Arredondo didn't know there were 911 calls being made by children inside Robb Elementary School while the gunman was inside the building.
Authorities have not said how Arredondo was communicating with other law enforcement officials at the scene, including the more than a dozen officers who were at one point waiting outside the classroom where the gunman was holed up. Arredondo heads the district's small department and was in charge of the multi-agency response to the shooting.
Lt. Christopher Olivarez, a spokesperson for the Texas Department of Public Safety, told outlets that a tactical team of U.S. Border Patrol agents killed Ramos.
Meanwhile, Arredondo has made few public comments since the shooting, although he told a CNN reporter outside the school district's office building that he is cooperating with the Texas DPS in spite of reports saying he wasn't.
Last week, the head of the DPS, Steven McCraw, told reporters that Arredondo—who was the incident commander—believed the situation was not a mass shooting but a hostage situation and that it was the "wrong decision" to delay the police response.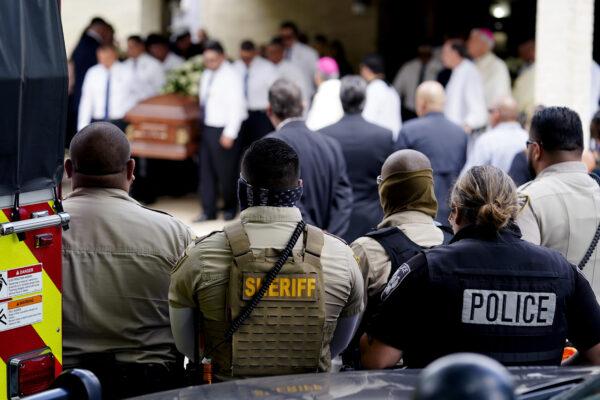 The gunman in Uvalde, 18-year-old Salvador Ramos, spent roughly 80 minutes inside the school, and more than an hour passed from when the first officers followed him into the building and when he was killed by law enforcement, according to an official timeline. Ramos slipped through an unlocked door into adjoining fourth-grade classrooms at Robb Elementary, authorities said.
A teacher who had propped open the door to retrieve a phone and call 911 after witnessing Ramos crash his car said via her lawyer that she shut the door after the crash.
Adding to the confusion over the timeline, McCraw and other officials last Friday initially said that the teacher, who hasn't been named, "propped open" the door minutes before Ramos entered. However, DPS spokesman Travis Considine told news outlets this week that the teacher shut the door, which was supposed to automatically lock.
An investigation is underway regarding why the door didn't lock, he said.
The Associated Press contributed to this report.