The U.S. Geological Survey (USGS) confirmed Tuesday's 7.7 magnitude earthquake that shook the Caribbean Sea near Jamaica and Cuba was felt in parts of Florida—as a 6.1 magnitude aftershock struck Wednesday morning in the same area.
Wednesday's quake struck about 40 miles southeast of the Cayman Islands. According to The Associated Press, several strong aftershocks have been recorded in the area.
"Despite the large size of the earthquake, the fact that it occurred offshore and away from high population areas lessened its societal impact," the agency said in a statement on Tuesday night about the 7.7 tremor. "USGS estimates moderate shaking occurred on parts of Cuba and Jamaica, the two islands closest to the epicenter, and light to weak shaking across other parts of these islands." Some light shaking was reported in Florida, the USGS said, adding that the tremor hit at about 6.2 miles below the surface.
The tremor confirms that "large earthquakes can and do happen in the Caribbean region," according to the seismic agency. But it stressed there appears to be no "relationship between" Tuesday's earthquake and the 6.4 magnitude earthquake that hit Puerto Rico earlier this month, the USGS said.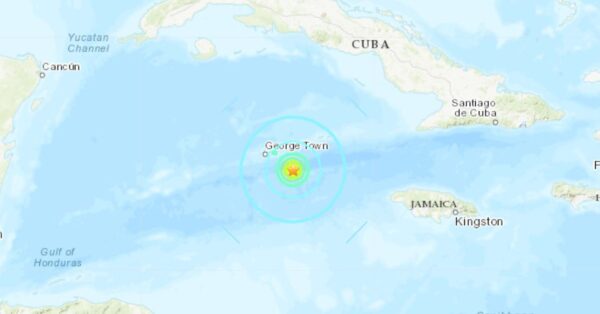 "Typically, a M 6.4 event (the largest in the Puerto Rico sequence) will only influence activity within a few tens of kilometers or miles around itself," according to its statement. Earthquake researchers also don't expect the 7.7 magnitude quake to "change the behavior of the earthquake sequence in Southwestern Puerto Rico."
The 6.4 magnitude Puerto Rico earthquake and Tuesday's tremor hit about 800 miles apart.
The USGS said five other earthquakes of 6.0 magnitude or larger have hit within 250 miles of the Tuesday event within the past 50 years or so.
"None of these earthquakes are known to have resulted in shaking-related damage or fatalities, likely because of their location away from land and major population centers," the agency said.
The quake was centered 139 kilometers (86 miles) northwest of Montego Bay, Jamaica, and 140 kilometers (87 miles) west-southwest of Niquero, Cuba, according to the USGS.
The Pacific Tsunami Warning Center initially warned that the quake could generate waves 1 to 3 feet above normal in Cuba, Jamaica, the Cayman Islands, Honduras, Mexico and Belize, but issued a later message saying the danger had passed. The quake was felt strongly in Santiago, the largest city in eastern Cuba, said Belkis Guerrero, who works in a Roman Catholic cultural center in the center of Santiago.
The Associated Press contributed to this report.