As
violent crime rises
across the state, a volunteer-run program is arming women in San Diego County with the knowledge and confidence to defend themselves.
The San Diego County Gun Owners' #NotMeSD movement is offering women firearms training, education on how to purchase a firearm, and assistance with obtaining a CCW (Carry Concealed Weapons Permit). The program, created by women for women, was founded with the mission of putting an end to sexual assault and domestic violence.
#NotMeSD's volunteer ambassadors recently received special recognition from San Diego County Supervisor Joel Anderson for empowering local women by teaching them lifesaving skills.
"#NotMeSD is equipping women across San Diego County with the proper tools and training to protect themselves and their families. It is an outstanding program, and I am grateful to their volunteer ambassadors who are giving their time and expertise to empower women and make our community a safer place," Anderson said.
Each volunteer received a County Certificate of Recognition, along with San Diego County Gun Owners CEO, Wendy Hauffen, and #NotMeSD Project Manager, Desiree "Desi" Bergman.
"We have not only helped women become more knowledgeable about firearms and better trained, but we have also helped women grow in self-confidence and self-empowerment," Hauffen said.
Over the past three years, more than 500 women have completed the program. Bergman has found that while many women have an interest in guns and gun ownership, it is not always easy to figure out where to start.
#NotMeSD offers a one-on-one experience with a personal ambassador that guides individuals at every step. Ambassadors can accompany the participant to the firing range, provide individual or classroom trainings, and even help find a reputable, licensed dealer when she is ready to purchase a firearm.
"Confidence is something you can never take away, confidence in their own safety," Bergman said. "Empowering women to be their own protector, that's what we do."
Sharlene "Charlie" D' Angelo, one of their volunteer ambassadors, explained how she is making a difference: "Sharing my seven years of experience in firearms training, I am able to support women at any skill level, no matter the age, who wants to learn how to use a firearm."
While #NotMeSD can help women at any experience level, the program is especially valuable in helping beginners feel comfortable when taking on a daunting task.
"When you walk into a gun shop or range, 8 of 10 employees are male and can be intimidating for women," Bergman said. #NotMeSD inspires women to flourish in an often male-dominated space by providing support, community, and a sense of empowerment.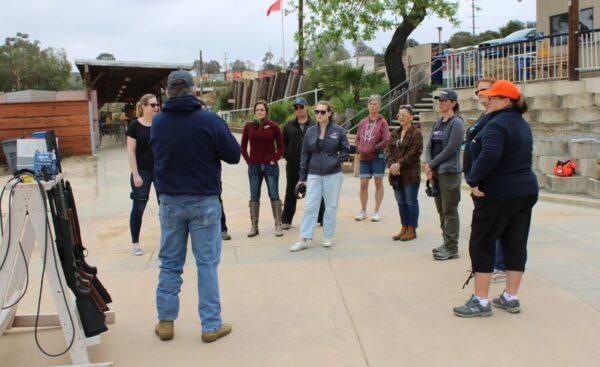 Designated as
Sexual Assault Awareness Month
, April is an especially important time to raise awareness of sexual assault and domestic violence by highlighting resources available for victims and taking preventative action.
"I was a victim of gun violence and I never want to feel like a victim again," ambassador Sasha Travassos said. "#NotMeSD is giving women back their power."
Cristian Roman is a legislative intern at San Diego Supervisor Joel Anderson's office.