IRVINE, Calif.—Local officials attended a ribbon-cutting for The Epoch Times's Orange County new office Sept. 19.
The 27,000-square-foot office—located in the Marketplace Center—represents a significant enhancement for the newspaper since the local branch's inception in 2019. General Manager Siyamak Khorrami expressed gratitude for the edition's growth and conveyed the news team's enthusiasm to persist as the community's voice.
The location is also now home to the production of EpochTV's "California Insider," which has over 300,000 subscribers and millions of views on YouTube and other platforms since the show—hosted by Mr. Khorrami—first aired in 2019.
"We're really happy to see this much support from the community," Mr. Khorrami told NTD Television—a sister outlet to The Epoch Times—whose Southern California office is located in Los Angeles County, at the ceremony. "[People support us] because they can see who we are, they can see that we care about them, [and] we value their community. They can see it from our coverage."
Mr. Khorrami said that the company's most cherished value is traditional journalism, which aims to truthfully and impartially represent the people. He said he believes a voice like The Epoch Times can unite during challenging times.
"Our paper can bring people together; this is a paper that's for everybody. It doesn't matter your opinion; it doesn't matter [about] your background and your thinking. You can participate and be part of our paper, you can bring your ideas to us, and we will report it fairly so you can connect with other Californians," he said.
Additionally, he said newspapers like The Epoch Times play a crucial role in providing feedback to policymakers and bridging the gap between them and the communities they serve.
Local officials in attendance at the event included Irvine Vice Mayor Tammy Kim, state Assemblywoman Diane Dixon (R-Newport Beach), state Assemblywoman Laurie Davies (R-Laguna Niguel), Laguna Niguel Mayor Kelly Jennings, and Orange County Board of Education President Mari Barke.
"It's really great not only for the city of Irvine to have one of the nation's largest publications be right here. But it's also important for our democracy," Ms. Kim said in an interview with NTD Television. "When we talk about news, we talk about transparency, we talk about having a public open press. I love that … we can sort of be the central hub for all of that."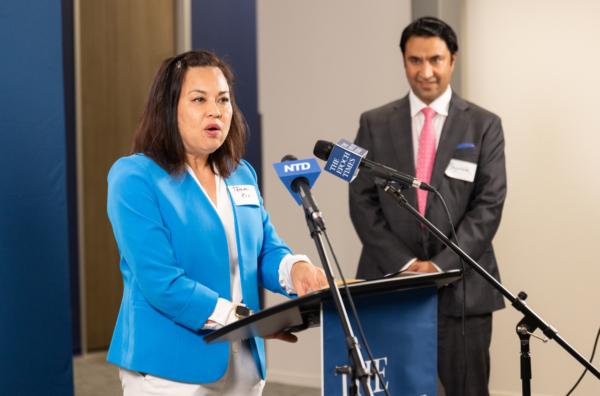 Ms. Kim also commended the newspaper for covering people's opinions and issues.
"The Epoch Times is providing that critical perspective that our constituents need to become better-engaged citizens," she said.
Another official in the education sector also complimented the publication's coverage of local issues.
"It's such a breath of fresh air to read a newspaper that tells the truth and cares about California and America," Ms. Barke, who was also interviewed by EpochTV for its recent documentary "Leaving California," told NTD Television.
During the event, the office received seven certificates of recognition from local elected officials including Ms. Dixon, Ms. Davies, Irvine Mayor Farrah Khan, Ms. Kim, Ms. Barke, President and CEO of the Greater Irvine Chamber of Commerce Bryan Starr, and Orange County Board of Supervisors Chair Donald Wagner.
In his recognition, Mr. Wagner wrote that The Epoch Times will restore "the best practices and highest principles of journalism."
James Doti, president emeritus and professor of economics at Chapman University, said at the ceremony that The Epoch Times is a place "where woke comes to be critiqued and debated in a civil, forward, and open manner."
Despite California's transformation into what Mr. Doti referred to as an "almost one-party state" in recent years, the newspaper has effectively served its readers by delivering vital information on subjects that impact the well-being of the state's every resident, he said.
"Thankfully, we have a media presence here that [gives us] the vehicle and the information that's getting out there that … addresses the issues and presents some of those issues that hopefully will have increasingly greater and greater impact on how people look at problems and issues," Mr. Doti said.
Birth of The Epoch Times
The publication's story dates to 2000, a year after the Chinese Communist Party (CCP) launched a nationwide persecution against the spiritual discipline Falun Gong, which includes meditative exercises and moral teachings centered on the principles of truthfulness, compassion, and tolerance.

By 1999, the practice had attracted an estimated 70 million to 100 million adherents in mainland China, and its popularity was perceived by the CCP as a threat to its authoritarian control, according to the New York-based nonprofit Falun Dafa Information Center.

John Tang, the founder of The Epoch Times, learned about the brutal events taking place in mainland China, including hundreds of thousands enduring persecution for their beliefs—while, he has said, Western media amplified CCP propaganda.

He decided to start a newspaper in an Atlanta, Georgia, basement—which is now read in over 30 countries—to cover CCP's human rights abuses.

"He started this paper to give a voice to those people that didn't have anybody talking for them," Mr. Khorrami said at the ceremony. "But throughout the years we grew to the fourth largest paper in the country. We cherish the value that this country has. … We are here to promote those values, we are here to bring people together, and we are here to make this a better place."