In response to parental outrage over sexually explicit school library books and class curriculum, two measures that were approved by the Pennsylvania Senate this week seek to provide parents with transparency and control over access to these materials.
Books such as "Gender Queer: A Memoir" by Maia Kobabe; "It's Perfectly Normal" by Robie H. Harris; and "Fun Home: A Family Tragicomic" by Alison Bechdel have been found in elementary school through high school libraries in Pennsylvania and across the nation. Some have been required reading in certain classes. In words and explicit illustrations, the books depict oral sex, recreational drug use without consequence, LGBT themes, political activism, and anti-Christian themes.
The measures' sponsors, state Sens. Scott Martin and Ryan Aument, both Republicans, advanced Senate Bill 1277 in a 30–20 vote. It would require schools to identify sexually explicit content in curriculum and materials and notify parents that their child's coursework includes such content. Parents would be able to opt their children out of the sexualized curriculum, and they would be able to request that their children not be able to check out such books from the library.
"The graphic nature of the images in these books is so extreme that adults would be prohibited from viewing it in the workplace," Aument said on the Senate floor. "Opponents of this bill continue to defend these books, saying that they reflect the full multicultural nature of the world and that they are inclusive and affirming to our kids. Last I checked, providing pornography to elementary school children isn't inclusive. It's disgusting. And it's wrong."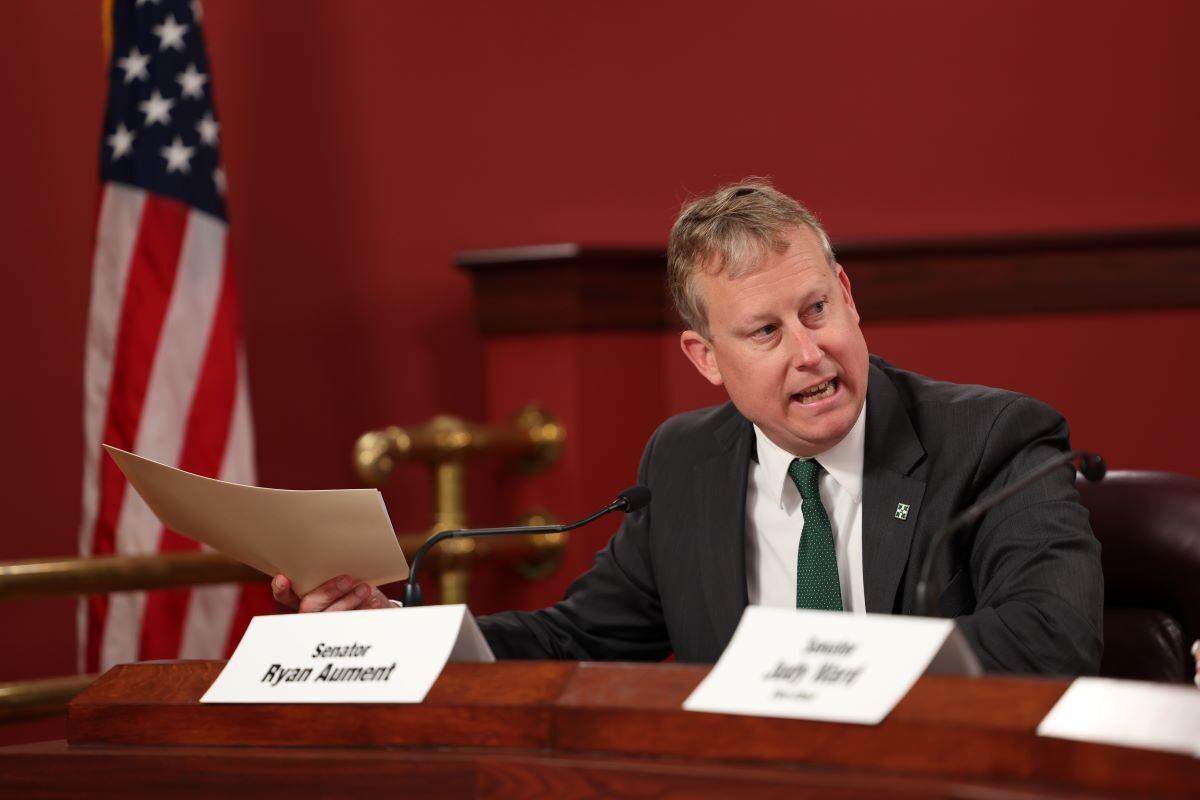 He challenged anyone to review images in these books and affirm that they think 6-year-olds should have unrestricted access to them without their parents' knowledge.
"If a student drew images that were this explicit, they would be suspended. If a student brought in a book from a home with these explicit images, they would be reprimanded," Aument said.
Early Gender Identity Lessons Would be Banned
The two state senators also advanced Senate Bill 1278 in a 29–21 vote. It would prohibit classroom instruction on gender identity and sexual orientation for pre-kindergarten through fifth grade students. That's consistent with the timeline for when the existing academic standards on general sex education begin, which is in sixth grade.

"It is about making sure parents are included and informed about what is going on with their child at school, and not intentionally being kept in the dark," Martin said on the Senate floor.

"Senate Bill 1278 is about providing parents with an opportunity to view any surveys or questionnaires in advance and opting their child out if they wish. It is about saying it is not appropriate to seek out the opportunity to teach young children between the ages of pre-K and fifth grade about sexual orientation or gender identity in the classroom, especially without the parents' knowledge.

"Now, if a student is having questions or concerns about their own identity or orientation and initiates the conversation with school personnel, they are not prohibited from having that conversation and getting the student the relevant services. But again, the parents need to be informed. Somewhere along the line, someone began to think that all parents may not be understanding or that somehow the parents would not have their child's best interests in mind.

"I firmly believe that the vast majority of parents love and support their children and want to be involved in getting them whatever help they may need."

He also noted that if there's a serious concern about parental abuse or abandonment of a child, the school is exempt from providing that notification, but if the school is that concerned about the child's well-being, they should contact child protective services.

Both senators have heard from concerned parents.

"A school district in Chester County instructing elementary school teachers to withhold information from parents about children questioning their gender; a teacher reporting that a Philadelphia school was permitting volunteers to talk to elementary school students about LGBTQ issues without parental knowledge; and mothers of first grade students in Allegheny County suing their school district for teaching about gender dysphoria without parental knowledge or consent–these are just a small sample of the dozens of complaints we've received from concerned parents around the Commonwealth," the senators said in a joint statement.

"While we may not agree on what moral, ideological, and religious values to teach or not to teach our children, we can certainly agree that it should be up to the parent to decide–not the government."

The measures now move to the House Education Committee.

Gov. Tom Wolf and his Commission on LGBTQ Affairs denounced SB 1278, calling it a "Don't Say Gay" measure similar to legislation recently enacted in Florida.

"We at the Pennsylvania Commission on LGBTQ Affairs know that the guise of calling LGBTQ people and topics 'age inappropriate' is really just fearmongering," Rafael Álvarez Febo, executive director of the LGBTQ Affairs Commission, said in a statement referring to Pennsylvania's SB 1278 and the Florida legislation. "Bills like these will cause LGBTQ teachers to have to conceal their identities and strip any resources available for LGBTQ youth out of schools. Even more alarming, these bills have emboldened far-right hate groups to mobilize to commit violence against LGBTQ people."

Wolf is expected to veto SB 1278, but it's unclear how he'll respond to SB 1277.