SAN PEDRO, Calif.—A handful of the top Los Angeles mayoral candidates gathered for another round of debate and discussion on Feb. 27 at the Warner Grand Theatre in San Pedro, California.
The forum, hosted by Shannon Ross, of the San Pedro Democratic Club, began at noon and included candidates for the Los Angeles County Sheriff and the Long Beach mayoral run.
Rep. Karen Bass (D-Calif.), LA City Councilmen Joe Buscaino and Kevin de León, and LA City Attorney Mike Feuer were in attendance.
Real estate businessman Rick Caruso, who threw his hat in the race two weeks ago, did not participate in the forum. This is the second debate Caruso has not shown up to, but his campaign manager Peter Ragone told The Epoch Times in a statement he will be attending a debate scheduled for May 1 hosted by Cal State LA and sponsored by the League of Women Voters and the Pat Brown Institute.
"Rick looks forward to debates during the campaign, emphasizing those that will reach the most voters," Caruso's campaign told The Epoch Times in an email. "The Caruso campaign is also sorting through many other debate invitations it has received."
Only candidates who have raised $400,000 or more were invited to the San Pedro forum. LA mayoral candidates were asked questions from community leaders about the ports, homelessness, and affordable housing.
In San Pedro, candidates discussed how they would ensure a successful process at the ports while protecting jobs and keeping energy "clean." They also sparred on issues of affordable housing in the city amid skyrocketing property costs.
"I'm the candidate here who has experienced grappling with these issues because our office represents the port, we're here every day, attending to the issues from the supply chain issues to the operations of the court," Feuer said.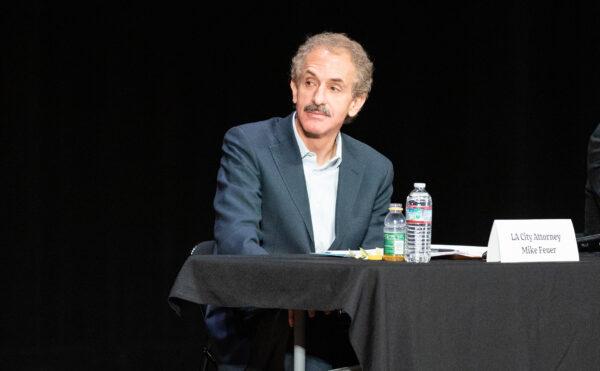 The LA port is the nation's largest container port, occupying 7,500 acres of land and water plus 43 miles of waterfront and connects to the Port of Long Beach.
Buscaino said in addition to hiring "qualified" workers who "understand the port operation" but he will also hire "have qualified folks who understand how to police the city, how to work on energy efficient with the DWP Commission, [and] the airport commission."
Bass said she will support expanding jobs at the port with a vision of "equity" in mind.
"One of the things that I am excited about with the port is that the port is one of the areas where people who have been left out of our economy can participate, maybe they were formerly incarcerated, and they're not able to find jobs elsewhere," she said.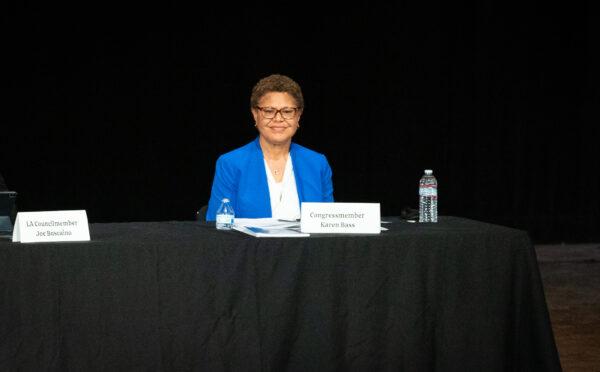 When it came to the issue of "affordable housing," de León said he knows what "housing insecurity" feels like, as he was temporarily homeless in his twenties.
"This is the biggest humanitarian crisis in our lifetime," de León said. He pointed to the city's various interim housing options, but emphasized there needs to be a long-term solution for more permanent supportive housing units.
"The issue with LA is that we have an affordability crisis," he said.
Buscaino said he would create a central department for housing developments to streamline the process of building.
Bass said "there's no one-size fits all" for developing more housing and that there should be both a local and national state of emergency response.
"We have a crisis in our city, we can't just do business as usual," she said. She also said homeless people aren't homeless due to one single reason and that there should be varying responses to address the unhoused.
"Unfortunately, we dismantled our mental health system in the 90s," she said. "And we never addressed it."
Feuer said if he becomes mayor, officials would have to "speed up" the construction process on affordable housing "if they want to keep their jobs."
The same group of candidates also gathered for another forum early Monday morning in Beverly Hills put on by the Los Angeles Business Council.