LOS ANGELES—An armed man accused of posing as a federal marshal was arrested in Los Angeles on Sept. 15 at an event attended by Democratic presidential candidate Robert F. Kennedy Jr., according to the Los Angeles Police Department (LAPD).
Adrian Paul Aispuro, 44, was booked on a felony gun charge and was being held on $35,000 bail, according to the Los Angeles County Sheriff's Department Inmate Information Center.
Mr. Kennedy had been scheduled to speak at the Wilshire Ebell Theatre, located at 4401 West 8th Street in Los Angeles, to celebrate National Hispanic Heritage Month. The event was held from 4 to 8 p.m.
The LAPD told The Epoch Times it received a call at about 4:30 p.m. reporting that a male was in front of the event venue with "a badge on [his] lapel, a gun, and a shoulder holster, and claimed to be a U.S. Marshal." Mr. Aispuro was arrested at 4:40 p.m. by officers from the LAPD's Wilshire station.
Photos provided to The Epoch Times show Mr. Aispuro, who was wearing a shirt with "EMS" on the back, being held in handcuffs by police officers outside the event venue in Los Angeles. Multiple police vehicles were at the scene.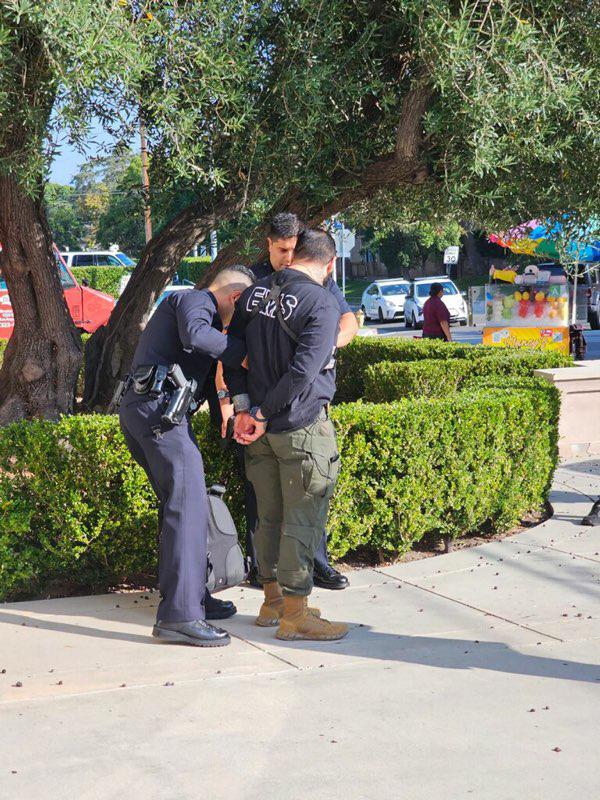 A spokesperson for Mr. Kennedy confirmed the incident to The Epoch Times. Mr. Kennedy hadn't arrived at the venue when the incident occurred.
According to the LAPD, Mr. Aispuro claimed to be employed for the event, but he wasn't recognized by the security staff.
Mr. Kennedy expressed his gratitude that evening for the prompt action taken by the event's security team and the police to ensure his safety.
"I'm very grateful that alert and fast-acting protectors from [security company] Gavin de Becker and Associates (GDBA) spotted and detained an armed man," he
wrote on X
, formerly known as Twitter. "The man, wearing two shoulder holsters with loaded pistols and spare ammunition magazines was carrying a U.S. Marshal badge on a lanyard and beltclip federal ID. He identified himself as a member of my security detail.
"Armed GDBA team members moved quickly to isolate and detain the man until LAPD arrived to make the arrest. I'm also grateful to LAPD for its rapid response."
Officials at the U.S. Marshals Service didn't respond by press time to a request by The Epoch Times for comment.
Requests for Protection
In July, Mr. Kennedy
said his request
for Secret Service protection as a presidential candidate was denied by the Department of Homeland Security.
"Since the assassination of my father in 1968, candidates for president are provided Secret Service protection," Mr. Kennedy wrote on X. "But not me."
According to U.S. law
under
"18 USC 3056A," the U.S. Secret Service is tasked to provide protection to "major presidential and vice presidential candidates and, within 120 days of the general Presidential election, the spouses of such candidates."
The secretary of Homeland Security, currently Alejandro Mayorkas, is tasked with identifying "major" candidates in a presidential race in consultation with the Speaker of the House, the House minority leader, the majority and minority leaders of the Senate, and one additional member selected by the other members of the committee, which as a whole isn't answerable to the incumbent president.
DHS has yet to comment on its decision.
Mr. Kennedy
called for
the Biden administration to provide protection again in early August, after one of Ecuador's presidential candidates, Fernando Villavicencio—who vowed to fight corruption in the country—was assassinated.
Mr. Kennedy's father, Sen. Robert F. Kennedy, was assassinated in 1968 at a hotel during his presidential campaign in Los Angeles. After the assassination, the U.S. Secret Service expanded its protection coverage to presidential and vice presidential candidates, according to its website.
After the Sept. 15 incident, Mr. Kennedy
wrote on X
, "I'm still entertaining a hope that President Biden will allow me Secret Service protection."
Correction: A previous version of this article misstated when presidential candidates can be assigned Secret Service protection. The Epoch Times regrets the error.