Tiny as it is, a seed is like a mini biological computer. Inside it is all the genetic code—intellectual property containing billions of dollars of potential worth—that in the hands of adversaries could give them control over the food production of a country and beyond.
One unmistakable adversary in this area is China, according to Ross Kennedy, a U.S.-based logistics and supply chain analyst at Fortis Analysis.
For China, home to 1.4 billion people, "possessing the means to increase their own domestic food security is job number one," he told NTD, sister media outlet of The Epoch Times.
"Lying, stealing, bartering—whatever it takes to get that technology—China has proven willing to do."
Kennedy calls it a domain for "gray zone asymmetric warfare." By stealing U.S. agricultural technologies and developing a version of its own, China would be able to fill the country's most basic needs while undercutting America economically and diplomatically in its pursuit of global leadership in agricultural production, he said.
"Most people don't realize that you could steal some kernels of corn, or a few soybeans, and perpetuate a multibillion-dollar industrial espionage campaign," Kennedy said.
"If you're able to 'crack the code' of a genetically modified organism, then you would be able to steal hundreds of millions, or even billions, of dollars of intellectual property.
"In recent years, if you could do that, you're lifting the secrets to life of that corn, that soybean, and giving yourself an enormous step ahead in terms of time and cost advantage on feeding your own population."
Seeds as a Weapon
China is the world's largest agricultural importer, with imports totaling $133.1 billion in 2019, according to the U.S. Department of Agriculture (USDA).

Plagued by shrinking arable land and natural disasters, and with swelling demand for food to feed one-sixth of the world's population, the country has for years shown considerable interest in U.S. agricultural assets, among which the "most valuable and easily transferable property are seeds," according to a May research report (

pdf

) by the U.S.–China Economic and Security Review Commission (USCC).

Seed innovation has generated billions of dollars for U.S. agricultural biotechnology firms such as Monsanto. In 2021, the United States exported around $174 million worth of seeds to China, accounting for 15 percent of its total exports, according to the report.

The importance of advancing seed technology is not lost on China. Chinese state media have described seeds as "chips" of agriculture, and Chinese leader Xi Jinping has long

elevated

grain security as a "core basis of national security."

In an inspection tour of a seed lab in China's southernmost province of Hainan in April, Xi called on the country to "hold Chinese seeds tightly with our own hands" to "keep the Chinese rice bowls steady and achieve food security."

But some Chinese scientists have taken a shortcut by outright stealing U.S. agricultural trade secrets.

Days before Xi's trip to Hainan, Chinese national Xiang Haitao, a former imaging scientist at Monsanto in Missouri, was

sentenced

by a U.S. federal court to 29 months in prison after pleading guilty to stealing trade secrets from his former employer. Xiang had attempted to steal an algorithm that helps farmers optimize agricultural productivity, in order to benefit a Chinese state-run research institute, prosecutors said.

In another case, Mo Hailong, director of international business at a Beijing-based agribusiness with ties to the Chinese regime,

attempted

to steal corn seeds from testing fields at Monsanto and another U.S. seed producer, Dupont Pioneer, in 2011 and 2012. Mo was sentenced to three years in federal prison in 2016, after pleading guilty to conspiring to steal trade secrets.

In 2018, two Chinese rice researchers visited various U.S. research and production facilities. U.S. prosecutors who

charged

them with a conspiracy to steal rice production technology said they found stolen rice seeds in the researchers' luggage at the Honolulu airport as they attempted to fly back to China. They are currently at large in China. Two other Chinese rice researchers who helped organize their trip were convicted in a connected case in 2018 and sentenced to one and 10 years, respectively.

"It seems silly, but if you can get three, four, five, six, 10 different varieties of seed, now you've got the ability to not only reverse engineer that seed's tolerance to various pesticides or insects," Kennedy said, but also, through reverse engineering, unlock a seed's ability to produce high yields and adaptability to various climates, such as hotter and wetter environments.
"There's places in China where they would love to be able to grow things like corn or soybeans, but they don't really have access to the good genetic technology to make seeds that can thrive in more challenging conditions," Kennedy said.
"So one seed is a problem," he said. But if China gets its hands on multiple seeds, "suddenly now you've got a much larger issue."
The communist regime could also weaponize seeds to effectively wipe out an adversary's ability to produce crops at scale, Kennedy said. It could do this by turning on or off the genetic triggers that cause crops to fail, create toxins in plants to poison animals, or create weakness to certain types of bacteria or fungi to "dramatically increase the disease pressure on the land," he said.
'Massive Diplomatic Lever'
With only a handful of domestic players such as Dow Chemical Company and Dupont controlling much of the U.S. food production, China has its obvious targets, Kennedy said.

"You really only need to penetrate or create problems with one," he said. "Now you're talking about 1.4 billion mouths to feed in a place like China that used to have to buy American and European genetic technology. And now they have the means to do their own and race ahead and provide that to the rest of the world, and undermine U.S. efforts in that way as well."

Such technology theft can become a "massive diplomatic lever" for China and allow it to undermine American diplomatic and national security efforts worldwide, he said.

"In the same way they would export construction technology for [the] 'Belt and Road [Initiative]', you could also do Belt and Road with food and with energy," Kennedy said, referring to Beijing's trillion-dollar project to facilitate trade and infrastructure partnerships with Asia, Africa, Europe, and Latin America.

According to Kennedy, in places such as Africa where there's an abundance of arable land and labor but a lack of modern seed technology, "China could come in and say, 'Hey, we can give the farm equipment, the methods, the machinery, and this very expensive intellectual property. We can provide the soil to you to lift yourself up out of food issues or food poverty, but we want access to these critical minerals.' Or, 'We want to build a military base on your shoreline,' or whatever it may be."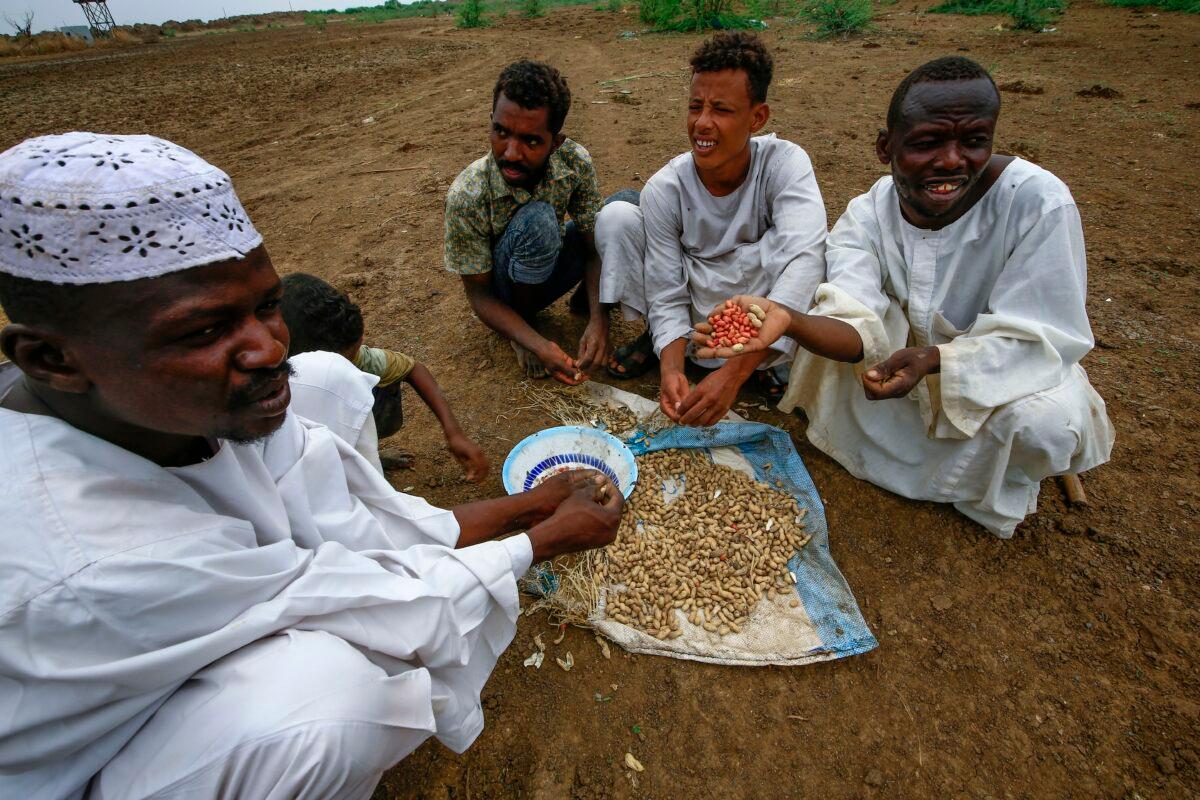 Critics of the Belt and Road Initiative have dubbed the project a form of "
debt-trap diplomacy
," which saddles developing nations with sustainable debt levels and thus leaves them vulnerable to ceding strategic infrastructure and resources to Beijing. In September, research lab AidData counted at least 42 countries with public debt exposure to China exceeding a tenth of its gross domestic product.
But Kennedy noted that genetically modified seeds differ from construction projects in that they have a relatively short life span: Each seed is "only good once, and only really keeps in condition in a bag for a year or two."
"This is a way that China has an annual way of maintaining control over certain things," he said.
By controlling the seeds, China gets to dictate the terms that the countries dependent upon the resource must follow.
"It's a variant of debt-trap diplomacy, but it's also one that hits immediately and hits very, very close to home in a way that maybe repossessing your bridge or your railroad does not," he said.
Securing Land for China
Chinese purchases of American farmland, another facet of Beijing's involvement in the U.S. agricultural sector, have also been raising economic and national security alarms.

In 2013, Chinese meat processor Shuanghui International Holdings (now WH Group) took over the world's leading pork producer, Virginia-based Smithfield Foods, marking the largest Chinese acquisition of an American consumer brand to date.

The deal, according to the USCC report, gave the Hong Kong-based firm more than 146,000 acres of land spreading across six states, supplying China with record amounts of pork in 2020 as African Swine Fever dwindled herds and pandemic lockdowns disrupted production in China.

Beijing's goal is to be able to convert as much American farmland as possible to exclusively provide for China, Kennedy said.

"Now you have secured on that acre, and scale that however many hundreds of thousands of acres, you've secured your own supply chain for your country as the owner of that land, even if it's on foreign soil," he said.
Officially, Chinese investment in U.S. farmland has ballooned more than 25 times, from 13,720 acres to 352,140 acres between 2010 and 2020, according to a 2020 USDA report (
pdf
).
While this only represents roughly 1 percent of all foreign-held acres in the United States, the USCC report said there's no mechanism in place at the federal level to track land ownership and usage, and Chinese investors could circumvent the rules with few repercussions.
"This is an enormous problem. It's not one that's going away," Kennedy said.
Such lands could become a potential vector for the regime to stage various forms of espionage against the United States, Kennedy said. Chinese animal nutrition supplier Fufeng Group announced last November that it was in negotiations to
purchase 370 acres of land
in Grand Forks, North Dakota, to build its first U.S. corn milling facility. The proposed plant's location, about 12 miles from the Grand Forks Air Force Base, has stirred fears of the site being used to spy on U.S. military activities in the area.
"Once you have land, you have options," Kennedy said. Getting its hand on vast swaths of land, he added, "has been an enormous priority for China for a long time."
Some lawmakers have already been sounding the alarm. Late last month, Rep. Dan Newhouse (R-Wash.) introduced legislation aiming to ban foreign nationals with ties to Beijing from acquiring agricultural land in the United States.
"If we begin to cede the responsibility for our food supply chain to an adversarial foreign nation, we could be forced into exporting food that is grown within our own borders and meant for our own use," Newhouse said in a
statement
.
The threat of Chinese agricultural espionage calls for more national awareness and a switch in mindset, Kennedy said.
When it comes to collaboration involving sensitive technology, the first thing to ask, Kennedy said, should be, "Is this a last resort to partner with China on this?"
He said that instead of considering the benefits of a collaboration from only an economic point of view, business and academic leaders also need to factor in national security and ask: "Do we have any other options at our disposal to achieve the goal of whatever the program or the initiative may be? If the answer is yes, that needs to be pursued."