The Virginia mother of a 6-year-old child charged with shooting his teacher earlier this year was indicted in connection with the incident, officials announced Monday.
Deja Nicole Taylor, 25, was indicted for felony child neglect and a misdemeanor count of recklessly leaving a firearm, said the Newport News Commonwealth's Attorney's Office in a statement (
pdf
) on Monday. Those charges were brought following an investigation by the commonwealth attorney's office and the Newport News Police Department, his office said.
On Jan. 6, 25-year-old teacher Abigail Zwerner was wounded by a first-grade student in her classroom at Richneck Elementary School after school officials received warnings that the boy had a gun at school. Officials said that the child brought a gun in his backpack and shot Zwerner in the chest and hand.
"Every criminal case is unique in its facts, and these facts support these charges, but our investigation into the shooting continues," Gwynn said in a statement announcing the charges.
His office also confirmed a special grand jury was empaneled to determine whether additional charges against other individuals are warranted. "If the special grand jury determines that additional persons are criminally responsible under the law, it can return additional indictments," he said.
The indictment announcement comes about a week after Zwerner filed a lawsuit seeking about $40 million from the school. The lawsuit said that school officials ignored warnings that the boy was armed with a gun and was expressing a desire to commit an act of violence.
Zwerner's attorneys alleged the defendants knew that the boy "had a history of random violence" and had "strangled and choked" his kindergarten teacher a year prior to the January incident. "All Defendants knew that John Doe attacked students and teachers alike, and his motivation to injure was directed toward anyone in his path, both in and out of school, and was not limited to teachers while at the school," the lawsuit said, reported The Associated Press.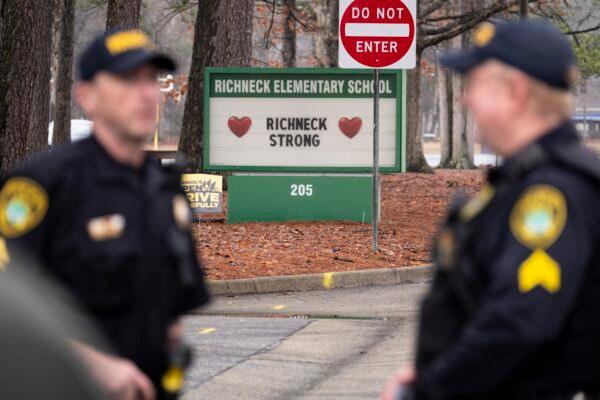 In March, Gwynn said his office would not charge the 6-year-old boy because he is too young to understand the charges against him. The "prospect that a 6-year-old can stand trial is problematic" because the boy would not be able to understand the legal system, he told NBC News last month.
James Ellenson, an attorney for the boy's family, previously
told
news outlets that the gun was secured with a lock and on a high shelf.
Ellenson told The Epoch Times on Monday afternoon: "I wish to thank the [Newport News] Commonwealth Attorney's office for extending me the courtesy of informing us of the indictments that were returned by the Grand Jury today." He added that Taylor "will be turning herself in later this week."
Weeks after the shooting, Taylor's family also released a statement saying the child "suffers from an acute disability and was under a care plan at the school that included his mother or father attending school with him and accompanying him to class every day ... we will regret our absence on this day for the rest of our lives."
In response to Monday's charges, Zwerner's lawyer told news outlets that "there were failures in accountability at multiple levels that led to Abby being shot and almost killed," adding, "Today's announcement addresses but one of those failures. It has been three months of investigation and still so many unanswered questions remain."
"Our lawsuit makes clear that we believe the school division violated state law, and we are pursuing this in civil court," Toscano said on Monday. "We will not allow school leaders to escape accountability for their role in this tragedy."