U.S. Secretary of State Antony Blinken said on Tuesday at the start of a North Atlantic Treaty Organization (NATO) Foreign Ministers' meeting that the United States will consult NATO Allies about the way forward on Afghanistan.
Asked about any possible withdrawal from Afghanistan, where the United States has been at war since 2001, Blinken said a U.S. review of options was still underway and he would listen and consult with allies.
Citing President Joe Biden, Blinken said that it would be "tough to meet the May 1 deadline for a full withdrawal."
"Whatever the United States ends up doing will be informed by the thinking of our NATO Allies, which I'll take back to me after these conversations and consultation, Blinken said at the NATO ministerial meeting at NATO Headquarters in Brussels, Belgium.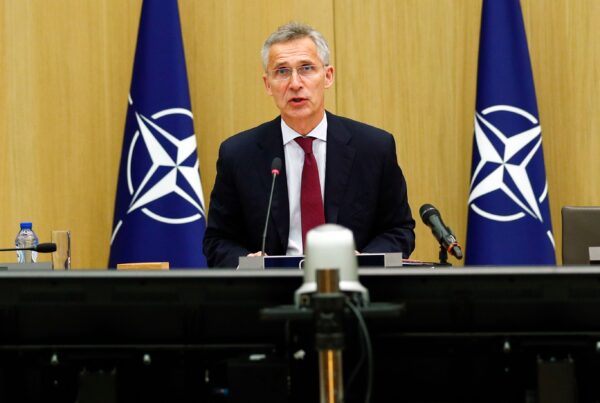 Jens Stoltenberg, NATO Secretary General said at the start of the meeting that all 30 members of the North Atlantic Alliance need to consult and make a decision on the way forward in Afghanistan.
"After the conclusion of today's NATO Foreign Ministers' meeting no final decisions has been made on NATO's military presence in Afghanistan," Stoltenberg announced at a press conference following the meeting.
"We will continue to consult very closely in the days and weeks to come, and we continue to decide and act together, as Allies," he added. The decision will depend on how the Afghan peace process evolves, Stoltenberg said.
The only way to achieve a lasting political solution in Afghanistan is through peace talks that are currently underway, according to Stoltenberg. He added, "we need to see a reduction of violence. And Taliban needs to stop supporting international terrorists, including Al Qaeda."
NATO troops were sent to Afghanistan when the Alliance invoked the collective defense clause of the North Atlantic Treaty, also known as Article Five, in response to the 9/11 attack on the United States. It was the first and only time when the collective defense was invoked, Stoltenberg said.
"We need to make sure that we are closely coordinated and that we're consulting as we move forward because more than half of the troops in Afghanistan are actually non-US, and soldiers from Canada, from European allies and partner nations, have been there for many, many years in and out, but different allies have participated," Stoltenberg said in a moderated conversation with Blinken.
"More than 100,000 non-US troops have served there and more than 1000 have paid the ultimate price," Stoltenberg said.
At a press conference on Monday, he told reporters that there are about 10,000 troops providing support, training, and capacity building for the Afghan security forces.
"The Afghan forces have proven over now several years that they are capable, they're professional, and they're able to stand up against Taliban and also terrorist attacks," Stoltenberg said. "We provide them support some training, some help. But we have to remember that the bulk of the efforts are carried out by the Afghan security forces themselves."
He said that NATO will provide financial funding for the Afghan security forces and will continue to support them financially throughout 2024.
More than 90 percent of the population of the European Union lives in a NATO country, but only 20 percent of defense spending comes from EU allies, he explained.
German Foreign Minister Heiko Maas warned against a premature pull-out that would see gains in security, education, infrastructure, and human rights quickly lost.
"We want a conditions-based withdrawal of all forces from Afghanistan," Maas said.
Turkey's Foreign Minister Mevlüt Çavuşoğlu announced at the meeting that Turkey is ready to host the meeting to support to the Afghan peace process, according to Stoltenberg.
Reuters contributed to this report.