The U.S. women's national team (USWNT) reached an agreement on Tuesday with the sport's American governing body over allegations that women soccer players are paid less than their male counterparts, a settlement in which women are promised $24 million to match those of men.
The deal stipulates that women players will have $22 million split among them—about one-third of the $66 million they had sought in damages—while $2 million will be added to a fund that will benefit players in their post-soccer careers and charitable efforts aimed at growing the sport for females. Each player will be able to apply for up to $50,000 from the fund.
"We are pleased to announce that, contingent on the negotiation of a new collective bargaining agreement, we will have resolved our longstanding dispute over equal pay and proudly stand together in a shared commitment to advancing equality in soccer," the U.S. Soccer Federation (USSF) and USWNT said in a joint statement on Tuesday.
"[USWNT] players have achieved unprecedented success while working to achieve equal pay for themselves and future athletes," it said, adding that "getting to this day has not been easy."
Going forward, the USSF also promised women players a pay rate equal to the men's national teams in all future friendlies and tournaments, including World Cup bonuses.
"U.S. Soccer has agreed to equalize the prize money moving forward, obviously we call on FIFA to truly equalize that for men's and women's tournaments," Alex Morgan said on "TODAY."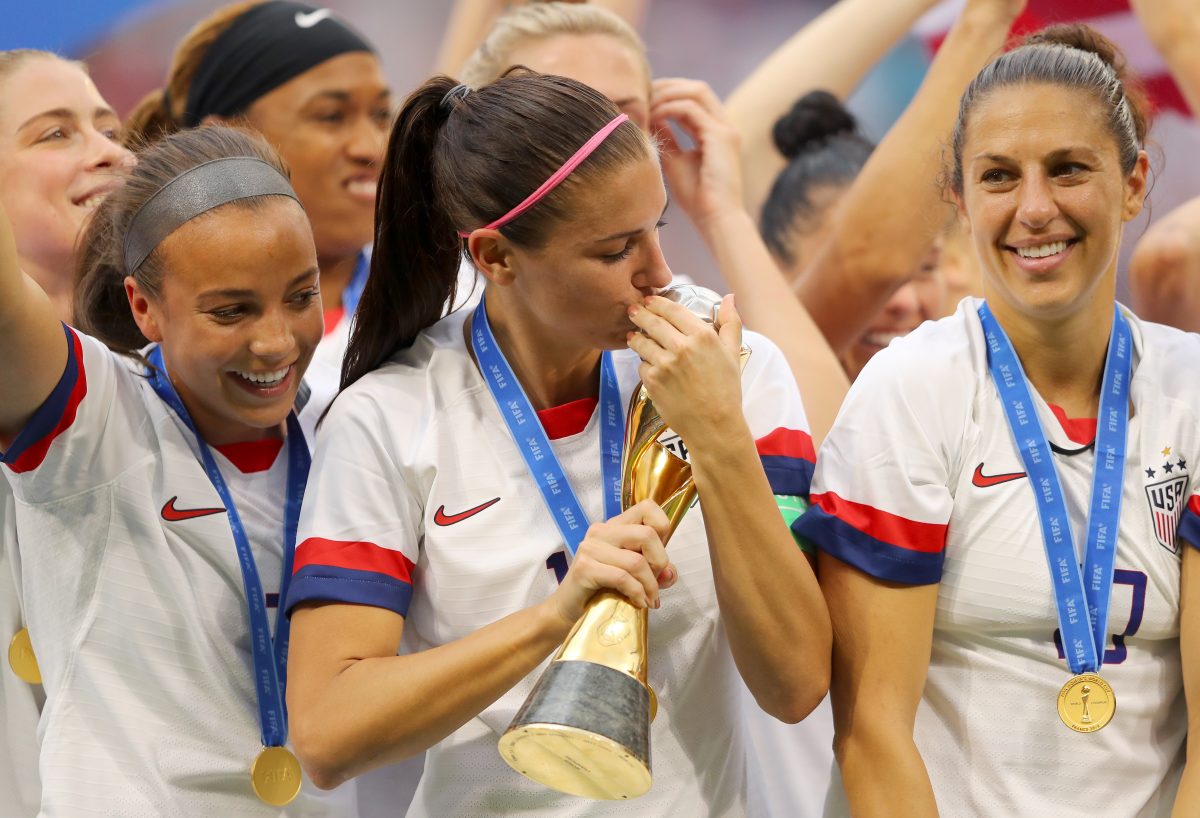 A group of five USWNT players, led by Morgan and Megan Rapinoe, filed a lawsuit in 2019 seeking equal payments for elite athletes in what became a years-long legal battle, alleging ongoing "institutionalized gender discrimination" that includes unequal pay with the men's national team.
The lawsuit was later challenged in a court and dismissed by a federal judge, who threw out the Equal Pay Act allegations in March 2020, but allowed an allegation of discriminatory working conditions to go to trial. The sides settled the working conditions portion in December 2020, dealing with issues such as charter flights, accommodations, and playing surfaces.
The legal case also saw former USSF president Carlos Cordeiro resign in March 2020 after he received backlash in the equal pay lawsuit as he challenged the filing, saying the women's national team doesn't have to put in the same amount of skill and effort to compete at the level the men's national team requires.
Cordeiro's remarks were labeled as "sexist" and his resignation led former U.S. soccer midfielder Cindy Parlow Cone to become the first woman president in the federation's history.
"This is just one step towards rebuilding the relationship with the women's team. I think this is a great accomplishment and I'm excited about the future and working together with them," Cone said over Tuesday's settlement. "Now we can shift the focus to other things, most importantly, growing the game at all levels and increasing opportunities for girls and women."
The U.S. women's team has won four World Cups since the program's start in 1985, while the U.S. men's national team hasn't reached a semifinal since 1930.
The sport remains more popular for male competition and in Europe, where the game first started and continues to draw large crowds. The 2018 Men's World Cup pulled in a viewership of over 3.5 billion. The figure for the 2019 Women's World Cup in France was a new record with just over 1.1 billion viewers.
The Associated Press contributed to this report.
From NTD News