In the Southwestern United States, wildfire season kicked off earlier than usual this year as dangerous drought conditions persist across a staggering 48 percent of the nation.
Meanwhile, state and federal forestry services are struggling to fill thousands of vacancies for wildland firefighters as would-be applicants turn to more lucrative and less demanding careers.
The worst part of fire season typically hits between June and August. Nonetheless, as of May 21, the country has already experienced 26,321 wildfires that have destroyed more than 1.6 million acres.
In New Mexico and Arizona, this is particularly prevalent. Due to the early surge in conflagrations, President Joe Biden issued a disaster declaration for New Mexico on May 4.
More than 600 fires had burned across the two states by early May 2022.
Amid the soaring demand for wildland firefighters, the U.S. Forest Service can't give jobs away in some states.

"Ten or so years ago, we would have people beating down the doors. For two jobs, we would have 100 applicants," Texas fire program leader Chris Schenck told The Epoch Times.
Schenck worked with the forest service for 34 years and has a son who serves as a wildland firefighter in Utah.
Today, he still works in wildfire mitigation at his "retirement job" for Texas.
In March 2022, several fires merged to form the Eastland Complex fire, which burned more than 54,000 acres and set a record as Texas's largest wildfire to date. Damage estimates from the historic blaze resulted in more than $23 million in agricultural losses alone.
When it comes to fighting blazes in the wilderness, Schenck said it's the passion, not the pay, that brings people into the business.
And America's passion for fighting fires appears to be waning.
"Now, they [U.S. Forest Service] are going to these hiring fairs and will probably have to make a second trip because they don't have enough qualified applicants or sometimes just even interested applicants for entry-level positions," Schenck said.
In June 2021, Biden raised the minimum wage for wildland firefighters to $15 an hour. Additionally, permanent workers on the front lines would get up to a 10 percent retention bonus. Temporary workers who committed to staying all season were eligible for an extra $1,000 in pay.
"Last year, about 14,300 firefighters did receive a permanent minimum wage increase to $15 an hour," Sheri Ascherfeld with National Interagency Fire Center in Boise, Idaho, told The Epoch Times.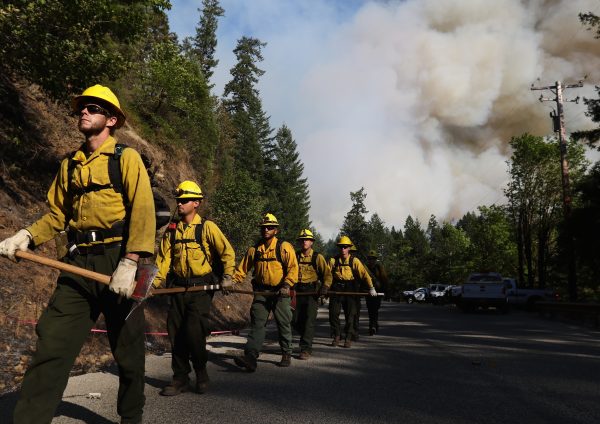 For perspective, the wage increase is about the same hourly pay as an average shift manager or assistant manager at a fast-food outlet.
"This year, we're continuing to look at ways we can improve their pay and hoping that more information comes out in the next few months as to how Congress and the departments are going to provide them [wildland firefighters] more help," Ascherfeld said.
Fifteen measures were introduced in 2021 that fell under the umbrella of wildfire management and support, all of which await congressional approval. Only a few have made it as far as the committee hearing stage.
Buried within that list is H.R. 5631, or the Tim Hart Wildland Firefighter Classification and Pay Parity Act, introduced last October by Rep. Joe Neguse (D-Colo.).
The bill includes provisions like additional pay increases for workers, health care, mental health services for all wildfire fighters, and housing stipends.
Ascherfeld explained that federal fire management agencies were allocated $600 million to invest in wildfire management, much of which will be devoted to increased pay rates and turning seasonal or part-time positions into permanent, full-time jobs.
"A lot of the workforce is college students that return each summer. So right now, there's a lot of hiring that's going on and training. A lot of our crews are coming on board and doing their critical training at this time of the year before they go out to the fire line," she noted.
The U.S. Forest Service had 8,300 firefighters trained and ready to combat the increasing blazes by April. However, that number represents only 73 percent of what the agency has said it hoped to marshal to battle this year's wildfires.
"The negative impacts of today's largest wildfires far outpace the scale of efforts to protect homes, communities, and natural resources," said U.S. Secretary of Agriculture Tom Vilsack. "Our experts expect the trend will only worsen."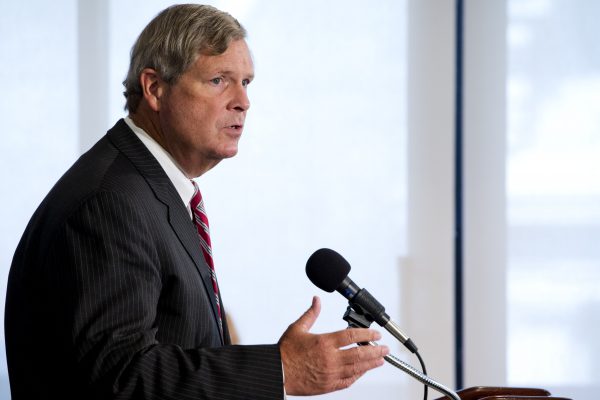 During testimony given before the Senate Appropriations Committee on May 4, Forest Service chief Randy Moore acknowledged that in some areas, the agency has only reached 50 percent of its staffing goals.
"We are making offers, and there's a lot of declinations in those offers," he said.
Schenck attributes this to more than just low wages, but also a shift in the kind of work demands that younger generations are willing to take on.
"What young people want from work [today] is very different. And you look at the work of daily firefighters: long hours, usually during the summer when most people take vacations with their families.
"There are some demands on that work [wildfire fighting] that I can see, with what some people want, would be less appealing to them," he said.
Moreover, Schenck says people graduating from university aren't as attracted to natural resource careers involving wildfire management.
"I told some guidance counselor in the 8th grade, I wanted to be a forest ranger and she said 'that doesn't pay much' … and you know what, she was right. But honestly, I loved my work throughout my career. It's been hard and satisfying work."
Year-to-date acres burned in April are approximately 70 percent above the 10-year average, with the vast majority located in the U.S. Southwest. Most of that area is forecast to have above-normal significant fire potential for the rest of May and June.