WASHINGTON—The number of Americans filing applications for unemployment benefits was unchanged last week, suggesting the labor market remains on solid footing despite slowing economic activity.
Initial claims for state unemployment benefits were unchanged at a seasonally adjusted 218,000 for the week ended June 1, the Labor Department said on June 6. Data for the prior week was revised to show 3,000 more applications received than previously reported.
Economists polled by Reuters had forecast claims would be unchanged at 215,000 in the latest week. The Labor Department said no states were estimated.
The four-week moving average of initial claims, considered a better measure of labor market trends as it irons out week-to-week volatility, fell 2,500 to 215,000 last week.
The claims data has no bearing on May's employment report, which is scheduled for release on Friday. According to a Reuters survey of economists, nonfarm payrolls likely increased by 185,000 jobs in May after surging by 263,000 in April.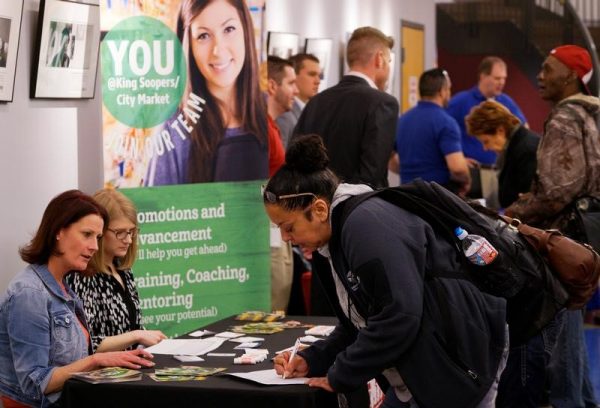 The pace of job growth is well above the roughly 100,000 needed per month to keep up with growth in the working age population. The unemployment rate is forecast to be unchanged near a 50-year low of 3.6 percent.
Sustained labor market strength is seen supporting growth amid signs that economic activity is slowing after a temporary boost from volatile exports and inventory accumulation in the first quarter. Manufacturing production and home sales slumped in April, and consumer spending increased moderately.
The Atlanta Federal Reserve is forecasting gross domestic product rising at a 1.3% pace in the second quarter. The economy grew at a 3.1% annualized rate in the January-March quarter.
Thursday's claims report also showed the number of people receiving benefits after an initial week of aid rose 20,000 to 1.68 million for the week ended May 25. The four-week moving average of the so-called continuing claims slipped 1,000 to 1.67 million.
Hispanic Unemployment Sets New Historic Low
Hispanic Americans are enjoying the lowest unemployment on record, 4.2 percent in April, as the economy added 263,000 jobs and the overall unemployment rate dropped to 3.6 percent, the lowest in nearly 50 years.
The report easily soared above expectations, as economists polled by Reuters had forecast nonfarm payrolls rising by 185,000 jobs last month.
"What people are witnessing is that the agenda that President [Donald] Trump ran on and that we've been delivering on over the last two years is working for every American," Vice President Mike Pence told Fox News on May 3.
He called the new data "a confirmation of what the president has said all along."
"That you let Americans keep more of what they earn, you cut taxes on individuals and businesses, you roll back federal red tape, you unleash American energy, you fight for the kind of trade deals that put the American jobs and American workers first, that the American economy would come roaring back and we're witnessing it and it's truly inspiring," he said.
The unemployment numbers, however, decreased not just because of the growing payrolls, but also because nearly a half-million Americans left the workforce that month, according to the Bureau of Labor Statistics.
Hispanics have done well in the job market in recent years, with the average unemployment of below 4.8 percent in the past 24 months. The only other two-year period that came within a stone's throw of that number was between 2006 and 2007, right before the Great Recession, when the average Hispanic unemployment dropped below 5.5 percent.
The April seasonally adjusted unemployment rate at large decreased to 3.6 percent, the lowest since December 1969, from 3.8 percent.
Great news from today's #JobsReport! 263,000 new jobs were created just last month with overall unemployment declining to an historic low of 3.6%. And, the U.S. economy grew at a blockbuster 3.2% rate in the first quarter. Thanks to @POTUS, the economy is stronger than ever.

— Sec. Wilbur Ross (@SecretaryRoss) May 3, 2019
"We can all agree that AMERICA is now #1. We are the ENVY of the WORLD — and the best is yet to come!" President Donald Trump wrote on Twitter on May 3.
Trump repeatedly has attributed the growing economy to the tax cuts passed by Republicans in 2017, his administration's ongoing deregulation agenda, and his tough stance on international trade, particularly in regard to China.
The job growth was most marked in administrative and support services sector which added 53,000 jobs. The nonresidential specialty trade contractors sector added 22,000 jobs. The individual and family services sector and the food services and drinking places sector added 26,000 and 25,000 jobs respectively.
The BLS also corrected previous data, saying the economy created 16,000 more jobs in February and March than previously reported. The average job growth over the past 12 months thus increased to 218,000, more than twice the 100,000 needed to keep up with the growing workforce.
The unemployment figures only include those who sought a job in the preceding four weeks. If those who looked for a job in preceding 12 months were included as well as those who had a part-time job but wanted a full-time one, the rate stood at 7.3 percent, unchanged from March.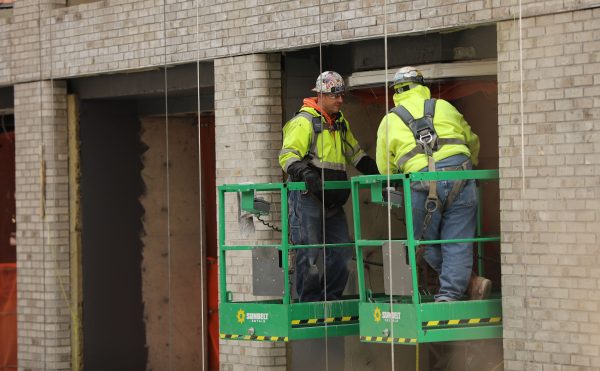 Hiring remains strong, despite anecdotal evidence of worker shortages in the transportation, manufacturing and construction industries, suggesting there is still some spare capacity in the labor market.
Steadily rising wages have on balance been keeping workers in the labor force and drawing back those who had dropped out. Average hourly earnings rose six cents, or 0.2 percent in April after rising by the same margin in March. That kept the annual increase in wages at 3.2 percent. Workers put in fewer hours in April. The average workweek fell to 34.4 hours from 34.5 hours.
The economy grew at a 3.2 percent annualized rate in the first quarter, driven by a surge in exports and inventories, quickening from the October-December period's 2.2 percent pace.
The dollar dipped versus a basket of currencies after the employment report, while U.S. Treasury yields were marginally lower.
By Lucia Mutikani
Epoch Times reporter Petr Svab contributed to this article.