Defence Minister Richard Marles has warned that the U.S.-Australia alliance will need to step up its efforts to counteract Beijing in an increasingly "challenging strategic environment."
The Australian deputy prime minister made the comments in a speech to the Centre for Strategic and International Studies in Washington D.C. during a four-day trip to the United States.
Marles' message comes as U.S. leaders ramp up their response to Beijing's encroaching influence in the Pacific.
He spoke of the value of alliances—and in a veiled reference to recent comments by the Chinese Foreign Ministry—spoke against claims that partnerships were "Cold War relics unsuited to contemporary statecraft."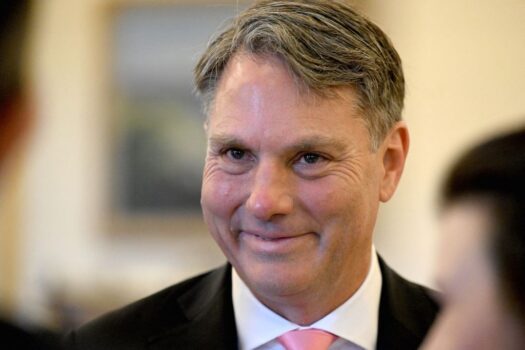 "In a more contested world, those countries that are able to pool their resources and combine their strengths will not only have a competitive advantage, they will be less vulnerable to coercive statecraft," he said.
"Notwithstanding our strong foundations, we can't afford to stand still. Because in the years ahead, the U.S.-Australia alliance will not only have to operate in a much more challenging strategic environment in the Indo-Pacific; it will need to contribute to a more effective balance of military power aimed at avoiding a catastrophic failure of deterrence.
"Events in Europe underline the risk we face when one country's determined military build-up convinced its leader that the potential benefit of conflict was worth the risk."
Meanwhile on July 12, U.S. Vice President Kamala Harris announced the Biden administration would be dispatching the Peace Corps to the region, establishing new embassies in Kiribati and Tonga, appointing the first-ever U.S. Envoy to the Forum, and is looking at reestablishing a U.S. Agency for International Development Regional Mission for the Pacific to deal with natural disasters and humanitarian aid.
Labor Government to Continue Defence Build-Up
Marles said the Australian Labor government would continue investing and pushing ahead with defence projects started by the previous government, including long-range weapons, cyber capabilities, dealing with grey-zone threats, and progressing the nuclear-submarine project under AUKUS.
He also noted Australia's investment in "defence capital infrastructure" to support the growing number of Australian and U.S. troops in the region, saying there would be a shift from "interoperability to interchangeability."
The defence minister also said he would be proposing measures to help streamline Australia's engagement and information exchange with the U.S. National Technology and Industrial Base.
"We all recognise that integration cannot come at the expense of robust security which protects sensitive information and technology."
Marles also said the Albanese government would increase its focus on ASEAN and the Pacific Islands nations—promising greater climate change action.
"The Pacific has been clear in saying that geopolitical competition is of lesser concern to them than the threat of rising sea levels, economic insecurity, and transnational crime. Australia respects and understands this position," he said.
However, democratic leaders were dealt a blow earlier this week when Kiribati pulled out of the Pacific Islands Forum.
The Forum was a mechanism supposed to give the 20 Pacific nations a voice to discuss and implement major initiatives and reforms across the region.
Leaders typically worked on a consensus basis and rarely engaged in new policies on their own—this would have been a key bulwark against Beijing's creeping influence.
Yet, according to some experts, the decision by Kiribati proves that some Pacific leaders felt there were greater benefits to working with the Chinese Communist Party than with traditional Pacific partners.