The U.S. Transportation Department said it's suspending 44 China-bound flights by four Chinese carriers after Beijing suspended dozens of flights by U.S. airlines.
Biden administration announced on Jan. 21 that the United States would ground Xiamen Airlines' scheduled flights from Los Angeles to Xiamen starting Jan. 30. In addition, the United States will also cut China-bound flights by Air China, China Southern, and China Eastern.
The action is the Biden administration's response to China's recent suspension of 44 flights by U.S. carriers to China, which cited its strict COVID-19 control rules.
On Jan. 20, the Civil Aviation Administration of China (CAAC) issued another circuit-breaker order to suspend two Delta Air Lines flights to Shanghai from Feb. 7, as eight passengers on the carrier's Detroit-to-Shanghai flight tested positive for the CCP (Chinese Communist Party) virus on Jan. 12.
In addition, China has also canceled six Dallas-to-Shanghai flights by American Airlines scheduled for late January and early February; six United Airlines San Francisco-to-Shanghai flights in late January; and all of Delta Air Lines' Shanghai-bound flights.
The Chinese regime announced its first airline circuit-breaker measures for the COVID-19 pandemic in 2020. The measures, according to CAAC, say that if five to nine passengers test positive for COVID-19 after arriving in China, the flight route will be suspended for two weeks; if more than 10 passengers test positive, the flight route must be suspended for four weeks.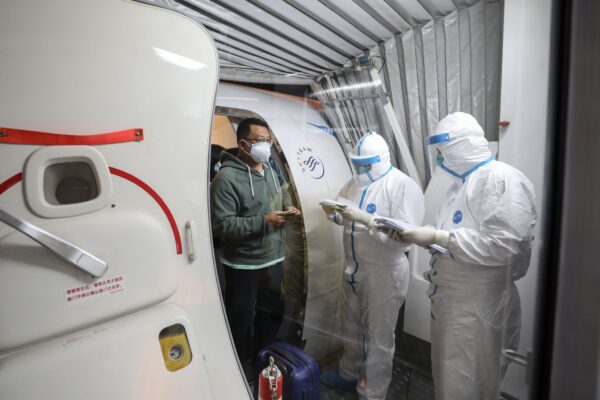 Citing the circuit-breaker measure, China has suspended 70 flights between the United States and China since the start of the year, intensifying the dispute between the two countries over air travel.
After China's suspension of more U.S. flights this month, Chinese travelers have posted from overseas on Chinese social media platform Weibo.
"Going back to China now seems like mission impossible. More and more flights are being suspended. I haven't been home for two years," one user wrote.
The U.S. Department of Transportation said that Beijing's flight suspensions "are adverse to the public interest and warrant proportionate remedial action." In addition, the statement stressed that Beijing's "unilateral actions against the named U.S. carriers are inconsistent" with a bilateral agreement between the United States and China.
At the same time, the Biden administration said it has left a path to deescalation. The Transportation Department said it's prepared to revisit the action if China changes its "policies to bring about the necessary improved situation for U.S. carriers." However, the United States also warned that if China cancels more U.S. flights, "we reserve the right to take additional actions."
Since the outbreak of COVID-19, the United States and China have clashed several times over air service. Before this round of flight cancellations, three U.S. airlines and four Chinese airlines operated about 20 weekly flights between the two countries, well below the more than 100 weekly flights operating before the pandemic.
According to Reuters, there are currently only about 200 international flights to China every week, just 2 percent of the pre-epidemic level. It's created inconvenience for a large number of Chinese citizens overseas who want to return home, and China's economic activities also have been greatly affected.
Reuters contributed to the report.