The United States has sent a group of former senior defense and national security officials to assure Taiwan that it "stands firm behind its commitments," amid the backdrop of Russian aggression in Eastern Europe.
The five-member delegation met with Taiwan President Tsai Ing-wen on March 2 after arriving in Taipei a day earlier. The surprise two-day trip came as a sign of a beefed-up bilateral partnership amid looming threats from authoritarian powers Russia and China.
"I do hope by being here with you, we can reassure you and your people, as well as our allies and partners in the region, that the United States stands firm behind its commitments," said former U.S. Joint Chiefs of Staff Chairman Adm. Mike Mullen, in remarks at the Presidential Office.
Referring to the escalating Russia–Ukraine conflict, Mullen said continued peace and stability of the world have never been more important.
"We come to Taiwan at a very difficult and critical moment in world history. … Now more than ever, democracy needs champions," the retired U.S. Navy admiral said, partially citing President Joe Biden.
He said the latest move is in the pursuit of the "continued and growing strength of the vital partnership" with the democratic island.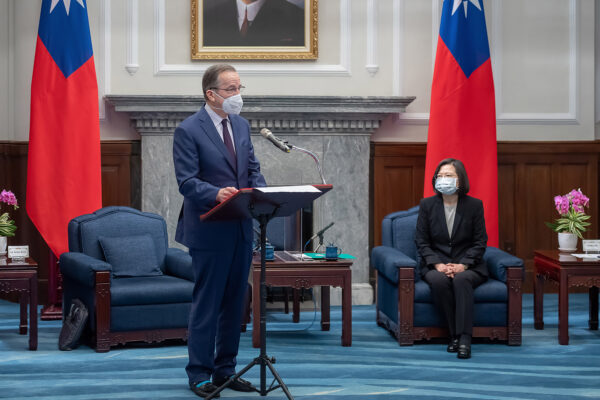 Tsai said the crisis in Ukraine underscores the importance of cooperation and coordinated action among democratic countries.
"History teaches us that if we turn a blind eye to military aggression, we only worsen the threats to ourselves," Tsai said as she addressed the meeting.
"Now is the time for all democracies around the world to come together."
Global Interest
Russia's invasion of Ukraine has sparked renewed attention to the Chinese regime's threat to forcibly annex Taiwan, which Beijing claims as its own territory. Concerns have mounted as to whether Taiwan will meet the same fate as Ukraine.
Although Taiwan rejects such parallels, given the island's geographical advantages and global roles, Taipei has since stepped up its alert level, wary of the possibility that Beijing might take advantage of distracted Western allies.
"Maintaining peace and stability across the Taiwan Strait is not just a U.S. interest, but also a global one," Mullen said during the meeting, noting that Taiwan stands at the front lines of defending democracy.
In a long-awaited Indo-Pacific strategy released on Feb. 11, the White House deemed the region as critical in countering growing aggression by Beijing. Kurt Campbell, White House coordinator for Indo-Pacific Affairs, said the United States won't take its eye off the region despite the Ukraine crisis, and it would engage simultaneously as it did during World War II and the Cold War.
"It's difficult. It's expensive. But it is also essential, and I believe that we're entering a period where that is what will be demanded of the United States and this generation of Americans," Campbell said at a Feb. 28 virtual event.
Without naming China, Mullen praised Tsai's efforts of standing up against the "leading challenges of the times," both in Taiwan and on the world stage.
"Whether it'd be a global pandemic or corrosive disinformation and malign influence, [the government tackled them] without sacrificing core democratic values," he told Tsai on March 2.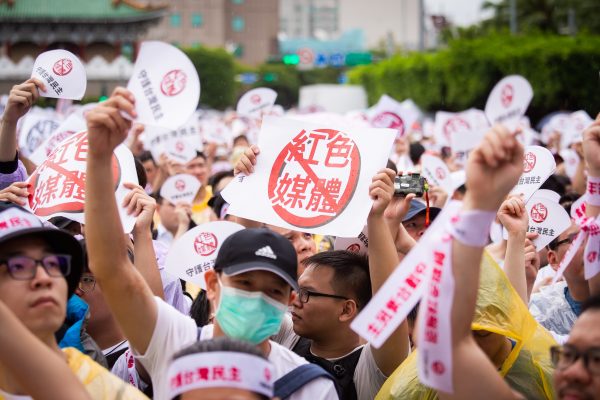 The Taiwan Relations Act will mark its 43rd anniversary next month. Washington is required by the law to provide the island with the means to defend itself over matters of "grave concern." Aside from selling military weapons, Biden has followed his predecessors in stepping up contacts between members of his administration and Taiwan officials.
Mullen led a delegation that also included Meghan O'Sullivan, a former deputy national security adviser, Michèle Flournoy, former undersecretary of defense, and Mike Green and Evan Medeiros, both of whom were senior directors for the Asia affairs office of the National Security Council.
The group also was to meet with Taiwan Defense Minister Chiu Kuo-cheng.
Chinese Foreign Ministry spokesperson Wang Wenbin on March 1 criticized Washington's latest move, saying it was "futile for the U.S. to send anyone to demonstrate its so-called support for Taiwan."
In a separate visit, former U.S. Secretary of State Mike Pompeo and his wife are expected to arrive in Taiwan on March 2. Pompeo, who also served as CIA director, also will meet with Tsai and address a forum, according to Taiwan's Foreign Ministry.
The Associated Press contributed to this report.