The United States and South Korea have agreed to initiate talks on expanding joint military drills on the Korean Peninsula in response to North Korea's growing nuclear threat.
U.S. President Joe Biden and his South Korean counterpart, Yoon Suk-yeol, held their first meeting in Seoul, South Korea, on May 21, during which they discussed measures to deter North Korea's evolving nuclear threat.
In a joint statement, the two leaders said they'll reactivate the high-level Extended Deterrence Strategy and Consultation Group "at the earliest date" and reinforce the combined defense posture.
"Both leaders agree to initiate discussions to expand the scope and scale of combined military exercises and training on and around the Korean Peninsula," the statement reads.
Biden also reaffirmed the U.S. extended deterrence commitment to South Korea "using the full range of U.S. defense capabilities, including nuclear, conventional, and missile defense capabilities."
The two leaders condemned North Korea's resumption of nuclear tests as a "grave threat" to the world while remaining open to dialogue with Pyongyang. They also expressed a willingness to assist North Korea in combating the COVID-19 outbreak.
Biden and Yoon agreed to expand cooperation in securing energy supply chains, including fossil fuels and enriched uranium, following the global energy market volatility resulting from Russia's invasion of Ukraine.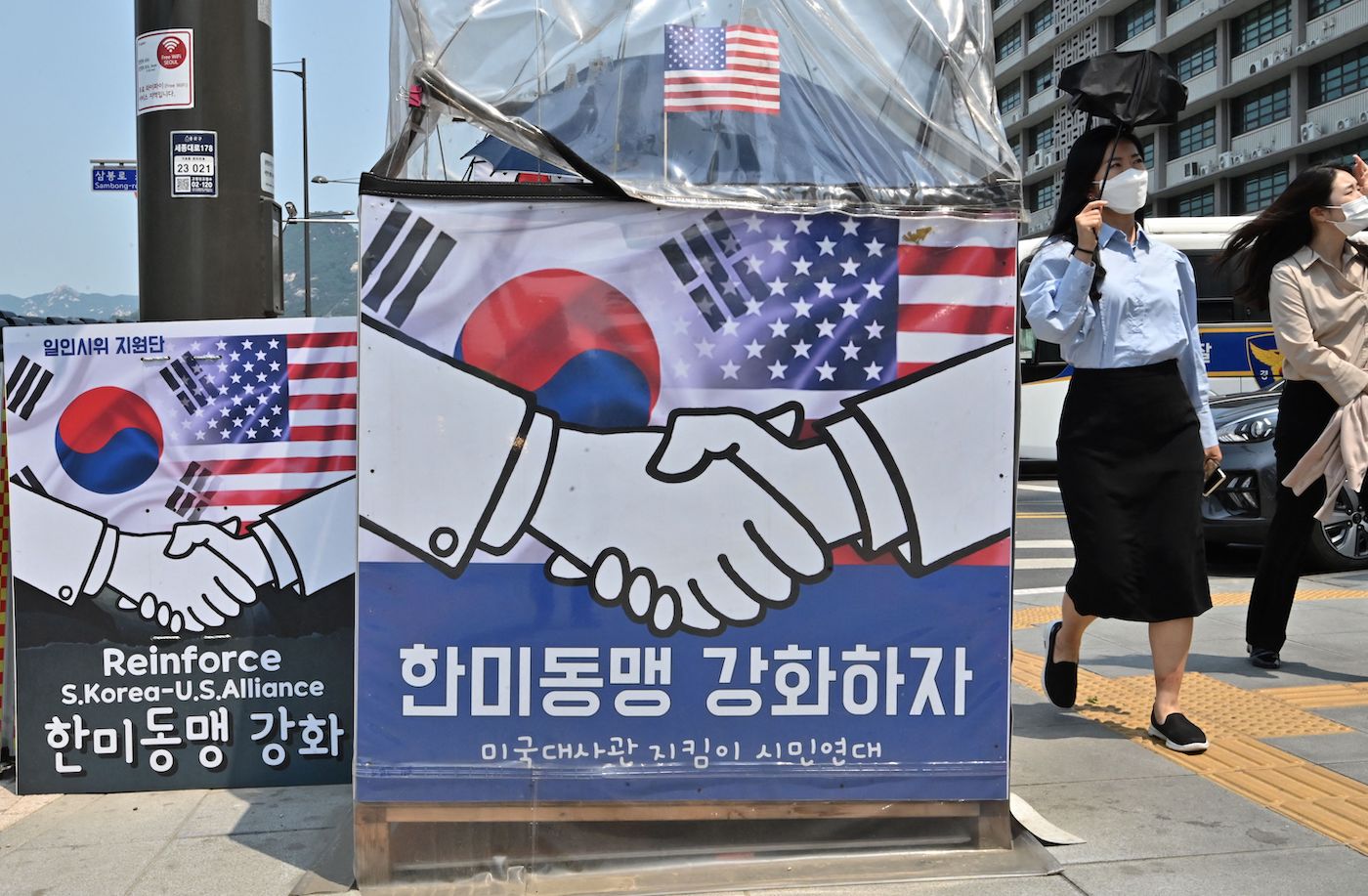 Yoon has promised a tougher stance on North Korea and a stronger U.S. security commitment, saying that preemptive strikes may be necessary if Pyongyang shows signs of an imminent attack.
During his inauguration on May 10, Yoon said he would provide North Korea with what he called "an audacious plan" to strengthen the economy of Pyongyang in exchange for complete denuclearization.
"If North Korea genuinely embarks on a process to complete denuclearization, we are prepared to work with the international community to present an audacious plan that will vastly strengthen North Korea's economy and improve the quality of life for its people," he said.
North Korea has upped its weapons testing, the most recent being on May 12 when it fired three short-range ballistic missiles into the sea. Washington anticipated that Pyongyang could conduct its seventh nuclear test during Biden's visit to Asia.
North Korean leader Kim Jong Un vowed last month to "continue to take measures for further developing the nuclear forces of our state at the fastest possible speed."
"The nuclear forces of our Republic should be fully prepared to fulfill their responsible mission and put their unique deterrent in motion at any time," Kim said.
The United States has been urging a return to a dialogue with North Korea, which Pyongyang has ignored because of what it says are the United States and its allies' hostile policies.