The South Korea and U.S. alliance is moving ahead with deployment of the Terminal High Altitude Area Defense (THAAD) missile defense system, a Department of Defense spokesperson has confirmed.
"Everything is progressing," said Lieutenant Colonel Christopher Logan, a defense department spokesperson.
"We've got the intercept capability right now," he said, alluding to two batteries of shield missiles already installed and operational.
Meanwhile, a senior U.S. general is in China, ensuring lines of communication are open to avoid any miscalculations in the increasingly tense regional environment.
The two batteries of THAAD missiles were deployed in May before the full installation was halted due to an uproar in Beijing over the presence of the U.S. missile defense system and radars so close to its border.
South Korea claimed the halt was to conduct an environmental assessment of the installation area.
But as tensions have mounted between the United States and North Korea, the Chinese regime's anger has diminished in importance next to South Korea's physical security.
Logan could not say when the installation of the system resumed, nor give a timeline on when it would be concluded.
On Tuesday, Yonhap News, South Korea's largest news agency, quoted Pentagon spokesman Col. Rob Manning as saying the initial intercept ability achieved in May is now being built upon.
The South Korean government determined last week that noise and radiation near the site of the THAAD battery In Seongju, southeastern South Korea, were negligible, removing the professed reason to halt the installation of THAAD batteries.
President Moon Jae-in has called four more batteries of launchers to be installed for the missile shield.
A DoD News report filed from Shenyang, China, on Wednesday says Chinese and U.S. defense staff are holding frank talks on the problems posed by North Korea.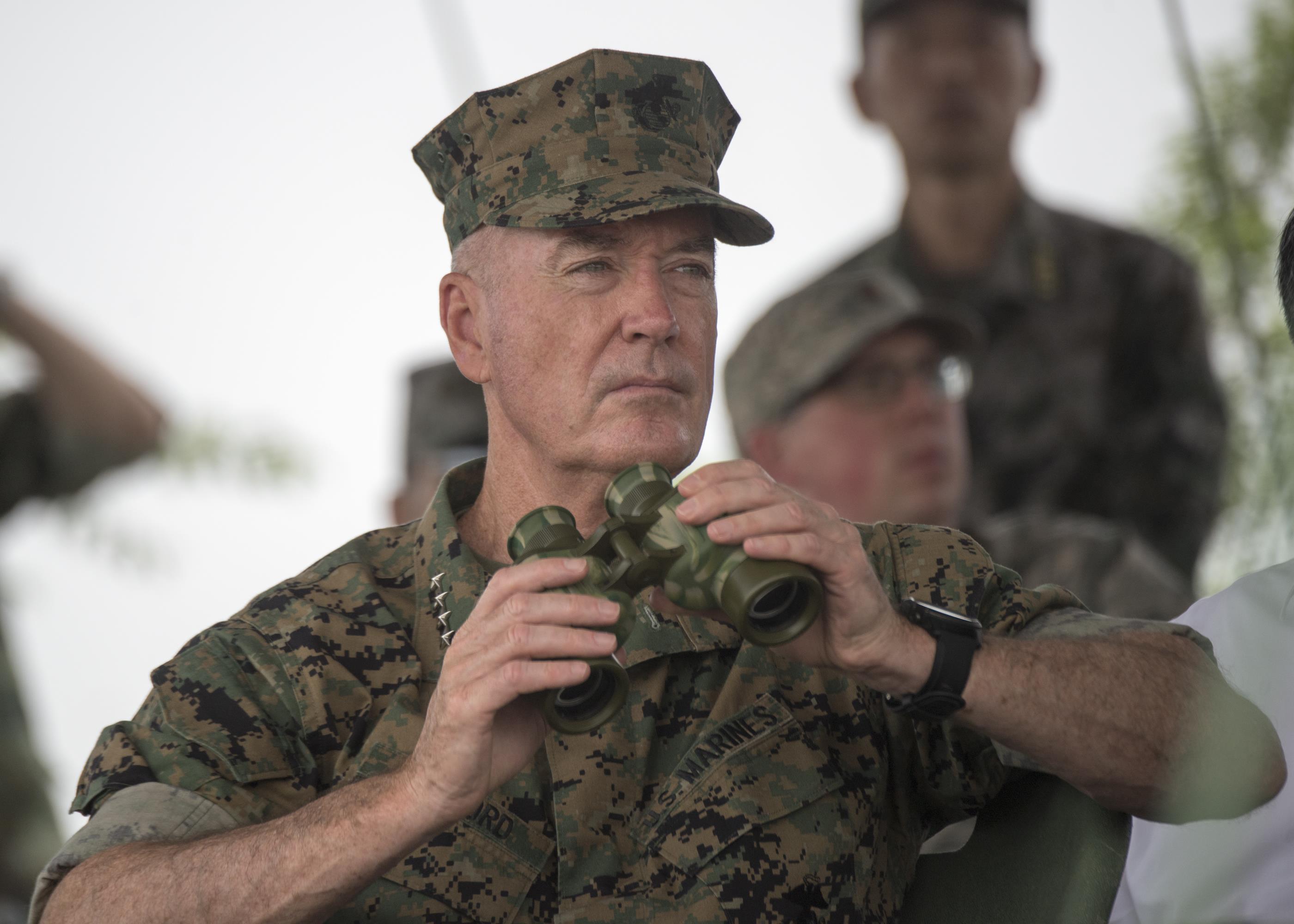 Meetings between Marine Corps Gen. Joe Dunford, chairman of the Joint Chiefs of Staff, and his Chinese counterpart, Army Gen. Fang Fenghui have been "interesting and candid" reported the military's news agency.
Dunford spoke to reporters after observing a Chinese infantry unit perform combined arms maneuvers at the Northern Theater Command's Haicheng Camp, the closest unified command China has to North Korea.
The visit and discussions with Chinese officials come as the United States prepares for its annual military exercise with South Korea, scheduled for 10 days starting Aug. 21.
The exercise will include about 25,000 U.S. troops and tens of thousands of South Koreans.
Dunford told DoD News that he told Chinese officials that the U.S. approach to North Korea is based on diplomatic and economic pressure.
"I also addressed the fact that we were developing military options in the event that the diplomatic and economic pressure failed," he said.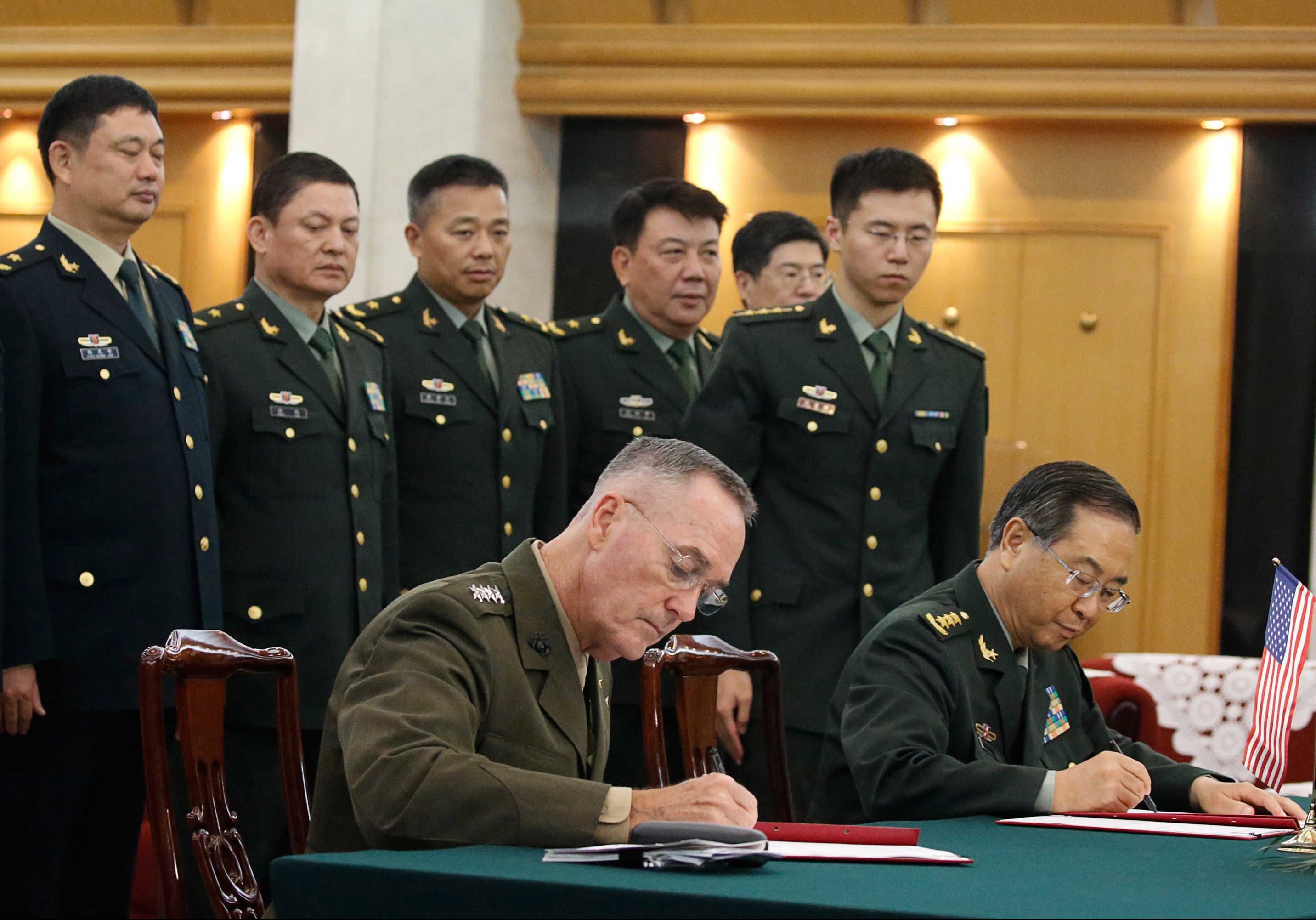 Should peaceful means fail, and military options be used, it is important the U.S. and China have a clear line of communication and understanding.
Dunford said it was important that Chinese and U.S. defense officials had a conversation about what might happen in the event of military action.
He also reiterated the U.S. position that China—the source of 75 percent of North Korea's trade—has the power to compel North Korean leader Kim Jong Un to abandon his nuclear ambitions.
China's support in the recent United Nations Security Council vote to sanction North Korea for its nuclear and rocket programs, pleased the U.S., he said.
"We believe that if China enforces those sanctions—if the international community enforces those sanctions—that can set the conditions to move forward toward denuclearization," he said.
The Chinese regime, meanwhile, has rejected claims it could control North Korea despite being its only major ally and the linchpin of the country's economy.
The Chinese regime is angry about the installation of defensive missiles, but not for any immediate threat they pose, Sun Zhe, co-director of the China Initiative of Columbia University's School of International and Public Affairs told Reuters.
The missiles have no warhead and use kinetic energy to take down short and medium range missiles by simply crashing into them. 
"China is not too worried that the United States might suddenly attack North Korea. It is worried about THAAD," said Sun.
THAAD's powerful radar system—which allows it to track and shoot down incoming missiles—could be used to detect and block Chinese missiles, eroding the effectiveness of China's nuclear deterrent.