Commentary
African countries should not be left with a "tremendous debt that they cannot repay," U.S. Secretary of State Antony Blinken said during his visit to the continent in April 2021.
The Chinese Communist Party (CCP) is outpacing the United States in investment and trade in Africa. The ongoing lockdowns in Shanghai and other major cities, paired with the slowing Chinese economy, provide an opportunity for America to increase its engagement with Africa, breaking China's grip on the continent.
Since 2000, the CCP has loaned over $148 billion to Africa. This makes China the largest lender to Africa and the leading creditor in 32 African nations. Most of the loaned money has gone to mineral and hydrocarbon-rich countries such as Zambia with its large deposits of copper, Kenya, Nigeria, Ghana, Angola, Algeria, Mozambique, Egypt, and Sudan, which have oil and gas, and South Africa and Tanzania, which both have gold.
The top debtors include Angola, which owed $21.5 billion to China in 2017, Ethiopia ($13.7 billion), Kenya ($9.8 billion), the Republic of Congo ($7.42 billion), Zambia ($6.38 billion), and Cameroon ($5.57 billion), according to The Economic Times.
With 60 percent of their national debt owed in foreign currencies, these countries struggle to make loan-service payments. The primary reason is that the loans from China did not generate enough revenue to cover the interest payments. In short, the loans put the recipient nations deeper in the hole. Zambia defaulted on its loans during the first year of the COVID-19 pandemic.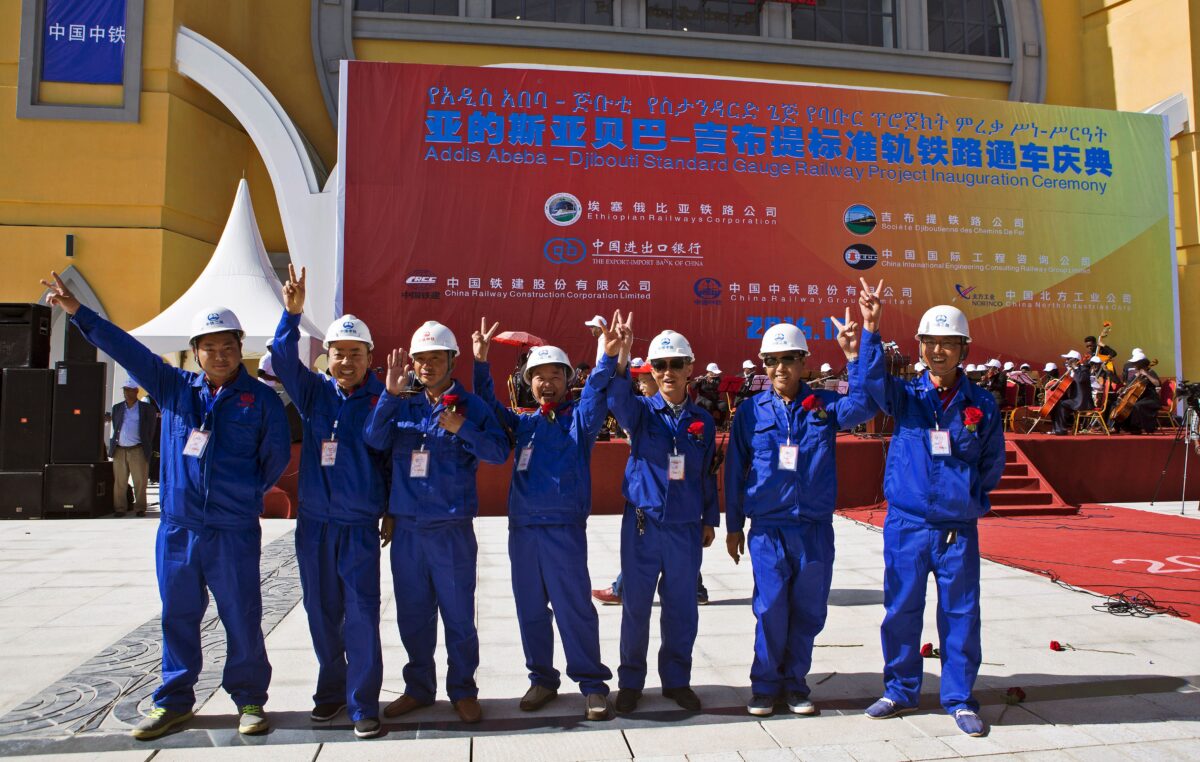 The United States could compete with China in Africa, but U.S. foreign direct investment flows into Africa have declined since 2010. CCP investment in Africa, by contrast, has grown steadily during the same period, exceeding that of the United States since 2013. Washington accuses Beijing of debt-trap diplomacy because of the high-interest rates and lack of transparency in their loans; however, the CCP refutes these claims.
As countries default, China seizes assets and revenues.
According to a 2015 Reuters report, Angola was forced to cede much of its crude oil to China because it failed to pay a debt. This left the country with little crude oil to export, decreasing its income.
Over 30 percent of Zambia's $14 billion sovereign debt is owed to China, for which the country's Kenneth Kaunda International Airport is now being used as collateral. Fumba Chama, a well-known Zambian hip hop artist who goes by the name Pilato, expressed the concerns of his countrymen in his lyrics: "They put on smart suits and fly to China to sell our country. The roads belong to China. The hotels are for the Chinese. The chicken farms are Chinese. Even the brickworks are Chinese."
Apart from U.S. and African allegations of debt-trap diplomacy, some Africans resent that Chinese investment projects often bring in their own labor from China rather than creating jobs for locals. On Jan. 29, the host of the "Africa is Home" podcast, Jean Paul, expressed his dissatisfaction that Chinese investment put countries into long-term debt to China while failing to build local capacity.
"When China comes to Africa and finances all these infrastructure projects, instead of training the local people, they are bringing their own engineers, they are bringing their own workers … where do we benefit? … The money that they loan us, we usually need to pay them back," he said.
Gustavo de Carvalho, a senior researcher at the South Africa-based Institute for Security Studies, suggests that the United States should increase its economic activity in Africa but that it must do so in a way that respects the needs and desires of the local people and governments. In December, he told Voice of America (VOA), "The U.S. should … equally engage on how its approaches are conducted and perceived by local and national actors."
In May 2021, the Council on Foreign Relations wrote, "The United States should capitalize on what makes it a compelling partner to African states."
Deborah Brautigam, director of the China Africa Research Initiative at Johns Hopkins University, told VOA last month that China is way ahead of investment and trade. She said, "It's not clear that Washington has pivoted to Africa beyond rhetoric."
CCP loans to Africa were down 75 percent in 2020, totaling only $1.9 billion. Experts expected the loans to pick up post-pandemic, but the damage done to the Chinese economy due to the continued lockdowns in Shanghai and other major cities may delay China's resumption of investment.
The United States needs to offer Africa a viable alternative to China by providing loans and capacity-building investments through the U.S. Agency for International Development and other programs. America should seize the moment while the CCP is determined to destroy China's economy through ongoing COVID lockdowns.
Views expressed in this article are the opinions of the author and do not necessarily reflect the views of The Epoch Times.