The U.S. Missile Defense Agency (MDA) looks to have another defense against medium-range ballistic missiles after Navy sailors aboard the USS John Paul Jones shot one down off the coast of Hawaii Wednesday, Aug 30.
The MDA said it "successfully conducted a complex missile defense flight test" using SM-6 guided missiles.
The recently upgraded missile, made by Raytheon, is a multipurpose, cost effective missile that gained more advanced ballistic missile defense capabilities in recent months.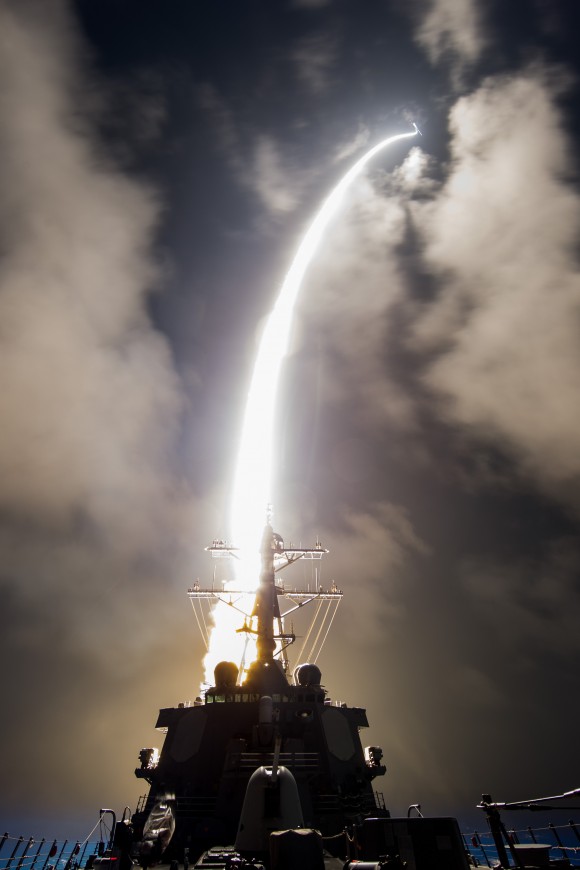 The company touts the SM-6 the only all-in-one missile capable of anti-air and anti-surface warfare as well as a sea-based ballistic missile defense.
"Earlier this year, our customer requested an enhanced capability to deal with a sophisticated medium-range ballistic missile threat," said Mike Campisi, Raytheon's SM-6 senior program director. "We did all this—the analysis, coding, and testing—in seven months; a process that normally takes one to two years."
The radar used to track the target missile and guide the SM-6 is also an upgrade, part of Lockheed Martin's effort to keep the Aegis radar system up-to-date with evolving threats.
Lockheed said the test proves the latest Aegis radar system can execute complicated missions against medium-range ballistic missiles, said Paul Klammer, director, Aegis BMD, for Lockheed Martin.
"This latest test continues to demonstrate the cutting-edge capabilities and reliability of the Aegis Baseline 9 system," he said.
The test took place off the coast of Hawaii with the USS John Paul Jones using its AN/SPY-1 radar to detect and track the target missile launched from the Pacific Missile Range Facility on Kauai, Hawaii. It is the third successful test of the SM-6 upgraded missile, and the seventh successful test of the Aegis upgraded radar.
It comes the day after North Korea conducted its most provocative missile test yet, firing a Hwasong-12 ballistic missile on Tuesday morning over Japan.
The test was immediately denounced by Japan's Chief Cabinet Secretary Yoshihide Suga, as "a grave and serious threat to the security of Japan." 
North Korea has launched more than 30 ballistic missiles "that could become the delivery means of weapons of mass destruction," noted Suga.
The North Korean regime has also conducted two nuclear tests.
Those actions and the regime's belligerent statements have helped push U.S. allies in the region closer together, especially Japan and South Korea.
In recent weeks, the three countries have pledged to deepen trilateral cooperation and military coordination.
Meanwhile, the U.S. Combined Forces Command is wrapping up its annual military exercise with South Korea. The Ulchi Freedom Guardian exercise runs Aug. 21-31 with approximately 17,500 U.S. service members and tens of thousands of South Koreans participating.