As Russia is hit by a spate of sanctions from around the globe, a group of U.S. lawmakers want new standards and guidelines for dealing with the Chinese Communist Party (CCP) central bank's digital yuan, the digital currency of Moscow's top trade partner and closet strategic partner.
"If left unchecked, technologies including China's Digital Yuan will empower Russia to evade global sanctions on systems such as SWIFT and enable the CCP to further surveil and threaten their citizens," said Sen. Marsha Blackburn (R-Tenn.), one of the lawmakers who introduced the bill, according to a March 10 press release.
The legislation [S.3784], backed by eight Republican lawmakers, is aimed at regulating U.S. policies relating to China's central bank digital currency (CBDC) in response to concerns that it may collect personal data and aid Russia to bypass sanctions.
If passed, the Secretary of Commerce will submit a report on the blockchain-based service network as well as trade enforcement activities relating to digital yuan, while the Department of State will issue a warning on the digital currency.
The legislation also requires the Office of Management and Budget to develop standards for using and transferring digital yuan, while demanding foreign governments receive assistance through the Foreign Military Financing Program to disclose if they use CBDC.
China has piloted its digital currency, formally known as e-CNY, since 2020 in Beijing, Shanghai, and several other major cities. It also promoted the e-CNY to foreign athletes in the Olympic venues.
While a final launch date hasn't yet been set, U.S. lawmakers and researchers warned the communist regime may use the state-controlled digital currency to challenge the dollar's dominance and collect users' personal data.
"The Chinese Communist Party is continuing its effort to control every aspect of life through their digital yuan, and this has serious privacy concerns for anyone using it," Sen. Cynthia Lummis (R-Wyo.), the bill's other co-sponsor, said in a statement.
"The American people deserve the truth about how China's government will use this digital currency to spy on and manipulate its people, and anyone who adopts it."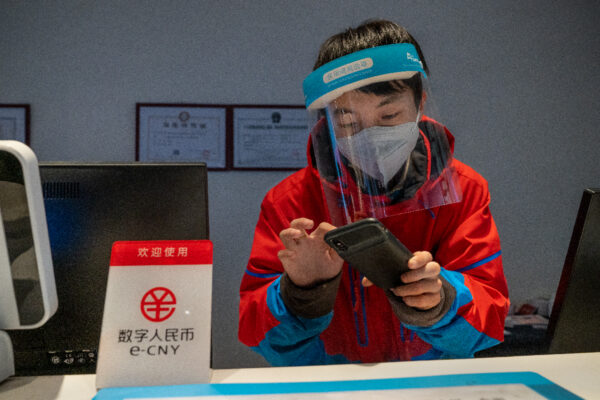 In addition, a 2021 report by the Center for a New American Security showed that CCP senior officials framed China's digital currency project as a bulwark against U.S. financial and political influence in the international payments system known as SWIFT.
The recent Western sanctions on Russia, including its exclusion from SWIFT, have raised concerns that the CCP may use its e-CNY and Cross-border Interbank Payment System to bypass such bans.
But Analysts also suggest that Beijing may be reluctant to appear to be a helper of Russia amid international condemnations of its invasion of Ukraine.
Unlike the West, the Chinese regime has so far refused to characterize Moscow's actions as an invasion nor denounce the attack.
On March 11, Chinese Premier Li Keqiang stopped short of condemning Russia's attack on Ukraine and repeated the regime's earlier criticism of the West's sanctions at a news conference at the close of the annual meeting of the country's rubber-stamp legislature in Beijing.
Li side-stepped a question about whether China would offer further financial and economic support for Russia as it faces sanctions.