Republican senators have decried the Chinese regime's success in its bid at "hostage diplomacy" after the release of Huawei Chief Financial Officer Meng Wanzhou on Sept. 24.
Meng, who had been detained at her Vancouver, British Columbia, home since late 2018 while fighting extradition to the United States, struck a deal with U.S. prosecutors on Sept. 24 that allowed her to return to China. That night, the Chinese regime freed two Canadians who had been held captive in the country for almost three years.
Canadians Michael Kovrig and Michael Spavor were first detained by the regime not long after Meng's arrest, prompting observers to describe them as victims of a high-stakes game of "hostage diplomacy."
Officials around the world have welcomed the release of the Canadians, widely known as the "two Michaels," but some U.S. lawmakers drew attention to Beijing's actions.
"We must also acknowledge the resolution of this hostage situation is a victory for one of the world's most brutal and cruel regimes," Sen. Jim Risch (R-Idaho), the ranking Republican member of the Senate Foreign Relations Committee, said in a Sept. 25 statement.
"The Chinese Communist Party will be emboldened to use other foreign citizens as bargaining chips, because it now knows hostage-taking is a successful way to get what it wants."
White House press secretary Jen Psaki on Sept. 27 denied assertions that the release of Meng and the Canadians were related.
"I think it's important to note, and to be very clear about this, there is no link," Psaki said during a regular press briefing. "We have an independent Justice Department. We can't determine how the Chinese or others manage their business over there. It's a little bit different.
"But we have an independent Justice Department that made independent decisions—law enforcement decisions. At the same time, we have made no secret about our push to have the 'two Michaels' released. That's certainly positive news and good news," she added.
Republicans, however, have said the deal calls the Biden administration's commitment to confronting the Chinese regime into question.
"The release of Ms. Meng raises serious questions about President Biden's ability and willingness to confront the threat posed by Huawei and the Chinese Communist Party," Sen. Marco Rubio (R-Fla.) told Reuters. "This is just another example of the Biden administration's dangerously soft approach toward Beijing."
Meng reached a deferred prosecution agreement with the U.S. Justice Department, under which she admitted to concealing Huawei's business operations in Iran during interactions with a bank, causing the institution to violate U.S. sanctions on Iran.
Sen. Bill Hagerty (R-Tenn.) also criticized the deal as amounting to "capitulation" to the regime.
"I'm very concerned that this appears, that it could be more appeasement from the Biden administration, more capitulation," Hagerty told Reuters. "Huawei is an aggressive predatory company. It's backed by the Chinese Communist Party. We have given up leverage today."
After Meng's arrest at Vancouver International Airport on Dec. 1, 2018, the Chinese regime had repeatedly threatened Canada with "grave consequences" if she wasn't released. Shortly after her detention, Beijing arrested Kovrig and Spavor, claiming that they had engaged in espionage.
The two were initially held in solitary confinement, with the lights kept on in their cells day and night. That can lead to sleep deprivation, which is recognized as a torture method by human rights organizations.
In August, a Chinese court sentenced Spavor to 11 years in prison. Kovrig, whose trial was held in March, hadn't been sentenced.
Hours after Canada announced Meng's release, the regime quietly freed Kovrig and Spavor without offering an explanation. The regime's foreign ministry claimed on Sept. 27 that the men were released on bail for health reasons.
While the regime has maintained that the pair's detention was unrelated to Meng, their release immediately after the Huawei executive's release, all but confirmed to many that the Canadians were held as hostages.
"The Chinese regime is making no effort to disguise 'hostage diplomacy' now," China affairs commentator Tang Jingyuan told The Epoch Times.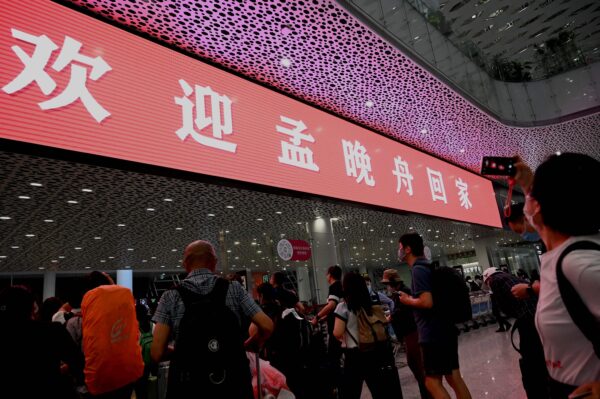 Hero's Welcome
Meng's arrival in Shenzhen, China, on Sept. 25 was met with great fanfare by the Chinese Communist Party (CCP).
The daughter of Huawei's founder was given a rousing reception: Major media tracked her flight path for hours; buildings and airports in the city were lit up with welcome slogans; and the red carpet was rolled out at the airport, where senior provincial and municipal officials waited for her arrival.
In response, Meng applauded China's leader Xi Jinping and the Party in a speech on the tarmac.
On her flight back to China, the 49-year-old, in a post on the social media platform WeChat, hailed the CCP, saying the Party made China "stronger and more prosperous." She stated that she wouldn't have been able to secure her freedom without the country's support.
China's state media portrayed Meng's return as a sign of "victory" achieved by the communist regime. The Party's official mouthpiece, People's Daily, trumpeted the regime's power and claimed that "no power can stop China's advancing steps." News about the Canadians was conspicuously absent from such reports.
State media Xinhua described her return as Beijing's "major victory." People's Daily published a commentary, "No Force Will Prevent China's Progress." The hawkish CCP-controlled tabloid Global Times stated in another editorial that Meng's return is the Biden administration's "adjustment," suggesting that Washington is "unable to comprehensively contain" the communist regime.
Photos and videos showing throngs of people waiting at the airport overwhelmed the country's social media platforms, which critics suggested were scenes arranged by the regime to boost patriotism.
Meng, clad in a patriotic-red dress while making a speech at the airport, said she was touched by Xi's concern for her case. She repeatedly called herself an "ordinary citizen," despite the unusual grand reception.
Meng is the elder daughter of Huawei's founder, Ren Zhengfei, who served in China's army for nine years prior to starting the firm. The telecommunications company's close ties with the Chinese military and authorities led to the United States, UK, Australia, and Japan imposing bans on its equipment over security risks.
Reuters contributed to this report.