On July 25, the United States imposed sanctions on three stepsons of illegitimate Venezuelan President Nicolás Maduro, accusing them of getting kickbacks for giving associates, such as Colombian businessman Alex Saab, access to hundreds of millions of dollars in overvalued government contracts.
In total, the Treasury sanctioned 10 people and 13 companies involved in what it described as schemes to defraud Venezuelan people through overvalued food and housing contracts, as well as by selling Venezuelan gold to Turkey.
"Alex Saab engaged with Maduro insiders to run a wide scale corruption network they callously used to exploit Venezuela's starving population," said Treasury Secretary Steven Mnuchin in a July 25 release. "They use food as a form of social control, to reward political supporters and punish opponents, all the while pocketing hundreds of millions of dollars through a number of fraudulent schemes."
"Treasury is targeting those behind Maduro's sophisticated corruption schemes, as well as the global network of shell companies that profit from the former regime's military-controlled food distribution program," Mnuchin added.
Housing Scheme
Based on the Treasury's account, Saab's schemes with the Maduro regime reach back to at least 2009, when he and his business partner, Alvaro Pulido, set up a company to bid for a massive government housing contract in Venezuela.
"After a year of lobbying, the Government of Venezuela awarded a housing contract to Saab and Pulido's company to build 25,000 homes in Venezuela," the release stated.
"The contract paid Saab and Pulido three to four times the actual cost of building each low-income home, which were intended for Venezuela's more vulnerable populations."
In 2011, Saab gave a contract to the three sons of Maduro's wife, Cilia Flores—Walter, Yosser, and Yoswal Gavidia—as well as their cousin, Carlos Malpica. On the surface, the contract was to clear land for the construction of homes in the Venezuelan state of Vargas. In fact, the relationship with the stepsons gave Saab access to top Venezuelan officials and, through bribes and kickbacks, to more government contracts, the Treasury stated.
Food Scheme
In 2016, Maduro created a program, called CLAP, to supply subsidized food rations to poor Venezuelans.
"Rather than ensure that this vulnerable population receives the food it desperately needs, the regime uses the CLAP program as a political tool to reward support and punish political criticism," the Treasury said. "By offering food through this program, the former regime is able to maintain its influence because many Venezuelan citizens do not have enough money to buy food and therefore depend on the rations CLAP provides to survive."
In addition, since the very first year, the program was fraught with corruption as Saab and Pulido obtained no-bid contracts to supply the rations.
Not only were the contracts overvalued, the Treasury stated, but Saab and Pulido set up a complex corporate structure that contracted with foreign companies to supply and package the food, which was "often at substandard nutritional value."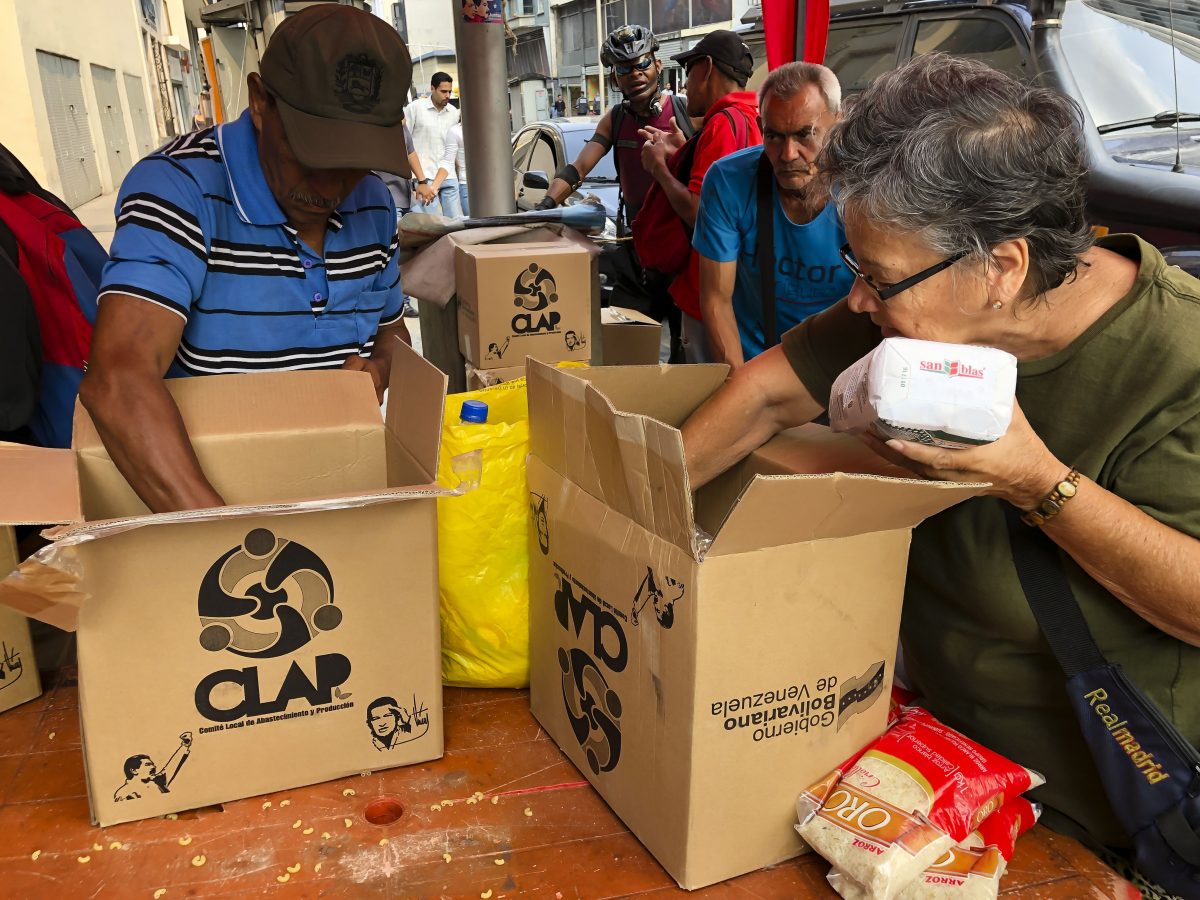 In the end, Saab "imported only a fraction of the food needed for the CLAP program," the Treasury stated.
The structure of shell and front companies was used to obscure Saab's bribes to Venezuelan officials and kickbacks to the stepsons.
"Since 2016, … Saab and Pulido have made hundreds of millions of dollars from the profits of this corrupt scheme," the Treasury stated.
Gold Scheme
Since early 2018, the Venezuelan economy, crumbling under the socialist government, struggled with shortages of foreign exchange. The government started to use gold to pay some contracts, including CLAP contracts.
It was again Saab who helped devise a scheme to sell Venezuelan gold in Turkey, the Treasury said.
The government pressured miners to sell gold to Saab at a government-set rate. Some of it was then refined in Caracas, sold to the Venezuelan Central Bank, and flown to the United Arab Emirates and Turkey. Turks would buy the gold, and Saab's company would then buy goods in Turkey and sell them back to Venezuelan clients at marked up prices.
The Noose Tightens
Saab, from the Caribbean city of Barranquilla, was charged this year with money laundering in Colombia. U.S. officials believe he is hiding in Caracas, having ditched his globe-trotting lifestyle, including frequent trips on a private jet to an apartment in Paris and his family's ancestral homeland of Lebanon.
Richard Diaz, a lawyer for Saab in Miami, didn't immediately reply to a request for comment. He has previously rejected the allegations against his client, saying he was the target of a smear campaign by government opponents based on false testimony.
Maduro's stepsons couldn't be reached for comment.
As Saab and Pulido's influence grew, they drew the attention of the Trump administration, which has made a priority of bringing top Venezuelan officials to justice by going after what is most important to them: their wallets.
Led by Marshall Billingslea, assistant Treasury secretary for terrorist financing, U.S officials have spent two years pursuing the Saab–Pulido network, traveling throughout the region to gather sensitive banking and trade information from allied nations.
"This goes beyond just corruption," Billingslea said about CLAP in a 2018 interview with The Associated Press. "This is literally looting the one social safety net program left in Venezuela."
Billingslea, who Trump nominated this year to become the State Department's top human rights official, didn't respond to a request for comment by press time.
The Associated Press contributed to this report.