The shuttering of yet another independent media in Hong Kong is raising alarm among world officials and rights groups, who urged the international community to help safeguard what little freedom is left in the once vibrant city.
Over 200 national security officers on Dec. 29 raided the offices of prominent pro-democracy outlet Stand News, arresting six of its current and former executives, and accusing them of engaging in the "conspiracy to publish seditious publications."
Within hours, the outlet announced it would shut down and delete its website and social media pages. All staff members were dismissed. In a statement on Wednesday—written in white characters against a dark background—Stand News said it has been committed to protecting the city's human rights and democracy, and thanked readers for their seven years of support.
The swift closure of the outlet, just half a year after that of Apple Daily under a similar fashion, drew anger and condemnation from those watching from outside.
"Another independent news outlet in Hong Kong has fallen," wrote Sen. Rick Scott (R-Fla.) in a Wednesday tweet. "This is how Communist China treats those who love freedom—it silences dissenters while destroying democracy, forcing people to live in fear."
The U.N. Human Rights Office said it was "alarmed by the continued crackdown on civic space" in the former British colony.
"We are witnessing an extremely rapid closing of the civic space and outlets for Hong Kong's civil society to speak and express themselves freely," the office told Reuters in a statement.
A seventh person linked to Stand News, a former Apple Daily editor married to the arrested former Stand News editor, was also arrested on Wednesday.
Police seized assets worth HK$61 million ($7.82 million), by far the largest amount of assets frozen in Hong Kong's national security probes, Steve Li, the head of the Hong Kong police's national security department told reporters. Over 30 boxes of journalistic materials were carried out of the Stand News office.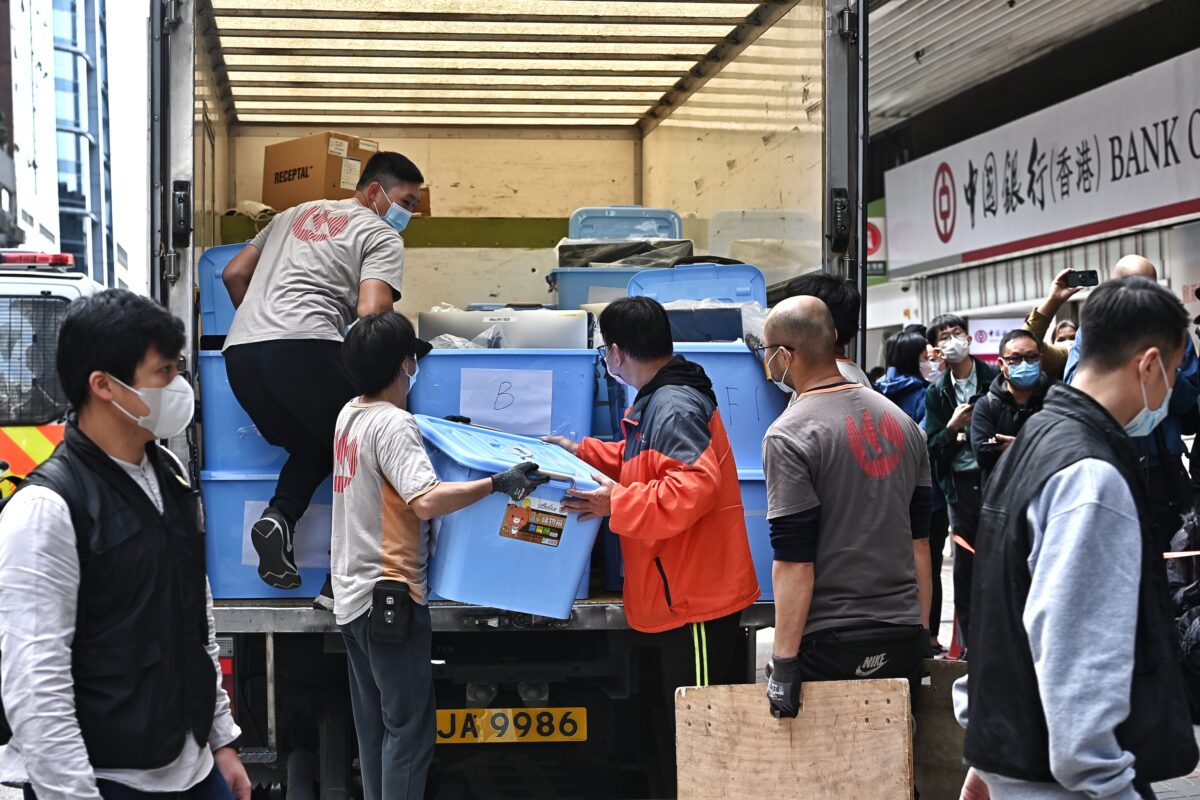 Li accused Stand News of publishing "fake news" and "inflammatory" content since last July, including some that described the disappearance of pro-democracy protesters or their claims of sexual assault while in police custody. The outlet has used its platform to incite hatred toward Hong Kong and central governments, he said without mentioning specific articles.
"We are not targeting reporters, we are not targeting the media. We just targeted national security law, the offenses. If you just won't report, I don't think that is a problem," he said in English in a Wednesday press briefing.
John Lee, the city's chief secretary, warned reporters that their media work won't shield them if their acts are deemed to "endanger national security."
"Professional media workers should recognize that these are the bad apples who are abusing their position simply by wearing a false coat of media worker," he said in a separate press conference.
The day before the police raid, Hong Kong prosecutors filed a new "seditious publications" charge against Jimmy Lai, founder of Apple Daily who is currently in prison under national security charges.
Steven Butler, Asia program coordinator for New York-based Committee to Protect Journalists, a press freedom watchdog, said that the Hong Kong authorities' actions against Lai and Stand News on Tuesday marked an "all-out assault on independent media."
"Hong Kong's once-vibrant media scene is being crushed as China exerts greater control over the former colony, and the people of Hong Kong are deprived of essential critical voices," he said in a statement.
China has remained the world's worst jailer of journalists for the third year in a row, the committee said in December. It noted that the year 2021 was the first time journalists in Hong Kong were imprisoned for their work.

Ronson Chan, deputy assignment editor and chairperson of the Hong Kong Journalists Association, was released on Wednesday around noontime.
He respected the company's decision to close down, he told reporters outside the Stand News office.
"It's a very sad day today," he said, telling other fellow journalists to "hold on until the end."
The Hong Kong bureau of The Epoch Times contributed to this report.