The United States said it would supply Belarus with all of its oil and gas after Russia scaled back its delivery of the products to the eastern European country.
"The United States wants to help Belarus build its own sovereign country," Secretary of State Pompeo said at a joint news conference on Saturday with Belarus' Foreign Minister Vladimir Makei.
"Our energy producers stand ready to deliver 100 percent of the oil you need at competitive prices. We're the biggest energy producer in the world and all you have to do is call us."
Belarus and Russia failed to reach an agreement on oil supplies and Moscow stopped providing oil before sending limited supplies earlier this month. Belarus began buying gas from Norway last month.
Makei told reporters that Belarus would welcome more U.S. involvement in his country.
"We would welcome the more active role of the United States here in Belarus, and taking into account the significance and the role the United States are playing on the world arena. We are quite interested in the American business coming here to Belarus and working quite actively," he said at the press conference.
Pompeo's visit was the first time a U.S. secretary of state went to Belarus for 26 years.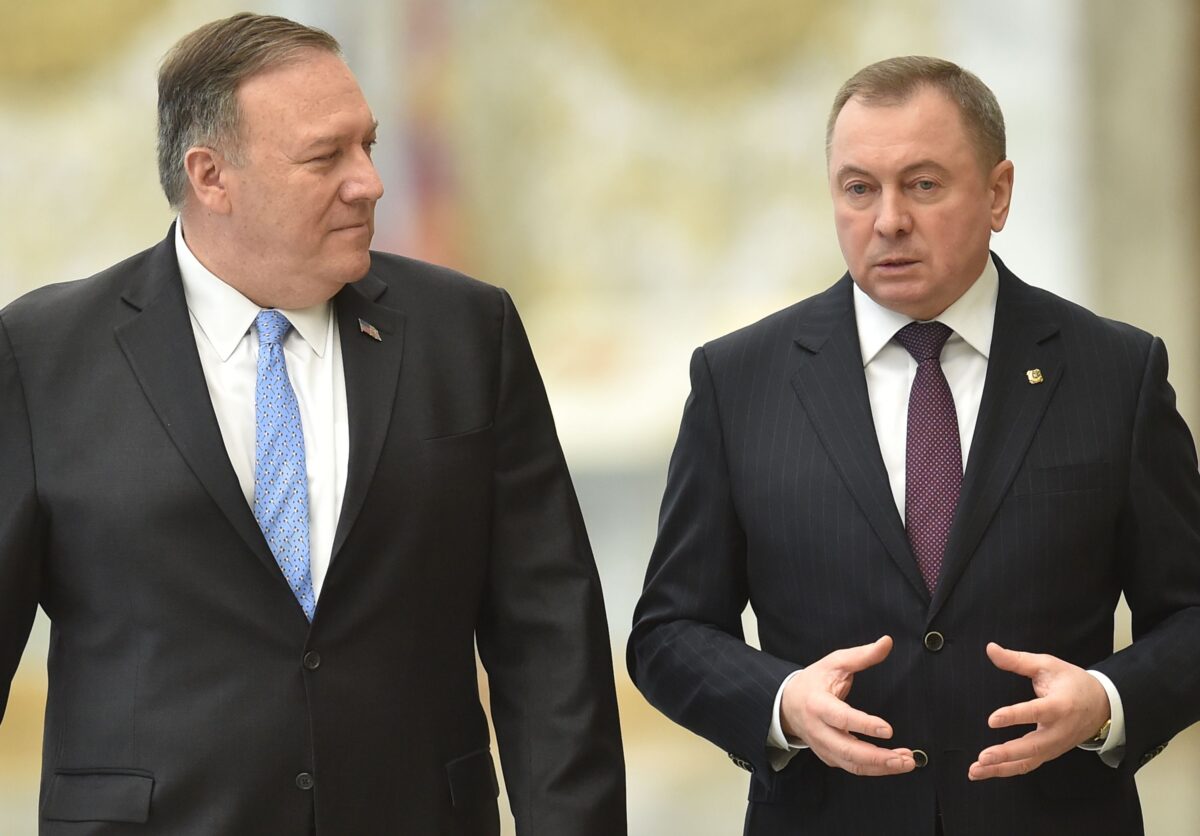 "This visit is an obvious proof that Belarus and American relations are become more active, and the visit, as we see it, must give a new impetus to the normalization of the relations between the two states," Makei said, adding that he hoped that improved relations between the countries would include bringing ambassadors back after a break of 12 years.
Belarus, a former Soviet state, declared its independence in 1991 days after the Soviet Union collapsed. It has a population of around 9.5 million and sits next to Russia, Latvia, Lithuania, Poland, and Ukraine.
Pompeo noted that the United States was one of the first countries to recognize Belarus' independence and that American remains strongly committed to the country remaining independent. He said he spoke with Belarus President Alexander Lukashenko about "tackling some of the obstacles that present American businesses for more readily and easily accessing this market, and emphasized the need for a level playing field."
World Trade Organization "accession, increased private sector development, and legal and regulatory reforms will all help Belarus unlock its trade potential and secure its own sovereignty," he added.
Pompeo is on a trip to five countries. Belarus marks the middle of the trip. Pompeo plans to continue to Kazakhstan and Uzbekistan in the coming days.
Before Belarus, Pompeo stopped in Ukraine to declare U.S. support for Ukraine amid the country's battle with Russian separatists in the eastern region of Donbas.
"We'll maintain support for a diplomatic solution to the Russia-instigated conflict in east Ukraine, and we'll maintain financial support for Ukraine's security. We will never accept anything less than the full restoration of Ukraine's control over its sovereign territory," Pompeo said, referring in part to Russia's annexation of Crimea during the Obama administration.