For the first time since the Cold War, a U.S. Navy convoy is steaming through the blue-gray Atlantic swell, bringing supplies to the largest U.S. military exercises in Europe for over 25 years.
The U.S. 2nd fleet is conducting convoy operations with the logistics arm of the Navy, known as Military Sealift Command (MSC), according to a Feb. 28 statement from the Navy.
For the last two years, the U.S. military has been pivoting away from its counterinsurgency to tackle what is often called "renewed great power competition" with China and Russia.
In addition to scrambling to modernize its weapons and strategy, the U.S. military has also been increasing readiness and exercises to keep adversaries on their toes.
The convoy exercise is the first one since 1986, aimed at stretching the ligaments of the military—logistics.
"In a real-world conflict, much of the military equipment must still go by sealift, which makes convoy operations a critical skill set to maintain and practice," said Capt. Hans E. Lynch, Commander of Military Sealift Command Atlantic, according to the statement.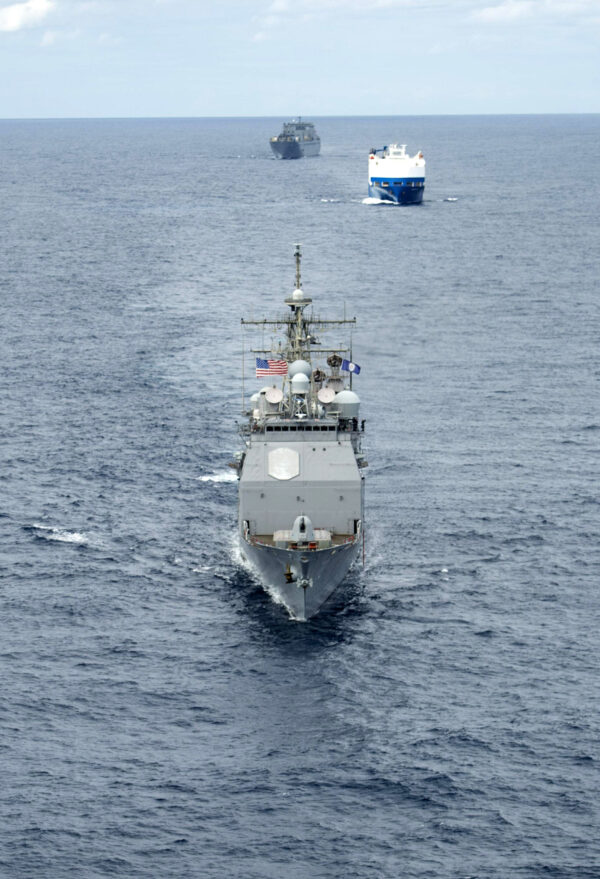 The convoy comes ahead of the largest-scale U.S. deployment in Europe for a quarter-century.
With equipment already needing to be shipped across the Atlantic for the exercises, the Navy took the opportunity to carry out its convoy practice.
"This exercise allows us to sharpen our ability to move critical resources across the Atlantic from the United States to Europe," said Admiral James G. Foggo III.
"As I have said before, logistics is the sixth domain of warfare, and a critical part of any successful operation or exercise," Foggo said. "The transatlantic bridge is just as important today for moving troops and military equipment, supplies and material from the United States to Europe as it has been at any point in history."
Russia is seen as the second priority for the military after China.
U.S. military leaders often emphasize that the modernization process for "great power competition" is not primarily aimed at winning an all-out war. Rather, it enables the United States to compete geopolitically with Russia and China, to blunt aggression that falls below the threshold of war, and to support allies.
The U.S. Navy has been ramping up readiness, changing its deployment patterns to meet the demands of the 2018 National Defense Strategy for the military to be "strategically predictable, but operationally unpredictable."
In 2018, for the first time in a decade, the Arabian Gulf was left without an aircraft carrier strike group, as the USS Harry Truman sailed to the Arctic Circle—the first carrier to patrol there since the Cold War.
It was the first taste of a new strategy—dynamic force employment—designed to keep U.S. adversaries guessing.