BOGOTA, Colombia—USNS Comfort, a U.S. Navy hospital ship deployed to Central and South America, has docked off the coast of Colombia to provide free medical and dental treatment for Venezuelan migrants.
The Comfort had provided assistance in Ecuador and Peru before moving on to Colombia as part of the 11-week "Enduring Promise" mission throughout the region.
The ship had been deployed to the region several times in the past to tend to vulnerable populations, but this particular mission is unique because its purpose is to relieve pressure on local medical systems following the surge of migrants from crisis-stricken Venezuela.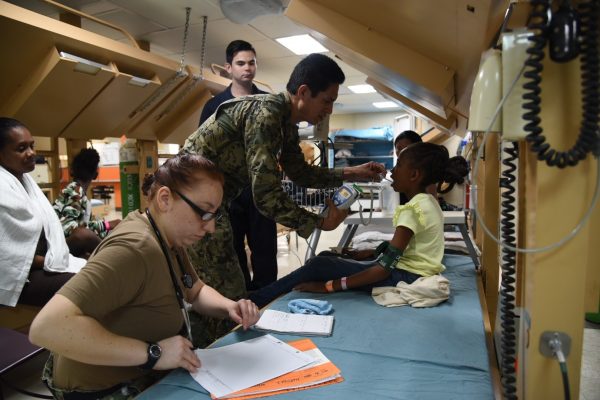 Over three million migrants have fled Venezuela according to the U.N. High Commissioner for Refugees (UNHCR), most to neighboring Latin American nations—and over a third to Colombia. Last week, a new refugee camp was unveiled as a previous camp overflowed with the exponential flow of migrants, and the number of those in need of treatment has put Colombia's medical system under strain.
The exodus from Venezuela follows the ever-worsening decline of the oil-rich nation. There is continued deterioration in security, hyperinflation is predicted to skyrocket to one million percent, and food and medicine shortages are widespread.
The deployment of the Comfort had already provoked a hostile reaction by Venezuela before its arrival at the shores of Colombia. Upon the announcement of the U.S. mission, China, an ally of Venezuela, deployed its own medical ship to Venezuela in late September.
The government of Venezuelan President Nicolas Maduro denies the existence of a humanitarian crisis in Venezuela and alleges the migration crisis is a conspiracy invented to undermine Maduro's rule.
U.S. President Donald Trump has called Maduro's government a "repressive regime" responsible for the "human tragedy" in Venezuela, and has said the regime can be "toppled very quickly."
Health Crisis
Malaria, tuberculosis, and HIV are surging in Venezuela following the collapse of its medical system, while measles and diphtheria—previously eradicated—have reappeared, according to a Human Rights Watch (HRW) report. Health experts fear those diseases are spreading across borders.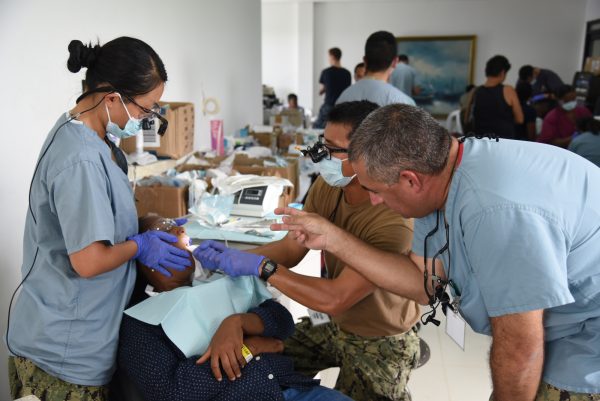 "Venezuela's public health system has collapsed, putting at risk the lives of countless Venezuelans," said Shannon Doocy, an associate professor at Johns Hopkins Bloomberg School of Public Health, in a report by HRW.
"The combination of a failing health system and widespread food shortages has produced a humanitarian catastrophe, and it will only get worse if it's not addressed urgently."
According to the report, the health crisis is compounded by increasing levels of malnutrition, as improper nutrition causes people to be more susceptible to infectious diseases and could cause more complications once a person is sick.
The agency says the Venezuelan government suppresses data about the country's epidemiological situation to hide the extent of the health crisis in the nation. What's more, physicians who publicly voice concerns about the health crisis are retaliated against.
USNS Comfort
In an attempt to alleviate the strain on local health services, the 894-foot-long former-oil tanker—and world's largest medical vessel—hosts more than 900 staff who can tend to as many as 1,000 patients a day. Two helicopters airlift distant patients to the vessel where it is estimated 30 cataract surgeries, 70 general surgeries, and 100 gynecology procedures can be performed daily.
Following its time in Turbo on the west coast of Colombia, the boat will move onto Riohacha next week, a Caribbean port city in one of the most impoverished and neglected regions in Colombia. Situated close to the Venezuelan border, La Guajira department has been hit particularly hard by the migration crisis.
The medical ship's next destination after Colombia is Honduras.
The ship has provided medical assistance in a number of missions within U.S. territory and abroad, including missions to Puerto Rico following the 2017 Hurricane Maria and Haiti following the 2010 earthquake in the region.