White House national security adviser Robert O'Brien said last week that lifting the blockade on Qatar imposed three years ago by fellow Persian Gulf states will be a "priority" for the Trump administration in the next 70 days.
Speaking with The Hill, O'Brien said that there is a "possibility" that the three-year rift between Qatar and other Gulf states can be resolved.
Accusing Qatar of supporting terrorism, a land, air, and sea blockade was imposed on Qatar by Saudi Arabia, Bahrain, and the UAE in 2017. Qatar denies the accusations and says the blockade aims to undermine its sovereignty.
"I'd like to see that get done before—if we end up leaving office—I'd like to see that get done in the next 70 days. And I think there's a possibility for it," O'Brien told the news outlet during the the 2020 Global Security Forum that was hosted in part by Qatar.
"It's in America's interest to have harmonious relationships within the [Gulf Cooperation Council] because that provides an important counterbalance to Iran," he continued.
"It would open up the opportunity for more peace deals with Israel and creating a real economic opportunity zone across the Middle East and even being able to take that out to other parts of the Muslim and the Arab world."
O'Brien's remarks come just months after U.S. Secretary of State Mike Pompeo stressed in September at the third annual strategic dialog between the United States and Qatar that that a solution should be found to resolve the dispute between the Gulf nations.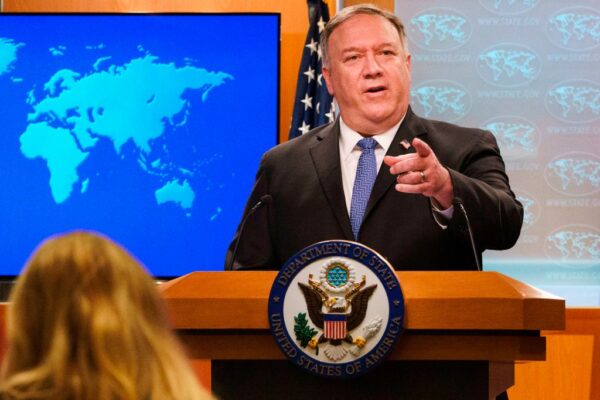 Pompeo said that "the Trump administration is eager to see this dispute resolved."
"Qatar plays an invaluable role in helping stabilize Gaza, as well as regional efforts to deescalate tensions both in Syria and in Lebanon," Pompeo said at the two-day event focused on security, defense, economic, and cultural cooperation.
"To keep our focus on this work, and to close the door to increased Iranian meddling, it's past time to find a solution to the Gulf rift," he said at the time.
Washington has strong ties with all the states involved, including Qatar, which hosts the largest U.S. military base in the region, and sees the rift as a threat to efforts to contain Iran. It has pushed for a united Gulf front.
O'Brien said resolving the dispute is a "priority" for the president, likening the crisis to a family dispute.
"And like family disputes, sometimes those are the hardest to solve," he said. "But we'd like to get all these cousins back together at the Thanksgiving table, so to speak. And it's something we're working on, and we're going to keep working on it. As long as the president's in office, it's something that'll be a priority."
Ella Kietlinska and Reuters contributed to this report.