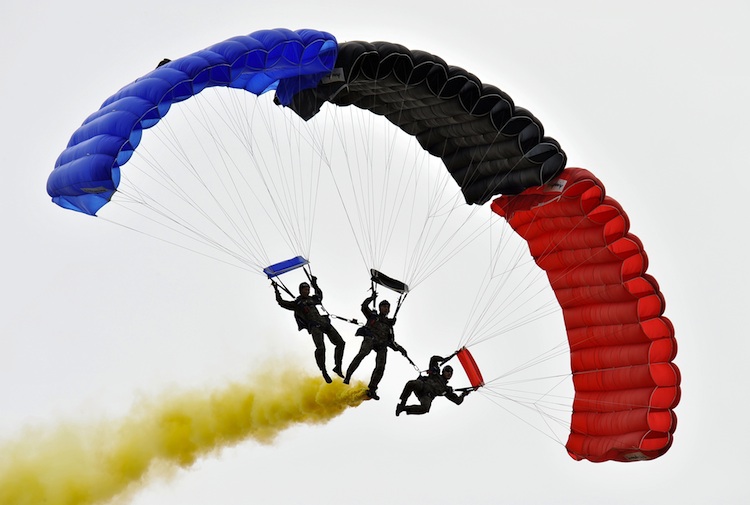 Following a news report claiming that U.S. and South Korean special forces had been parachuting into North Korea on intelligence-gathering missions, the U.S. military on Tuesday denied the report and told AFP that a source had been misquoted.
Brig. Gen. Neil Tolley, commander of special forces in South Korea, was quoted at a conference saying soldiers from the United States and South Korea had been dropped across the border into North Korea for "special reconnaissance" missions in the Tokyo-based current affairs magazine The Diplomat. Col. Jonathan Withington, public affairs officer for U.S. Forces Korea, said the report took Tolley, "completely out of context."
"Quotes have been made up and attributed to him," Withington told AFP, also denying that any U.S. or South Korean forces had parachuted into North Korea.
The Diplomat pulled the article offline on Tuesday saying that they are seeking corroboration
"While the author strongly disputes the contention that any quote was fabricated, we acknowledge the possibility that Brig. Gen. Tolley was speaking hypothetically, about future war plans rather than current operations. The author insists he heard no such qualification, but if there has been a misunderstanding then we regret any confusion," wrote posted the Diplomat in lieu of the article.
The author of the article, South Carolina-based freelance journalist Dave Axe, denied the military's accusations and tweeted Tuesday afternoon the "military is lying about general's comments."
Axe said that Kimberly Dozier, an Associated Press correspondent whom Tolley had spoken to in private after the conference that they attended, has confirmed the parachuting that Tolley spoke about in Axe's story.
Steve Herman, Seoul bureau chief and correspondent of Voice of America, backed up Axe and tweeted "An experienced military reporter in the room in Tampa May 22 tells me @daxe did NOT misquote BGEN Tolley on SOF into #DPRK."
The Epoch Times publishes in 35 countries and in 19 languages. Subscribe to our e-newsletter.

Click www.ept.ms/ccp-crisis to read about the most recent developments in the ongoing crisis within the Chinese communist regime. In this special topic, we provide readers with the necessary context to understand the situation. Get the RSS feed. Get the new interactive Timeline of Events. Who are the Major Players?