A U.S. Marine surprised his sister by unexpectedly appearing at her college graduation ceremony in Massachusetts after a year of separation.
Emily Rose Booth, 21, received her bachelor's of science in nursing from Endicott College on May 22, 2021.
Her brother, private first class Ryan Booth, departed for boot camp last summer, and was unable to return home on time owing to restrictions due to the CCP (Chinese Communist Party) virus, commonly known as the novel coronavirus.
(Courtesy of Endicott College)
PFC Booth, in collaboration with his father, Jeffrey, and the Endicott College, organized the reunion to surprise his sister during her commencement milestone.
"He arrived before the graduation. It was a little difficult to keep the secret, but he ignored her for a couple of days," dad Jeffrey told Stamford Advocate.
The college had initially allowed each graduating student to invite two guests; and since Ryan had already informed his sister that he would be coming home after her graduation, she'd given her tickets to her parents, Dawn and Jeffrey.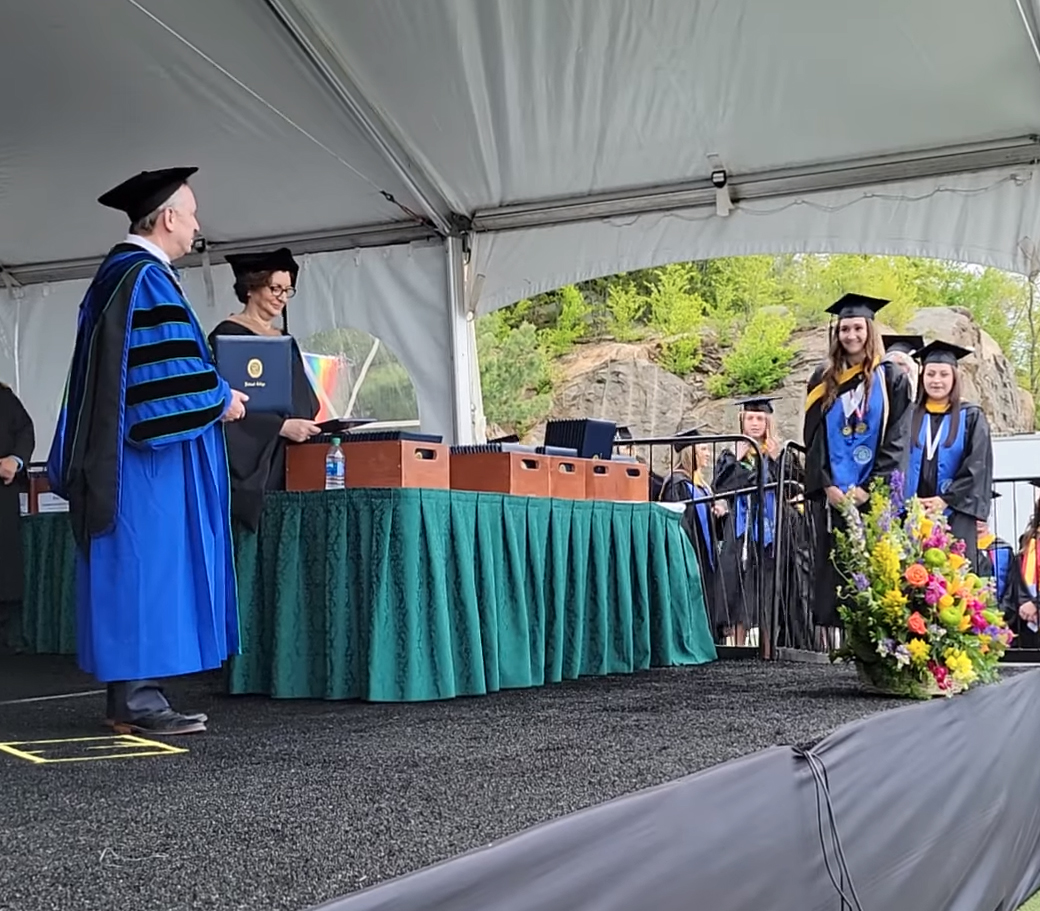 Jeffrey got in touch with the college management to handle the logistics for the planned surprise.
"We talked to the school to see if he could be on the school property because they were only allowing a certain amount of people per student," said Jeffrey, adding that they'd planned to have Ryan surprise his sister after her graduation while they took photos.
However, the school management had a different idea.
"It was actually the school's idea to bring him up on stage," said Jeffrey.
In a video shared by the college on Twitter, while Emily was called onstage to shake the college president's hand and receive her degree, she suddenly paused in her tracks when the dean made another announcement.
For a moment, she thought she'd made a mistake.
"Getting ready to walk across the stage, there was a brief pause where I was afraid I had messed up, or they couldn't find my diploma," Emily told PEOPLE.
But there was no mistake. To her surprise, the dean called Ryan over to assist the college president in presenting Emily's degree.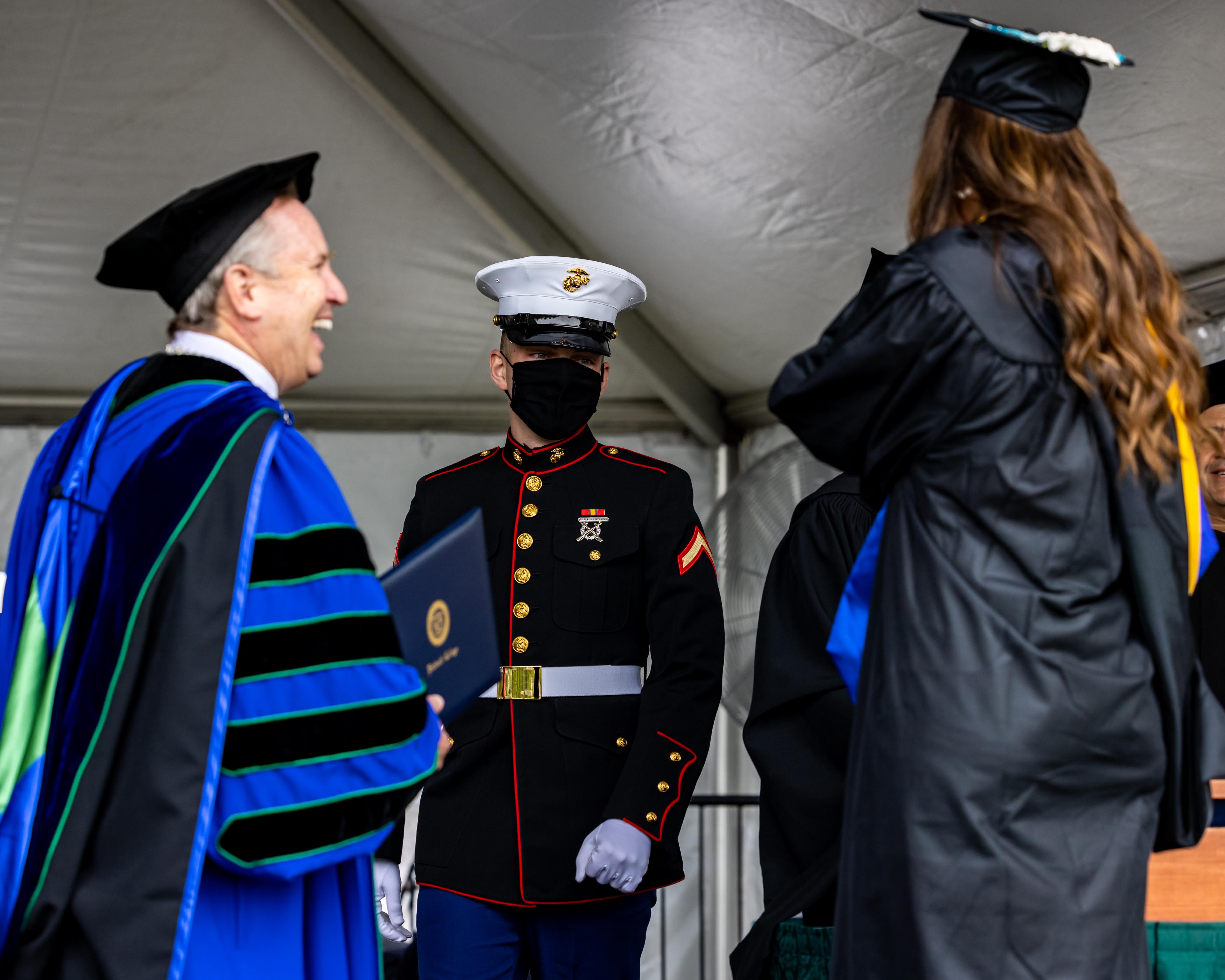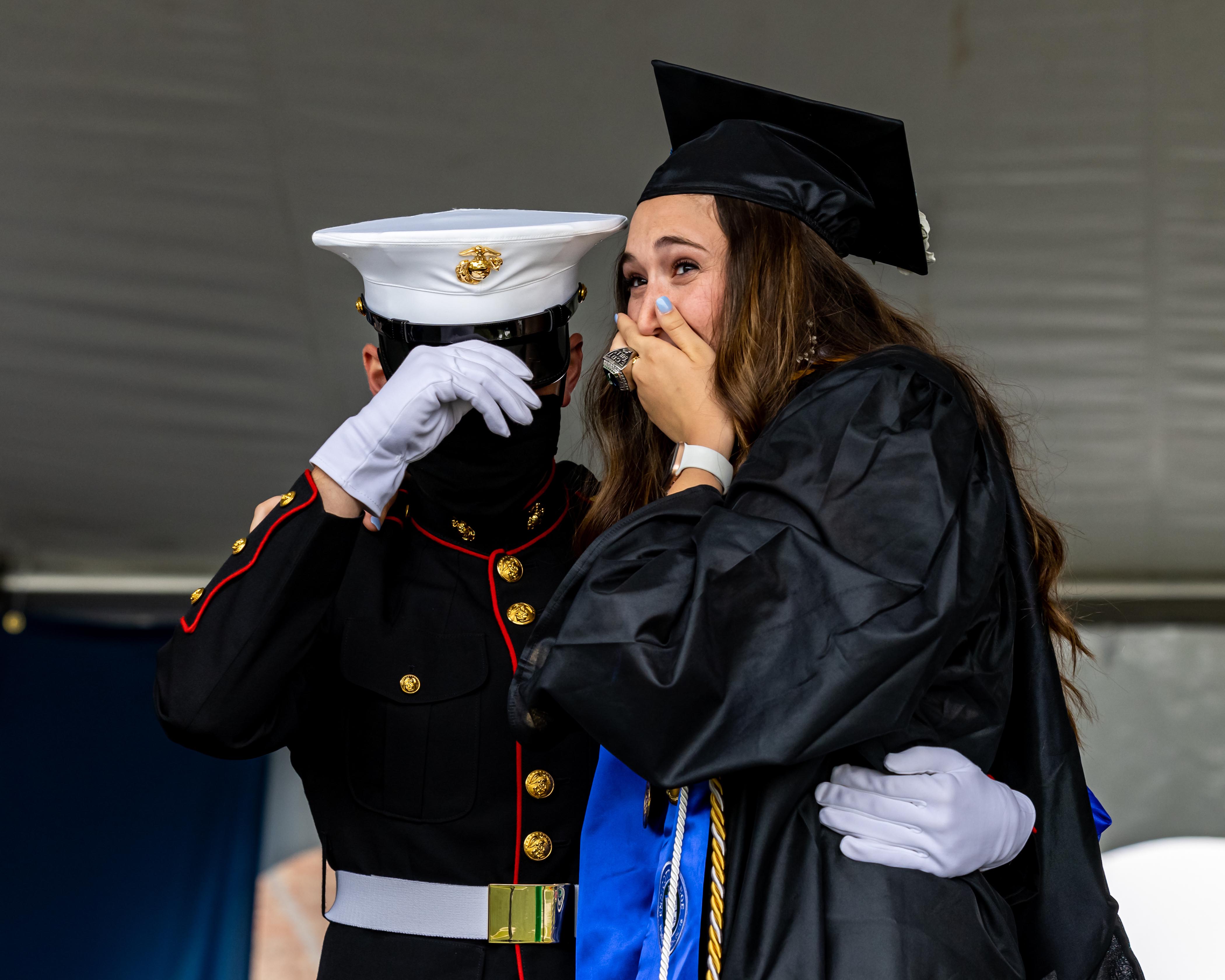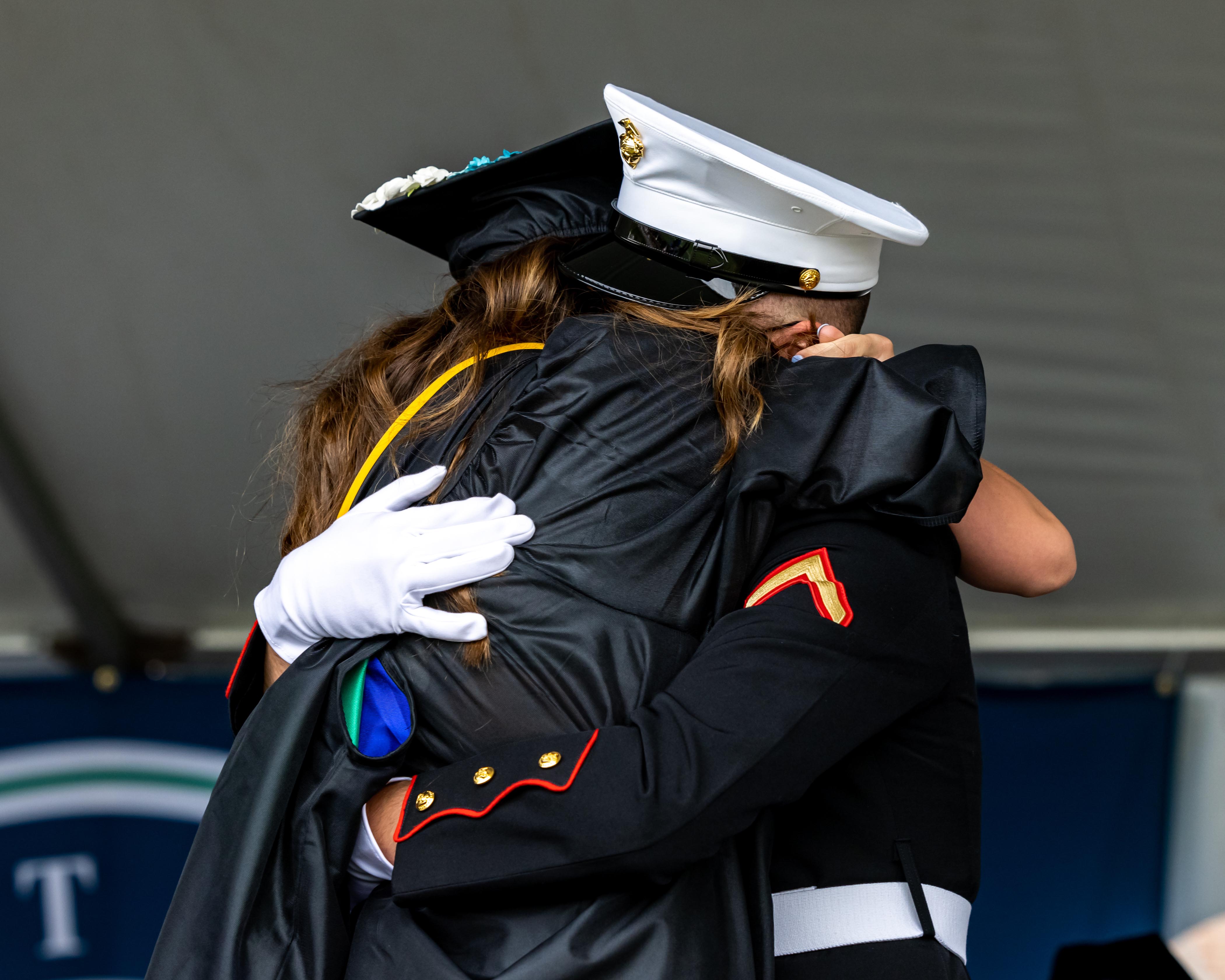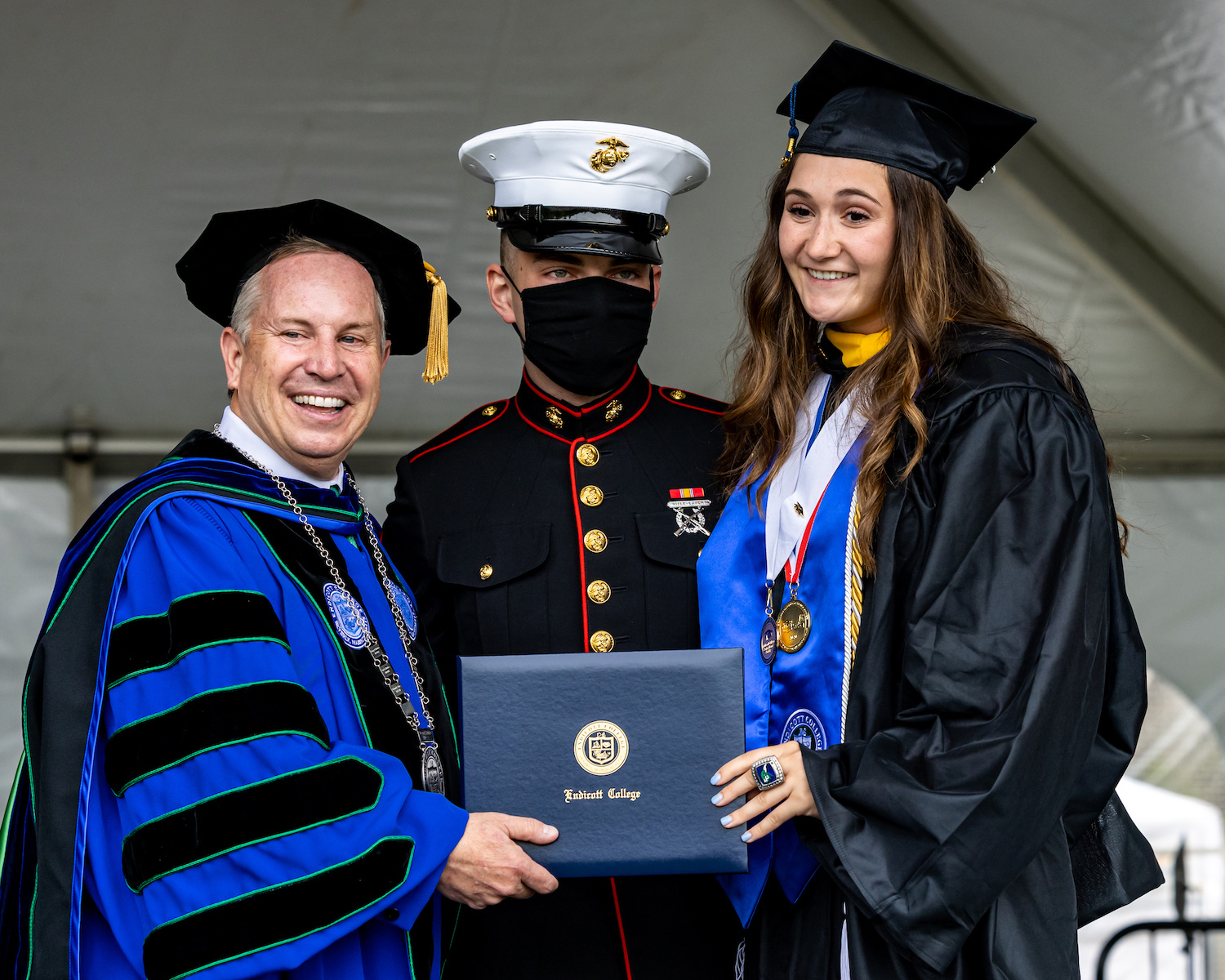 "Here to assist President DiSalvo in handing Emily her diploma is her brother, Private First Class Ryan Booth," the dean announced, and Ryan appeared onstage to his sister's amazement.
Emily could not believe her eyes and they embraced while the crowd cheered them on.
"I was in utter shock, and couldn't believe he was actually standing next to me," Emily told PEOPLE.
Ryan is visiting for only a short time, Jeffrey said. So, they're making the most of his stay before he has to head back to his base in South Carolina.
Share your stories with us at emg.inspired@epochtimes.com, and continue to get your daily dose of inspiration by signing up for the Epoch Inspired newsletter at TheEpochTimes.com/newsletter